Blog/Market Talk
Posted Nov 16, 2018 by Martin Armstrong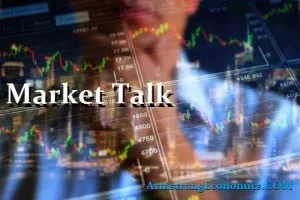 A relief rally after a poor opening for US markets and that confidence did roll into Asia, but only for a short time. The Nikkei opened well but then saw selling and the heavy mood softened the index into the weekend. This trade could also have been a balanced trade for the Yen, which is now at month highs with a 112 handle. Technology and exporter shares were the culprit for dragging the index lower, but obviously currency didn't help. The Nikkei closes down -0.5% which moves the index to a negative 5% YTD return. Both the Shanghai and the Hang Seng managed a positive close, but only after a struggle of a day. The late talk is that China has offered a list of around 150 options to reduce the trade numbers has been topical and even rallied the DOW. President Trump responded saying they will look into it – but certainly helped confidence mid session. The SENSEX and the INR have been benefiting from the oil price decline, but many still discuss the tension building between the government and the central bank.
Although core European indices opened better following the late US recovery and the steady Asian performance, all started to drift following more weak data, results and weekend book-squaring. BREXIT is still a massive overhang for the region with the Italian budget running a distant second. There is much talk in the UK surrounding a no confidence vote and that is for sure what the Sunday papers will dominate. We also heard from Mario Draghi earlier in the day and his consideration of QE into 2019. The talk is they continue into 2019 with a probable reference of they monitor procedure. He probably feels a little more comfortable after FED Vice President claims they are getting close to neutral rates. We still have G20 to look forward to later in the month, but we'd say it should really be renamed to G2 as US/China trade talks will dominate headlines.
US markets were weaker initially but then bounced on the US/China list rumours. Technology share have again been the party poopers as they continue to see profit-taking after such a multi year run. We are seeing a mixture of earnings reports, but certainly feels as though money is going to cash. Into the close we see good demand for the DOW which continues to take it further and further away from the psychological 25k level. Todays small bounce has lifted prices from their weeks lows, but still almost all key indices (DOW, S+P and NADAQ) are all off near 2% for the week. On the global stage it is worth mentioning that some of that has been made back for international investors via the currency performance, so its not all bad.
Japan 0.09%, US 2's closed 2.80% (-5bp), US 10's closed 3.07% (-4bp), US 30's 3.32 (-4bp), Bunds 0.36% (u/c), France 0.76% (+1bp), Italy 3.49% (u/c), Turkey 16.01%, Greece 4.52% (+3bp), Portugal 1.96% (u/c), Spain 1.63% (u/c), UK Gilts 1.41% (+5bp),.