Blog/Market Talk
Posted Nov 16, 2017 by Martin Armstrong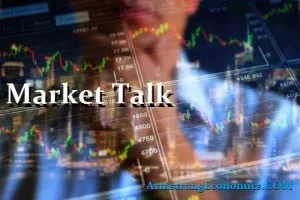 Interesting that the Yen saw only minimal inbound traffic on Wednesday's equity sell-off and today is still little changed with a stock rally! Admittedly, volumes are a shadow of what they used to be some years back, but just demonstrates how the game has changed. There is still plenty of money sitting on the side lines and happy to step back in without the need to protect themselves. The Nikkei eventually closed over 300 points higher a gain of 1.5% on the day. Late in the trading day we heard the positive tax reform news from the states and saw Yen trade back above 113 and looks like the game is back-on. Asian futures also following the US incentive and last saw the Nikkei add an addition 0.5% on to todays gains. Shanghai was almost unchanged while the Hang Seng saw a +0.6% gain. SENSEX ended a very strong day over 1% gain and closing at the days highs.
Europe opened good footing but never really managed to build much upon that. Yes, the CAC and DAX closed by around +0.5% but having spent most of the afternoon watching the US indices, it is a surprise they did not gain much more. That is – if you ignore underlying currency concerns. Having had US tax reform bill passed you have to watch the market predict in the treasury curve. We saw even more curve flattening all be it at higher absolute yields. If this is not a green light for US Dollar strength – what is!
US core opened strong and continued as the demand increased as the day wore on. Todays corporate releases were better than expected and even saw Wal-Mart pop over 10% to an all time high. The question many are asking is when will long end yields start to move! Lots of talk for additional hikes next year and we only need three to put the curve inverted; while some are even looking for four hikes. Todays data and claims really did nothing to halt the stock rally and so we look towards currency markets for tomorrows end of week numbers. NASDAQ made fresh all time highs with a gain of over 1.3% with the broader Russell 2K advancing 1.6% on the day.
2's closed 1.72% (+4bp), 10's 2.37% (+3bp), 30's 2.82% (+4bp), Bunds 0.37% (u/c), France 0.72% (-1bp), Italy 1.83% (+1bp), Greece 5.10% (+8bp), Turkey 11.99% (-2bp), Portugal 1.96% (-1bp), Spain 1.53% (-1bp), and Gilts 1.31% (+3bp).