Blog/Market Talk
Posted Nov 15, 2019 by Martin Armstrong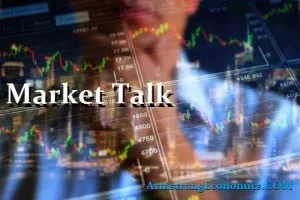 ASIA:
US White House economic advisor and Director of the US National Economic Council Larry Kudlow said negotiators between the US and China were in communication via phone. He did not provide details on the timing of a possible deal, but he did say that a trade deal was in reach.
Alibaba CEO Daniel Zhang has said that Hong Kong has a "bright" future as the Chinese e-commerce giant prepares to list their shares in Hong Kong. "During this time of ongoing change, we continue to believe that the future of Hong Kong remains bright," Alibaba Chairman Daniel Zhang said. This gives Hong Kong some credibility after the recent protests have the international community questioning its role as an important and secure financial center.
Cryptocurrencies for payments has been discussed by members of the BRICS, which includes Russia and China. Some analysts say this will enable them to reduce the amount of US dollars they are currently required to use for foreign trade payments. "An efficient BRICS payment system can encourage payments in national currencies and ensure sustainable payments and investments among our countries, which make up over 20% of the global inflow of foreign direct investment," said Kirill Dmitriev, a member of the BRICS Business Council.
India's Prime Minister Narendra Modi reached the Brazilian Capital city to participate in the 11th BRICS Summit on Wednesday and met Brazilian President Jair Bolsonaro and discussed ways to strengthen bilateral ties. While addressing the head of states of member countries, he reaffirmed his thoughts to fight terrorism. He said the economic growth of developing nations has decreased by 1.5 percent due to terrorism. In the last 10 years, terrorism has claimed the lives of about 225,000 people and destroyed societies. In a joint statement released by BRICS, the five countries condemned terrorism in all its forms, and said that it should not be associated with any religion, nationality or civilization, and recognized terrorist acts are criminal and unjustifiable.
In addition to this, PM Modi urged the BRICS business leaders to invest in India and take advantage of the country's "limitless" possibilities and "countless" opportunities. He called India the most open and investment-friendly economy in the world due to political stability, predictable policy, and business friendly reforms. By 2024, he wants to make India a $5 trillion economy. The infrastructure alone requires an investment of $1.5 trillion.
On the sidelines of the BRICS Summit, he met with Russian President Vladimir Putin and Chinese President Xi Jinping and exchanged dialogues to strengthen the bilateral ties with both countries. Meanwhile, India has made a down payment of 15% on Russian missile defense systems despite the US threatening them with sanctions.
The major Asian stock markets had a mixed day today:
Shanghai decreased 18.53 points or -0.64% to 2,891.34
Kospi increased 22.95 points or 1.07% to 2,162.18
ASX 200 increased 58.60 points or 0.87% to 6,793.70
NIKKEI 225 increased 161.77 points or 0.70% to 23,303.32
Hang Seng increased 2.97 points or 0.01% to 26,326.66
SENSEX increased 70.21 points or 0.17% to 40,356.69
The major Asian currency markets had a mixed day today:
AUDUSD increased 0.0031 or 0.46% to 0.6816
NZDUSD increased 0.0026 or 0.41% to 0.6404
USDJPY increased 0.3120 or 0.29% to 108.7870
USDCNY decreased 0.0118 or 0.17% to 7.0045
Precious Metals:
Gold decreased 1.3 USD/t oz. or -0.09% to 1,465.41
Silver decreased 0.0331 USD/t. oz or -0.19%% to 16.9811
Some economic news from last night:
China:
House Prices (YoY) (Oct) decreased from 8.4% to 7.8%
China Thomson Reuters IPSOS PCSI (Nov) increased from 68.92 to 69.40
Japan:
Thomson Reuters IPSOS PCSI (Nov) increased from 37.84 to 39.95
Capacity Utilization (MoM) (Sep) increased from -2.9% to 1.0%
Industrial Production (MoM) (Sep) increased from -1.2% to 1.7%
South Korea:
Exports (YoY) (Oct) decreased from -14.7% to -14.8%
Imports (YoY) (Oct) remain the same at -14.6%
Trade Balance (Oct) decreased from 5.39B to 5.34B
New Zealand:
Business NZ PMI (Oct) increased from 48.4 to 52.6
Indonesia:
Export Growth (YoY) (Oct) decreased from -5.74% to -6.13%
Import Growth (YoY) (Oct) decreased from -2.41% to -16.39%
Trade Balance (Oct) increased from -0.16B to 0.16B
Some economic news from today:
India:
FX Reserves, USD increased from 446.10B to 447.81B
Trade Balance (Oct) increased from 10.86B to 11.01B
Hongkong:
GDP (YoY) (Q3) remain the same at -2.9%
GDP (QoQ) (Q3) remain the same at -3.2%
EUROPE/EMEA:
Donald Tusk, president of the European Council, has urged UK voters to not give up on Brexit; he also branded the UK as a second-rate player if they leave the EU. Meanwhile, countries such as Australia have asked for trade compensation from the UK and the EU over Brexit disruption. Fifteen countries, including the US, India, and New Zealand, have been discussing Brexit concerns at a WTO meeting in Geneva, Switzerland.
UK Brexit party leader Nigel Farage has told the press that Conservatives offered his candidates jobs ahead of the elections in an attempt to get them to stand down. He claimed that his party's candidates received thousands of calls and emails in an attempt to get them to withdraw. The Conservatives have denied these claims.
The German Parliament voted to approve most of the climate protection plan. The aim is to cut greenhouse gas emissions to 55% of the 1990 levels by 2030.
Iran has raised petrol prices by 50% as the economy is faltering due to the US sanctions. They have also imposed rationing on purchases. The first 500 liters will be sold at 12.7 cents up from 9 cents, and after which will be sold at 26 cents. Still, Iran holds some of the lowest prices in the world.
The major Europe stock markets had a green day today:
CAC 40 increased 38.20 points or 0.65% to 5,939.27
FTSE 100 increased 10.18 points, or 0.14% to 7,302.94
DAX 30 increased 61.52 points or 0.47% to 13,241.75
The major Europe currency markets had a green day today:
EURUSD increased 0.0035 or 0.32% to 1.1055
GBPUSD increased 0.00242 or 0.19% to 1.29042
USDCHF increased 0.0011 or 0.11% to 0.9898
Some economic news from Europe today:
Norway:
Trade Balance (Oct) increased from -1.2B to 5.9B
Italy:
Italian Trade Balance (Sep) increased from 2.585B to 2.779B
Italian Trade Balance EU (Sep) increased from 0.26B to 1.26B
Italian CPI (YoY) (Oct) decreased from 0.3% to 0.2%
Italian CPI (MoM) (Oct) increased from -0.6% to -0.1%
Italian CPI Ex Tobacco (MoM) (Oct) decreased from 0.1% to 0.0%
Italian HICP (YoY) (Oct) remain the same at 0.2%
Italian HICP (MoM) (Oct) remain the same at 0.2%
Euro Zone:
Core CPI (YoY) (Oct) remain the same at 1.1%
Core CPI (MoM) (Oct) remain the same at 0.1%
CPI (MoM) (Oct) decreased from 0.2% to 0.1%
CPI (YoY) (Oct) remain the same at 0.7%
CPI ex Tobacco (YoY) (Oct) decreased from 0.8% to 0.6%
CPI ex Tobacco (MoM) (Oct) decreased from 0.2% to 0.1%
HICP ex Energy & Food (YoY) (Oct) remain the same at 1.2%
HICP ex Energy and Food (MoM) (Oct) decreased from 0.3% to 0.1%
Trade Balance (Sep) increased from 14.7B to 18.7B
Reserve Assets Total (Oct) decreased from 827.00B to 816.49B
US/AMERICAS:
Stocks spiked during early market trading after White House chief economic adviser Larry Kudlow voiced optimism over the US-China trade deal. Kudlow said that negotiators from both parties have been speaking daily to finalize phase one of the deal. China would like to see the US rollback tariffs and prevent the next round of tariffs, scheduled for December 15, from occurring. The US would like to see China increase their purchasing of US agricultural products and tighten cyber security. US Department of Agriculture (USDA) Under Secretary Ted McKinney said he believes the chance of the two parties reaching a deal is now over 50%.
US retail sales rose 0.3% in October, according to data released by the Commerce Department this Friday. The uptick counters the decline in September, although spending in certain areas such as restaurants continued to decline. Auto sales rose 0.5% and gas sales increased by 1.1%. Increasingly popular online sales rose by 0.9%. Overall consumer spending rose to 2.9% in the third quarter. November's figures, including Black Friday shopping, are expected to outperform October. Consumer spending typically spikes during the fourth quarter due to holiday spending.
The eleventh BRICS summit is underway in Brazil. "We must remain true to our unwavering commitment to development and strengthen solidarity and cooperation for the well-being of our people and for the development of our world," Chinese President Xi said after discussing the importance of multilateralism. Russia's President Vladimir Putin voiced concerns over the global economic slowdown. Without specifically mentioning names, Putin warned that unilateral sanctions would weaken ties. Both the EU and US placed sanctions on Russia in 2014 after the annexation of Crimea. President Xi invited Indian PM Modi to visit China to continue to discuss trade talks after India pulled out of the RCEP at the last minute. The 2020 BRICS summit is set to take place in St. Petersburg, Russia.
Brazilian citizens aged 18 to 29 are twice as likely to be unemployed, and the Brazilian government is now planning to implement new employer tax incentives to bring the youth back into the workforce. The new initiative is expected to create 1.8 million jobs for that targeted demographic by 2022. We will make payrolls less expensive over the next three years, responsibly, showing how we will make up for it while respecting the budget." Labor Secretary Marinho said. Brazil's unemployment rate stood at 11.8% during the third quarter, which is down from the 2017 peak of 13.7%.
US Market Closings:
Dow advanced 222.93 points or 0.80% to 28,004.89
S&P 500 advanced 23.83 points or 0.77% to 3,120.46
Nasdaq advanced 61.81 points or 0.73% to 8,540.83
Russell 2000 advanced 7.65 points or 0.48% to 1,596.45
Canada Marker Closings:
TSX Composite advanced 56.29 points or 0.33% to 17,028.47
TSX 60 advanced 4.18 points or 0.41% to 1,019.86
Brazil Market Closing:
Bovespa advanced 496.93 points or 0.47% to 106,556.88
ENERGY:
OPEC forecast for oil demand next year helped push up the price of oil. The OPEC group are expected to maintain cuts when they meet for their policy next month. Also, the recent news regarding the US and China trade deal has helped spur optimism over future demands for Crude oil.
The oil markets had a green day today:
Crude Oil increased 0.7595 USD/BBL or 1.33% to 57.5872
Brent increased 1.0319 USD/BBL or 1.66% to 63.3934
Natural gas increased 0.0566 USD/MMBtu or 2.15% to 2.6875
Gasoline increased 0.0203 USD/GAL or 1.25% to 1.6428
Heating oil increased 0.0297 USD/GAL or 1.55% to 1.9467
Top commodity gainers: Ethanol (4.24%), Soybeans (2.23%),Natural Gas(2.15%), and Rice (1.72%)
Top commodity losers: Lumber (-4.32 %), Bitumen(-1.51%), Corn (-1.43%), and Palladium (-1.41%)
The above data was collected around 14:20 EST on Friday.
BONDS:
Japan -0.07%(+1bp), US 2's 1.61% (+2bps), US 10's 1.83%(+1bps), US 30's 2.31%(+1bps), Bunds -0.34% (+1bp), France -0.02% (-1bp), Italy 1.33% (-10bp), Turkey 12.10% (-13bp), Greece 1.48% (-56bp), Portugal 0.38% (-1bp), Spain 0.47% (+0bp) and UK Gilts 0.73% (+2bp).