Blog/Market Talk
Posted Nov 15, 2018 by Martin Armstrong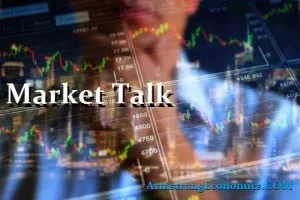 Asia traded reasonably well following the US volatility, with core China indices closing over 1% higher following encouraging Trade headlines. Talk is that discussions between the two are progressing – or even that they are communicating! However, the main topic happened later in early London trading so lets just jumped ahead to todays hot topic – BREXIT.
Having heard Theresa May address the media yesterday, today she presented her position to the House. That, however, was undermined two hours earlier when the then BREXIT Secretary, Dominic Raab, resigned his post of office, taking todays total to five (both junior and senior posts). Dominic's statement was quite damning for the PM, claiming it was Theresa Mays plan and not his idea of BREXIT. Theresa Mays position took another blow just after her three hour explanation when Jacob Rees-Mogg suggested he would support a leadership challenge. Whilst all this political bravado was taking place Sterling fell 2%. This uncertainty has hit financials and property companies the hardest as with individual stocks off between 5% and 10%. Late in the day the UK's FTSE managed a slight positive close, but is not surprising given the currency is close to 2% lower on the day. Greek debt drifted some more today (+8bp) as money continues to move away from risk and back home. Gilts benefited from all the volatility and saw the 10yr bond gain 14bp by the close.
As the amount of money flow back to the US starts to increase, technology shares buck their recent down move and gain 1.5% on the day. We did see some initial weakness, but fortunately that was short-lived and the chase for paper was on. Just after the open we saw core indices off around -0.5%, but then talk that both the US and China were to increase efforts to compromise turned all indices. The NADAQ was off nearly 10% over the past month and so any news that may encourage a recovery was very welcome. Economic data released roughly in line, but the Retail Sales number did offer good diverse growth. Wage growth has been extremely robust and also helping were some strong earnings reports.
Japan 0.10%, US 2's closed 2.85% (-2bp), US 10's closed 3.11% (-2bp), US 30's 3.36% (-1bp), Bunds 0.36% (-4bp), France 0.75% (-3bp), Italy 3.49% (+1bp), Greece 4.53% (+7bp), Portugal 1.96% (u/c), Spain 1.63% (+1bp) and UK Gilts closed 1.36% (-14bp).