Blog/Market Talk
Posted Nov 15, 2017 by Martin Armstrong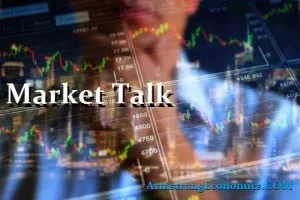 Asian markets opened lower with markets continuing the slide as the day progressed. The Nikkei took the trophy for being the weakest component with a daily loss of 1.6%. With declining energy and commodity prices coupled with poor economic data was enough to take the market lower and the immediate effect was a strengthening of the Yen. Early trade in the day was around the mid 113's, but the data and speed of the decline swept money into the regional safe-haven – the Yen, taking it close to the mid 112's. Shanghai and Hang Seng also traded heavy ending the day close to 1% lower, partly following regional sentiment but still an overhang of yesterdays poor data. Core markets opened weak and never really recovered closing at or near their days lows.
Interesting that Europe felt the roll-over of Asian equities at different times! All core opened lower but the DAX hit its days low around midday whilst the CAC had to wait until the final hour of trading but then saw a last minute recovery to bounce it almost 1% closing just -0.3%. The US Dollar has had a rough day today with the all six rallying to weaken the DXY, but GBP lost much of its gains and the Euro not that far behind. UK's employment data did not help cable which makes that 1.3110 level look vulnerable. Actually, the price action for both has not been great in todays trading. Oil finally ran its course and found sellers at recent highs, the EIA's projection of lower demand didn't help but it was time anyway. The one positive you can from todays price action is that the bond market acted as you would expect in times of trouble! The core rallied, but only small with the treasury spread tightening – while the peripherals widened to core. The test will come when it becomes obvious the flight is to the USD then the yield rises for all European government paper.
US indices followed the trend opening lower and soon hit a 130 point decline then found it difficult to bounce. In the final minutes of trading and as President Trump addressed the people, indices revisited and set new daily lows. The UDS did however trade well during the address taking confidence from what was said. Profits are being booked in recent days which should really have been expected. Currency will be the thing to watch over the next few days, especially after todays rejection of the highs – the underlying money flow into the US continues.
2's closed 1.68% (-1bp), 10's 2.33% (-5bp), 30's 2.78% (-5bp), Bunds 0.37% (-2bp), France 0.73% (-2bp), Italy 1.82% (+1bp), Greece 5.02% (+2bp), Turkey 12.01% (+3bp), Portugal 1.97% (+2bp), Spain 1.54% (+2bp) and Gilts 1.28% (-4bp).