Blog/Market Talk
Posted Nov 14, 2019 by Martin Armstrong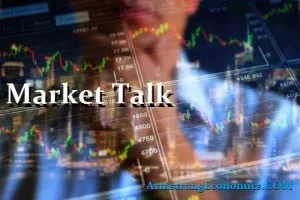 ASIA:
China is insisting that the US retract any tariffs as a part of "phase one" of the trade deal. "The trade war was begun with adding tariffs, and should be ended by canceling these additional tariffs. This is an important condition for both sides to reach an agreement," China's Ministry of Commerce spokesperson Gao Feng said. Still there seems to be other sticking points such as the farm required purchases from China each year as well as US demanding China stops opioid sales into the US.
The Japanese economy showed signs of slowing in the third quarter as newly released data shows the annualized rate of growth was only at 0.2%. This is a sharp drop from the previous quarter, which saw the growth rate at 1.8%. One of the main reasons for the bad performance was the weak exports, with China being a large trading partner slowing down.
Singapore has created a nationwide AI initiative to become a "Smart Nation" by 2030. There will be five projects, which will touch on areas such as logistics, healthcare, border security, estate management, and education.
Asian Market Closings:
Shanghai advanced 4.63 points or 0.16% to 2,909.87
Kospi advanced 16.78 points or 0.79% to 2,139.23
ASX 200 advanced 25.50 points or 0.38% to 6,759.80
NIKKEI 225 decreased 178.32 points or -0.76% to 23,141.55
Hang Seng decreased 247.77 points or -0.93% to 26,323.69
SENSEX advanced 170.42 points or 0.42% to 40,286.48

EUROPE/EMEA:
In the UK, the Brexit Party and Conservatives are trying to make a deal that would put the Conservatives into power and grant the Brexit Party many Labour seats. However, they failed to reach a deal. The Brexit Party wanted the Conservatives to remove any candidates running in certain areas, while the Conservatives said they would put in "paper candidates" instead.
Germany narrowly avoided a technical recession in the third quarter as the economy grew by 0.1%. Many analysts expected a negative rate, meaning a month-over-month negative contraction as a technical recession. However, the growth brings growth to 0.5% from July to September. Still, this is no means an indicator that the economy is doing well, as there are many areas in which the economy is weak such as the auto industry which is a key driver for the German economy.
The EU is planning on revising the introduced Mifid ii to the industry. Reports are showing that the industry is getting increasing frustrated with the introduced regulations. "No decision has been taken so far on the review of Mifid II, though the commission acknowledges that some adjustments may be required," a spokesperson told citywide.
European Market Closings:
CAC 40 decreased 6.0 points or -0.10% to 5,901.08
FTSE 100 decreased 58.45 points or -0.80% to 7,292.76
DAX 30 decreased 49.84 points or -0.38% to 13,180.23
US/AMERICAS:
John Williams, president of the Federal Reserve Bank of New York, believes that the current monetary policy will enable the Fed to further stimulate the economy if needed. "Monetary policy should not get caught up in ups and downs on trade," Williams noted, specifically mentioning both China and Brexit. The bank president admitted that the Fed needs to conduct additional research to understand the resilience of the repo market. "Reserves are now at levels that are consistent with ample reserves," he stated. Despite claiming that reserves are "ample," the Fed accepted a $73.59 bid on Thursday and has no concrete plan for when the repurchasing will cease.
Robert Kaplan, president of the Federal Reserve Bank of Dallas, voiced that he does not foresee the US economy entering into a recession despite sluggish growth. The strong labor market and increased consumer spending should negate the downturn in business investment and manufacturing, according to Kaplan. Kaplan expects the economy to expand by around 2% this year.
Banxico, Mexico's central bank, lowered its benchmark interest rate by 25 basis points to 7.5%. This is the third consecutive time that the bank has decided to lower rates. The bank cited "stagnant" economic conditions as a main reason for the cut. Banxico members made it clear that they plan to gradually decrease the target rate and expect it to reach 7% before the end of the year and 6% by June 2020.
"China is becoming more and more part of Brazil's future," President Bolsonaro said after meeting with Chinese President Xi. Russian President Putin, Indian Prime Minister Narendra Modi, and South African President Cyril Ramaphosa will come together in Brazil for the BRICS Business Council. China is currently Brazil's largest trading partner, and Bolonaro is hopeful that China can help Brazil "diversify our trade relations." President Xi voiced optimism as well, citing that stronger ties with Latin America could help China "build an open world economy."
US Market Closings:
Dow declined 1.63 points or -0.01% to 27,781.96
S&P 500 advanced 2.59 points or 0.08% to 3,096.63
Nasdaq declined 3.08 points or -0.04% to 8,479.02
Russell 2000 declined 0.39 of a point or -0.02% to 1,588.79
Canada Market Closings:
TSX Composite advanced 14.19 points or 0.08% to 16,972.18
TSX 60 declined 0.35 of a point or -0.03% to 1,015.68
Brazil Market Closing:
Bovespa advanced 496.93 points or 0.47% to 106,556.88