Blog/Market Talk
Posted Nov 14, 2018 by Martin Armstrong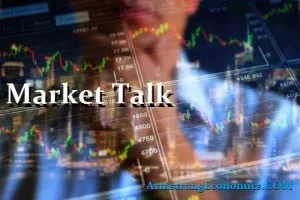 Only two of the core Asian indices opened better this morning and even they backed into negative territory. The Nikkei and the SENSEX were the two, but both were back in the red within the hour. Nerves, poor data, sentiment, lack of investment and the US volatility are all reasons being provided for the negativity being seen globally. In late US trading we have seen a flight into the Yen (113.50) as US equities face another volatile session and so a continuation of the Asian cash weakness is anticipated. China's Shanghai did manage a positive after better than expected Industrial Output number, but that was not to last. With Shanghai index still down over 20% for the year to date, nerves will continue into year end. The Hang Seng closed down -0.5% which puts that at -14% YTD. The heavy energy and commodity prices are having a huge impact on the A$ and stocks. Closing down nearly 2% now puts the index down 5.5% YTD, whilst the A$ is -7% YTD.
Europe opened weakly but then bounced back into the green after strong data helped sentiment. However, having built confidence in a US strong futures performance was soon to be left stranded. Much of the European talk centered on the UK and the BREXIT announcement. Theresa May held a press conference to claim a deal "agreement" but of course, now it has to go to Parliament. Sterling was as volatile as you can imagine, whipsawing between 1.2875 and 1.3075. before closing at 1.3010. There was a lot of talk that GBP may well have experienced a helping hand but that was the talk. The other topic that re-emerged was the Italian budget proposal and the fact they are refusing to renegotiate their proposed offer. 10yr BTP were out another 5bp today (3.48%) and the banks again trading heavy. Most core (CAC, DAX) were both off around -0.5% but still down -5% and -12% respectively YTD. Also worth a mention is that the Euro is also down 5.75% YTD for all non-European investors.
US cash was up around +200 points in early trading but then fell over 500 from the highs. Tech and Financials get the blame today but is worth splitting these by sectors. In financials again we saw Goldman down which brings the decline over the past few days to -12% and puts it -20% YTD. The technology sector continues to see profit-taking and again is worth noting that the NASDAQ is still up 3.5% YTD and up over 36% overs two year period. Even though we are seeing regular 500 point trading days we are yet to see a significant pick up in the VIX. Speculation is that the volume is in the derivatives (ETF's) and only the remaining delta need be hedged. CPI was in-line and so we now move back to watching US/China trade talks. Bitcoin sold off over 10% to 5500 closing at the year's lows. Talk that a split is rumored for the selling pressure.
Japan 0.10%, US 2's closed 2.87% (-1bp), US 10's 3.13% (-1bp), US 30's 3.37% (+1bp), Bunds 0.40% (-1bp), France 0.78% (u/c), Italy 3.48% (+4bp), Turkey 16.38% (-23bp), Greece 4.46% (+6bp), Portugal 1.96% (+2bp), Spain 1.62% (+2bp) and Gilts 1.50% (-2bp).