Blog/Market Talk
Posted Nov 13, 2019 by Martin Armstrong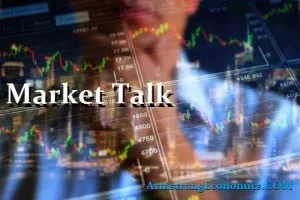 ASIA:
More protests occurred overnight in Hong Kong as students and police have been clashing. China will most likely intervene in Hong Kong as their previous "hands off" policy is not providing the desired result.
China released a new submarine. The JL-3 has a range of up to 7,500 miles and could reach the US from submarines stationed in Asia.
In India, stories of the clampdown in Jammu and Kashmir and the threat to strip millions of poor, mostly Muslim, people in Assam of citizenship, a form of ethnic cleansing by bureaucracy, have seeped into the world's consciousness. Many Western business people are still inclined to defend the Indian prime minister. Even if Narendra Modi is bad for democracy, they say, his pro-business philosophy is good for the economy. But this argument no longer stands valid. India's economy is incompetently managed and doing badly. Growth fell from 8% in the middle of last year to 5% year-over-year in the most recent quarter. That might not sound too bad, and other emerging economies are also suffering, but India needs to grow faster just to keep its vast workforce fully employed. Worse, the slowdown looks less like a dip than a prolonged cold shower.
Some banks and many other lenders are in crisis, with a $200bn mountain of bad debts. In the six months ending in September, the total flow of financing to businesses fell by 88%. Five successive rate cuts by the Reserve Bank of India, the central bank, have failed to pull down commercial lending rates, and in any case, firms are not investing. Consumer demand has leveled off or fallen too. Sales of cars and motorbikes have tumbled by 20% or more. And with the combined fiscal deficit of the federal government and the states already approaching 9% of GDP, and tax receipts falling well below expectations, there is little scope for stimulus.
With the exception of a steep cut in corporate taxes earlier this month to 25%, which brings India into line with other countries in the region, the official response has been scattershot and timid. Nevertheless, the outlines of what needs to be done are clear. To start, Mr. Modi should recruit an economic team that is based on competence and experience rather than affinity for the Bharatiya Janata Party's Hindu-nationalist ideology. It must tackle both the financial crisis and sagging demand. To fix the banking system, the banks and the lightly regulated shadow banks that have recently been lending heavily need to be stress-tested and, where necessary, the banks recapitalized. Eventually, the state-owned banks could be privatized and the shadow banks put under the same prudential regulations as other lenders.
The major Asian stock markets had a negative day today:
Shanghai decreased 9.58 points or -0.33% to 2,905.24
Kospi decreased 18.47 points or -0.86% to 2,122.45
ASX 200 decreased 54.60 points or -0.81% to 6,698.40
NIKKEI 225 decreased 200.14 points or -0.85% to 23,319.87
Hang Seng decreased 493.82 points or -1.82% to 26,571.46
SENSEX decreased 229.02 points or -0.57% to 40,116.06
The major Asian currency markets had a mixed day today:
AUDUSD decreased 0.0006 or 0.09% to 0.6834
NZDUSD increased 0.00805 or 1.27% to 0.64095
USDJPY decreased 0.2230 or 0.20% to 108.7770
USDCNY increased 0.0077 or 0.11% to 7.0312
Precious Metals:
Gold increased 6.77 USD/t oz. or 0.46% to 1,465.63
Silver increased 0.1664 USD/t. oz or 0.99%% to 16.9121
Some economic news from last night:
New Zealand:
FPI (MoM) (Oct) decreased from 0.0% to -0.3%
RBNZ Interest Rate Decision remain the same at 1.00%
Australia:
Westpac Consumer Sentiment (Nov) increased from -5.5% to 4.5%
Wage Price Index (QoQ) (Q3) decreased from 0.6% to 0.5%
Wage Price Index (YoY) (Q3) decreased from 2.3% to 2.2%
South Korea:
Unemployment Rate (Oct) increased from 3.4% to 3.5%
M2 Money supply (Sep) decreased from 7.60% to 7.20%
Japan:
PPI (YoY) (Oct) increased from -1.1% to -0.4%
PPI (MoM) (Oct) increased from -0.3% to 1.1%
Some economic news from today:
India:
CPI (YoY) (Oct) increased from 3.99% to 4.62%
EUROPE/EMEA:
Angela Merkel has urged Europe to seize control of its data from the US. She slightly criticized how many European companies are outsourcing to US companies and thus losing independence. She touched on the role of Artificial intelligence and stated that it was best if everything was based in the EU to have "digital sovereignty."
Tesla boss Elon Musk has plans to open a European factory in Berlin. This will be the second factory outside of the US, with the first just opened weeks ago in China. The reasons as to why Germany was chosen over the UK was the uncertainty of Brexit according to Mr. Musk.
Inflation in the UK rose at its slowest pace in over three years last month. The ONS said that consumer prices rose 1.5% in October, down from 1.7% in September, which is short of the BOE target of 2%. Unemployment in the UK fell by 58,000 from July to September 2019. Women's roles dropped by 93,000, but was offset by a gain of 35,000 men. In the three months part-time employment dropped by 164,000.
Regarding politics in the UK, the Labour Party has asked for a report into the meddling of affairs of the Russians with respect to British politics and namely Brexit.
A senior US official told a crowd at a petroleum conference in the UAE that the nuclear deal is completely in Iran's power to fix. "The administration has been very clear on the conditions. They're encouraging talks, but there are certain conditions that have to be met. Fomenting proxy wars and creating instability in the region, that is not a way to come to the negotiation table," he stated.
The major Europe stock markets had a negative day today:
CAC 40 decreased 12.66 points or -0.21% to 5,907.09
FTSE 100 decreased 14.23 points, or -0.19% to 7,351.21
DAX 30 decreased 53.44 points or -0.40% to 13,230.07
The major Europe currency markets had a negative day today:
EURUSD decreased 0.0002 or 0.02% to 1.1005
GBPUSD decreased 0.0001 or 0.00% to 1.2844
USDCHF decreased 0.0037 or 0.37% to 0.9893
Some economic news from Europe today:
Germany:
German CPI (YoY) (Oct) remain the same at 1.1%
German CPI (MoM) (Oct) remain the same at 0.1%
German HICP (MoM) (Oct) remain the same at 0.1%
German HICP (YoY) (Oct) remain the same at 0.9%
UK:
Core CPI MoM (MoM) (Oct) decreased from 0.2% to 0.1%
Core CPI (YoY) (Oct) remain the same at 1.7%
Core PPI Output (YoY) (Oct) decreased from 1.7% to 1.3%
Core PPI Output (MoM) (Oct) remain the same at -0.1%
Core RPI (MoM) (Oct) remain the same at -0.2%
Core RPI (YoY) (Oct) decreased from 2.4% to 2.1%
CPI (MoM) (Oct) decreased from 0.1% to -0.2%
CPI (YoY) (Oct) decreased from 1.7% to 1.5%
CPI, n.s.a (Oct) decreased from 108.48 to 108.30
PPI Input (MoM) (Oct) decreased from -0.9% to -1.3%
PPI Input (YoY) (Oct) decreased from -3.0% to -5.1%
PPI Output (YoY) (Oct) decreased from 1.2% to 0.8%
PPI Output (MoM) (Oct) remain the same at -0.1%
RPI (YoY) (Oct) decreased from 2.4% to 2.1%
RPI (MoM) (Oct) remain the same at -0.2%
Euro Zone:
Industrial Production (YoY) (Sep) increased from -2.8% to -1.7%
Industrial Production (MoM) (Sep) decreased from 0.4% to 0.1%
US/AMERICAS:
US indexes recovered midday after Federal Reserve Chairman Jerome Powell testified before Congress. "Looking ahead, my colleagues and I see a sustained expansion of economic activity, a strong labor market, and inflation near our symmetric 2 percent objective as most likely," Powell testified. Furthermore, Powell suggested that the FOMC will not cut interest rates again this year, yet, "Policy is not on a preset course." Inflation remains below the 2% target, and the Fed will not consider raising rates until inflation rises substantially.
Regarding the repo crisis, the Federal Reserve is still examining the reasons behind September's near liquidity crisis when the number of securities outnumbered the cash flowing in. "The Fed thinks it has repo market issues under control," Powell said, with "thinks" being the key word. The Federal Reserve is continually pumping money into the market by the billions. On Wednesday, the New York Federal Reserve accepted $77.09 billion in bids and $76.94 billion on Tuesday. At the time of this writing, the overnight repo rate stands at 1.6%. It is unclear when the repurchasing program will cease.
Although the labor market is solid and unemployment remains low, Powell expressed a few concerns. "The US faces longer-term issues, including labor force participation and productivity," he stated. With low unemployment and fewer available workers, he hinted that immigration will be critical for future labor growth. "It's a bit of a puzzle why we haven't seen more of an uptick on wages," the chairman also added.
US household debt has peaked, according to newly released data from the New York Federal Reserve. In the third quarter, household debt rose by 0.7% to $13.95 trillion. This is the highest household debt on record since 2008 when it stood at $12.68 trillion. Mortgage debt rose by $31 billion to $9.44 trillion as more people continue to take advantage of low rates. Student debt is also substantially higher in the third quarter after rising by $20 billion to $1.5 trillion.
Google announced plans to branch out into online banking. Stanford Federal Credit Union and Citigroup will allegedly manage the accounts, according to a source who spoke to the Wall Street Journal. A representative for Google said that all accounts will be FDIC or NCUA insured. Details of the program, which could begin as soon as next year, will be released soon.
US Market Closings:
Dow advanced 92.10 or 0.33% to 27,783.59
S&P 500 advanced 2.20 points or 0.07% to 2,094.04
Nasdaq declined 3.99 points or -0.05% to 8,482.10
Russell 2000 declined 5.94 points or -0.37% to 1,589.18
Canada Market Closings:
TSX Composite advanced 48.61 points or 0.29% to 16,957.99
TSX 60 advanced 3.06 points or 0.30% to 1,016.03
Brazil Market Closing:
Bovespa declined 691.16 points or -0.65% to 106,059.95
ENERGY:
The IEA reported that they forecast global oil demand for crude oil to peak in the mid-2020s and start to slow down in 2030. They expect the growth of demand will be around 1% annually until 2025.
The oil markets had a green day today:
Crude Oil increased 0.46 USD/BBL or 0.81% to 57.1731
Brent increased 0.47 USD/BBL or 0.76% to 62.4046
Natural gas increased 0.038 USD/MMBtu or 1.45% to 2.6633
Gasoline increased 0.0254 USD/GAL or 1.57% to 1.6418
Heating oil increased 0.0185 USD/GAL or 0.97% to 1.9144
Top commodity gainers: Cocoa (1.60%),Coffee (2.23%),Sugar(2.07%), and Gasoline (1.57%)
Top commodity losers: Ethanol(-1.26 %), Lean Hogs(-2.67%), Wheat (-1.60%), and Feeder Cattle (-1.54%)
The above data was collected around 15:40 EST on Wednesday.
BONDS:
Japan -0.04%(-1bp), US 2's 1.63% (-2bps), US 10's 1.88%(-3bps), US 30's 2.35%(-3bps), Bunds -0.31% (-6bp), France 0.02% (-4bp), Italy 1.35% (+4bp), Turkey 12.12% (-12bp), Greece 1.41% (+1bp), Portugal 0.37% (+0bp), Spain 0.48% (+2bp) and UK Gilts 0.77% (-4bp).