Blog/Market Talk
Posted Nov 13, 2018 by Martin Armstrong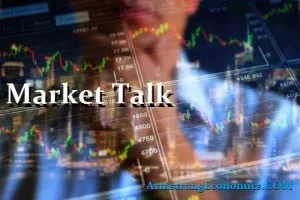 Although the Asian markets opened weaker, that proved to be the days low and all recovered from then on. That said, the Nikkei, New Zealand, KOPSI and ASX all finished lower with Japan actually losing 2%. In late trading we are seeing a small recovery for the Nikkei futures but with that the Yen is well into the 114's. The Hang Seng spent all day climbing back to unchanged, whilst Shanghai and the SENSEX both managed a near 1% return for the day. Opinions are divided as to reasoning for all this stock market turbulence, but should be noted that when derivative volume and model volume play algo's outweigh cash markets, turbulence is bound to increase yet not alter the long term trend. Currency markets are large enough to handle this kind of interference and so tend not to create the fear of volatility.
Europe was a buzz with talk of deals between US and China and also talk that the UK may very well be agreeing terms with the EU as early as this week! Obviously, a huge amount of speculation on the later from agreed text to signature soon, but that was the reason given by many for the excuse why Sterling rallied 1.5%. Oil has been another major discussion topic today following its $4 fall resulting in a 6% decline. The price has fallen 25% over the past month with talk that many were wrong-footed by Iran's production numbers. Stocks were making a recovery early in European trading but it wasn't until the US opened that that rally built momentum. Early US futures had expected another weak opening for cash but fortunately that was not to be. Most core indices closed on their days highs up around 1%.
Following yesterdays decline, the mood at the opening was probably best described as hesitant at best. Fortunately, Apple stock saw some recovery and that helped the whole sector to rally. Early losses were rejected and the market was abuzz with positivity surrounding the talk that US and China were talking trade again. However, this mood was soon reversed and in light volume we traded back down to close the day off 100 points in the DOW. The NASDAQ only just managed to hold onto gains which does appear positive for the Asian session.
Japan 0.10%, US 2's closed 2.88% (-1bp), US 10's closed 3.14% (-1bp), US 30's 3.36% (+1bp), Bunds 0.41% (+1bp), France 0.78% (u/c), Italy 3.44% (+1bp), Turkey 16.61% (-1bp), Greece 4.40% (+3bp), Portugal 1.94% (u/c), Spain 1.60% (+1bp) and Gilts 1.52% (+7bp).