Blog/Market Talk
Posted Nov 12, 2019 by Martin Armstrong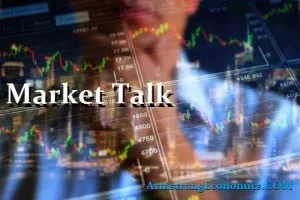 ASIA:
China is trying to implement a digital currency and be the first in the world to do so. "We know the demand from the general public is to keep anonymity by using paper money and coins…We will give those people who demand it anonymity in their transactions," Mu Changchun, head of the People's Bank of China's Digital Currency Research Institute, stated at a conference in Singapore. He also stressed that they will be controlling it to make sure that people are adhering to money laundering and tax laws.
The chairman of the U.S. Joint Chiefs of Staff, Gen. Mark Milley, agreed with Japanese officials today and said that three-way cooperation with South Korea is key to regional security and that an intelligence sharing pact between Tokyo and Seoul should not be scrapped. "We shared a view that Japan-U.S.-South Korea cooperation is more important now than ever, as we discussed the latest situation related to North Korea, including the North's latest launch of ballistic missiles," Japanese Foreign Minister said.
In Hong Kong, the protests are now in their fifth month without a sign of the situation bettering any time soon. A standoff took place today between police and university students. The local police described the situation in Hong Kong as the rule of law on the brink of collapse.
India Report
India decided to walk out of the biggest regional trade partnership in the world. The RCEP negotiations were launched in 2012, and this year there was a big push to get it finalized. After India's rejection, the remaining 15 members decided to go ahead and underlined their intent to sign a trade deal sometime next year, keeping the door open for India to join at a later date.
The main reason for India to opt out of this biggest free trade agreement in the world was its protectionist approach and the fear of dominance of China in the trade agreement. At a time of escalating Sino-U.S. trade tensions, China was particularly keen to see a successful conclusion of the RCEP summit and had been vigorously pushing for that. India's demands at the RCEP negotiations included shifting the base year for tariff cuts from 2014 to 2019. This move would allow India to avoid a sudden surge in imports from China by including a large number of items in an auto-trigger mechanism, calling for stricter rules of origin to prevent dumping from China, and a better deal in services. The China factor, therefore, was key to New Delhi's assessment of costs and benefits.
Comprising half of the world population, accounting for nearly 40% of global commerce and 35% of the GDP, the RCEP would have become the world's largest free trade area after finalization. India would have been the third-biggest economy in it. Without India, however, the RCEP does not look as attractive as it had seemed during negotiations. Not surprising, therefore, that there are divisions within the ASEAN on moving ahead without India.
ASEAN has always been keen on a diversified portfolio of partners so that its member states can leverage their centrality in their dealings with major powers and maintain their strategic autonomy. While China's clout has been growing in the region, ASEAN member states have tried to keep the U.S. engaged in the region as well. But with the Trump administration giving mixed signals about Washington's commitment towards the region, ASEAN has been looking at New Delhi with a renewed sense of anticipation.
Both geopolitically and geo-economically, China now looks set to dominate the Indo-Pacific, which may not be good news for the region and India. This is the reason why Japan is now suggesting that it would work towards a deal which includes India. Even as China is pushing for an early conclusion of RCEP among the remaining 15 members, Japanese Trade Minister Hiroshi Kajiyama made it clear that Tokyo "wants to play a leading role toward reaching an early agreement between all 16 countries, including India, with the aim of signing it in 2020."
In rejecting the RCEP, New Delhi seems to be signaling that despite the costs, China's rise has to be tackled both politically and economically. How the rest of East and Southeast Asia responds to India's move will determine the future balance of power in the Indo-Pacific.
The major Asian stock markets had a mixed day today:
Shanghai increased 4.85 points or 0.17% to 2,914.82
Kospi increased 16.83 points or 0.79% to 2,140.92
ASX 200 decreased 19.50 points or -0.29% to 6,753.00
NIKKEI 225 increased 188.17 points or 0.81% to 23,520.01
Hang Seng increased 138.73 points or 0.52% to 27,065.28
SENSEX closed
The major Asian currency markets had a mixed day today:
AUDUSD decreased 0.0008 or 0.12% to 0.6841
NZDUSD decreased 0.0029 or 0.46% to 0.6330
USDJPY decreased 0.0420 or 0.04% to 108.9980
USDCNY increased 0.0127 or 0.18% to 7.0185
Precious Metals:
Gold increased 1.9 USD/t oz. or 0.13% to 1,460.51
Silver decreased 0.049 USD/t. oz or -0.29%% to 16.8369
Some economic news from last night:
New Zealand:
External Migration & Visitors (Sep) decreased from 1.80% to 1.40%
Permanent/Long-Term Migration (Sep) decreased from 4,150 to 3,440
Visitor Arrivals (MoM) decreased from 1.4% to -0.1%
Inflation Expectations (QoQ) decreased from 1.9% to 1.8%
Australia:
NAB Business Confidence (Oct) increased from 0 to 2
NAB Business Survey (Oct) increased from 2 to 3
Japan:
M2 Money Stock (YoY) increased from 2.4% to 2.5%
M3 Money Supply (Oct) increased from 1,812.3T to 1,820.2T
Some economic news from today:
Japan:
Machine Tool Orders (YoY) decreased from -35.5% to -37.4%
Singapore:
Retail Sales (MoM) (Sep) increased from -1.3% to 1.9%
Retail Sales (YoY) (Sep) increased from -4.1% to -2.2%
EUROPE/EMEA:
Bloomberg reported Angela Merkel has supported her deputy Olaf Scholz plan for a European wide deposit insurance program in the event of a sovereign debt crisis. "We will still discuss the details within the German government, but all in all the things are going in the direction that we need. Namely, that we have to get ahead." Merkel said. Italian Finance minister was a little more skeptical about the deal with the Italian banks having typically large sovereign bonds on their balance sheets. He stressed that there was not a need to be over cautious. "We do not fear any instability [in our financial system]," he said. "We believe that this discussion should proceed in a balanced way."
The EU gave the green light to create more weapons of war independently from the US. This plan will include 13 new defense projects. Recently, US President Donald Trump criticized the Europeans over their lack of defense as well as questioning the role of the US funding for NATO.
Tomorrow, US Donald Trump give his decision on whether the US will raise tariffs on European cars imported into the US.
Turkish President announced that as much as 365,000 immigrants of Syrian nationality have been deported back to their homeland. He also mentioned that a US ISIS suspect was stuck on the border of Turkey, but said it was not their problem.
Iranian foreign minister Mohammad Javad Zarif tweeted today that it was not just the US who failed with their commitments but also Europe. "To my EU/E3 Colleagues: 1. 'Fully upheld commitments under JCPOA' YOU? Really? Just show ONE that you've upheld in the last 18 months. 2. Iran triggered-& exhausted-dispute resolution mechanism while you were procrastinating. We're now using para36 remedies," Zarif tweeted.
The major Europe stock markets had a green day today:
CAC 40 increased 25.94 points or 0.44% to 5,919.75
FTSE 100 increased 36.90 points, or 0.50% to 7,365.44
DAX 30 increased 85.14 points or 0.65% to 13,283.51
The major Europe currency markets had a mixed day today:
EURUSD decreased 0.0024 or 0.22% to 1.1008
GBPUSD increased 0.0005 or 0.04% to 1.2856
USDCHF decreased 0.0004 or 0.04% to 0.9928
Some economic news from Europe today:
Norway:
GDP (QoQ) (Q3) decreased from 0.2% to 0.0%
GDP Mainland (QoQ) (Q3) remain the same at 0.7%
UK:
Average Earnings ex Bonus (Sep) decreased from 3.8% to 3.6%
Average Earnings Index +Bonus (Sep) decreased from 3.7% to 3.6%
Claimant Count Change (Oct) increased from 13.5K to 33.0K
Employment Change 3M/3M (MoM) (Sep) decreased from -56K to -58K
Unemployment Rate (Sep) decreased from 3.9% to 3.8%
Germany:
German ZEW Current Conditions (Nov) increased from -25.3 to -24.7
German ZEW Economic Sentiment (Nov) increased from -22.8 to -2.1
Euro Zone:
ZEW Economic Sentiment (Nov) increased from -23.5 to -1.0
US/AMERICAS:
President Trump presented at the Economic Club of New York this Tuesday and expressed his continued dismay with the Federal Reserve. Despite the Dow reaching its ninth all-time annual high this week, the president claims that the stock market in general would be up by an additional 25%. "We are actively competing with nations who openly cut interest rates so that now many are actually getting paid when they pay off their loan, known as negative interest," the president said. Still, the data shows that countries that have adopted negative interest rates have not seen any improvement in their economic conditions.
America's top milk producer, Dean Foods, filed for chapter 11 bankruptcy this Tuesday. The Dairy Farmers of America are allegedly in talks with Dean Foods to buyout their remaining assets. Overall milk consumption in the US has been rapidly declining for years as the popularity of plant-based milk rises. According to the USDA, milk consumption has declined by over 26% over the past two decades.
CVS has partnered with UPS to begin delivering prescription medications by drone. CVS President Kevin Hourican said this move will help customers who are unable to easily access brick and mortar locations. "CVS is exploring many types of delivery options for urban, suburban and rural markets. We see big potential in drone delivery in rural communities where life-saving medications are needed and consumers at times cannot conveniently access one of our stores," announced President Hourican. UPS Flight Forward was the first drone shipping agency to receive clearance from the FAA. Drone shipments are expected to become more common place.
Brazil's service sector saw a notable increase in September after rising by 1.2% MoM. Brazil's service sector accounts for nearly 70% of overall economic activity. However, the service sector rose by a mere 0.6% during January-September, and 0.7% on a YoY basis. Analysts are anticipating Brazil's economy to grow by less than 1% this year. However, many analysts have a more bullish outlook for Brazil in 2020 as the country continues to attract foreign capital.
US Market Closings:
Dow remained relatively unchanged at 27,691.49
S&P 500 advanced 4.83 points or 0.16% to 3,091.84
Nasdaq advanced 21.81 points or 0.26% to 8,486.09
Russell 2000 advanced 0.35 of a point or 0.02% to 1,595.12
Canada Market Closings:
TSX Composite advanced 26.55 points or 0.16% to 16,909.38
TSX 60 advanced 1.93 points or 0.19% to 1,012.97
Brazil Market Closing:
Bovespa declined 1,616.33 points or -1.49% to 106,751.11
ENERGY:
Abu Dhabi National Oil Company, BP, Shell, Total, amongst other large oil corporations are partnering to launch a Crude oil futures exchange in Abu Dhabi. The ICE Futures Abu Dhabi will host the world's first Murban crude oil futures contracts and could act as a future benchmark similar to that of WTI.
The oil markets had a mixed day today:
Crude Oil decreased 0.11 USD/BBL or -0.19% to 56.7416
Brent decreased 0.17 USD/BBL or -0.27% to 61.9031
Natural gas decreased 0.011 USD/MMBtu or -0.42% to 2.6256
Gasoline increased 0.0045 USD/GAL or -0.28% to 1.6149
Heating oil decreased 0.0163 USD/GAL or -0.85% to 1.8941
Top commodity gainers: Cocoa (4.38%),Lean Hogs (2.53%),Wheat(2.13%), and Steel (1.67%)
Top commodity losers: Ethanol(-1.73 %), Oat(-1.60%), Lumber (-1.11%), and Heating Oil (-0.85%)
The above data was collected around 15:50 EST on Tuesday.
BONDS:
Japan -0.03%(+3bp), US 2's 1.65% (-1bps), US 10's 1.91%(-2bps), US 30's 2.39%(-3bps), Bunds -0.25% (-1bp), France 0.04% (-0bp), Italy 1.32% (-2bp), Turkey 12.24% (-5bp), Greece 1.41% (+4bp), Portugal 0.37% (+2bp), Spain 0.46% (+3bp) and UK Gilts 0.80% (-1bp).
Spanish 6-Month Letras Auction increased from -0.498% to -0.477%
Spanish 12-Month Letras Auction increased from -0.474% to -0.457%
Italian 12-Month BOT Auction increased from -0.219% to -0.135%
German 2-Year Schatz Auction increased from -0.700% to -0.620%
US 3-Month Bill Auction increased from 1.520% to 1.565%
US 6-Month Bill Auction increased from 1.535% to 1.550%
French 3-Month BTF Auction increased from -0.629% to -0.594%
French 6-Month BTF Auction increased from -0.632% to -0.596%
French 12-Month BTF Auction increased from -0.628% to -0.580%
Japan 30-Year JGB Auction increased from 0.380% to 0.460%