Blog/Market Talk
Posted Nov 12, 2018 by Martin Armstrong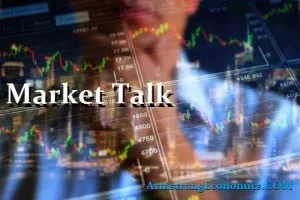 A mixed session in Asia with most players watching the oil price decline which tended to unnerve many markets. The Shanghai index climbed from early negative prices to manage a 1%+ close for the day. The talk remains centered on trade and the negotiations both are expected to have at the G20 later this month. The Yuan traded in a narrow range but still looks to be flirting with the 7 handles which could well start the ball rolling. The Nikkei also reflected the currency which remains around the 114 handles even as stocks wobble. However, much of today's moves were from European time zone onwards, so let's just jump ahead to that.
Europe opened with concerns over BREXIT and all the friction it appears Theresa May is facing over the weekend press of the Johnson family. The talk was that the PM had arranged domestic emergency BREXIT meetings, which were canceled when they became not too public. The Italian treasury office appears to be playing hardball with the EU as we heard comments hit the wires today that they wish to stick diligently to their plan. Again, the market is awash with rumors of Italian debt burden for some of its key banks, talk is in-excess of €400bnBoth of these headlines are concerning for Europe and the Euro reflected that in today's price. The Euro almost broke into the 1.11 handle following on from these earlier headlines, all of which pushed the US Dollar to its 16 month high (97.60). Sterling lost a lot of its strength ahead of the weekend and probably benefited from some of the Euro selling. However, things do not look that comfortable for either of these two currencies which helps support the bid for the Dollar. Again, it is still worth keeping an eye on the Yen as even with the equity weakness the safe-haven bid appears absent.
Concerns over a slowing global economy, a re-pricing on Apple and ongoing US / China trade worries pushed US stocks lower again even though the bid was there for the currency. There were also rumors of auto tariffs which hit the car makers, but the recent re-pricing of the FANG's is where a lot of the money looks to be flooding from and at a time when stability is required. Asia will be an interesting region for the next few weeks as the lack of Yen support suggests its the USD that will perform.
Japan 0.10%. US 2's closed 2.89% (-3bp), US 10's 3.15% (-3bp), US 30's 3.35% (-4bp), Bunds 0.40% (u/c), France 0.78% (u/c), Italy 3.43% (+3bp), Turkey 16.62%, Greece 4.37% (+3bp), Portugal 1.94%, Spain 1.59% and UK Gilts 1.45% (-4bp).