Blog/Market Talk
Posted Nov 1, 2019 by Martin Armstrong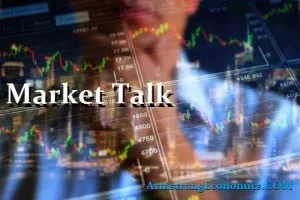 ASIA:
The Asia Pacific trade pact is in jeopardy of stalling after India voiced last minute hesitations. The Regional Comprehensive Economic Partnership (RCEP) would free trade between 16 countries whose collective GDP composes 1/3 of the global economy. Leaders from all 16 nations are set to meet in Bangkok on Monday. However, India voiced reluctancy to open free trade with China with whom it has a large trade deficit. The Indian Ministry of External Affairs stated that there are "critical issues" within the current deal and "efforts are being made to resolve them, to provide a fair and a transparent trading environment."
The World Trade Organization (WTO) awarded China the right to place $3.6 billion in sanctions on the US. Predating the current trade war, the case surrounds illegal anti-dumping protectionist tariffs that the US placed on China during the Obama administration. This decision gives China leverage in the current trade war, as they can now request retaliatory tariffs on US goods. This is the third-highest payout in WTO history. Washington could ratify their illegal anti-dumping limitations on the aforementioned Chinese goods or attempt to resolve the dispute direction with Beijing.
Drawing in the Iron Curtain, Russia implemented its "sovereign internet" law this Friday that will effectively disconnect Russian online networks from the World Wide Web. The Kremlin stated that this a matter of national security, as the independent state-controlled structure is allegedly designed to protect the nation from cyber attacks. Some question whether the move is technologically possible, but there is no disagreement that this move will allow Moscow to filter the information coming in and out of the country. Thousands of citizens took to the streets today to protest the law.
The major Asian stock markets had a mixed day today:
Shanghai increased 29.14 points or 0.99% to 2,958.20
Kospi increased 16.72 points or 0.80% to 2,100.20
ASX 200 increased 5.70 points or 0.09% to 6,669.10
NIKKEI 225 decreased 76.27 points or -0.33% to 22,850.77
Hang Seng increased 194.04 points or 0.72% to 27,100.76
SENSEX increased 35.98 points or 0.09% to 40,165.03
The major Asian currency markets had a mixed day today:
AUDUSD increased 0.0018 or 0.26% to 0.6911
NZDUSD increased 0.0029 or 0.45% to 0.6440
USDJPY increased 0.1510 or 0.14% to 108.1710
USDCNY decreased 0.0038 or 0.05% to 7.0404
Precious Metals:
Gold decreased 3.46 USD/t oz. or -0.23% to 1,508.92
Silver decreased 0.075 USD/t. oz or -0.41%% to 18.0400
Some economic news from last night:
China:
Caixin Manufacturing PMI (Oct) increased from 51.4 to 51.7
Japan:
Jobs/applications ratio (Sep) decreased from 1.59 to 1.57
Unemployment Rate (Sep) increased from 2.2% to 2.4%
Manufacturing PMI (Oct) decreased from 48.9 to 48.4
South Korea:
CPI (MoM) (Oct) decreased from 0.4% to 0.2%
CPI (YoY) (Oct) increased from -0.4% to 0.0%
Exports (YoY) (Oct) decreased from -11.7% to -14.7%
Imports (YoY) (Oct) decreased from -5.6% to -14.6%
Trade Balance (Oct) decreased from 5.98B to 5.39B
Nikkei Manufacturing PMI (Oct) increased from 48.0 to 48.4
Australia:
AIG Manufacturing Index (Oct) decreased from 54.7 to 51.6
Manufacturing PMI decreased from 50.3 to 50.0
PPI (QoQ) (Q3) remain the same at 0.4%
PPI (YoY) (Q3) decreased from 2.0% to 1.6%
Indonesia:
Nikkei Manufacturing PMI (Oct) decreased from 49.1 to 47.7
Core Inflation (YoY) (Oct) decreased from 3.32% to 3.20%
Inflation (MoM) (Oct) increased from -0.27% to 0.02%
Inflation (YoY) (Oct) decreased from 3.39% to 3.13%
Some economic news from today:
Hong Kong:
Retail Sales (YoY) (Sep) increased from -23.0% to -18.3%
India:
Nikkei Markit Manufacturing PMI (Oct) decreased from 51.4 to 50.6
FX Reserves, USD increased from 440.75B to 442.58B
Australia:
Commodity Prices (YoY) decreased from 0.3% to -4.2%
EUROPE/EMEA:
Nigel Farage heeded a warning to Boris Johnson today, "Drop the deal." Farage warned that the public will not be pleased once they learn the true details of the current deal. Farage proposed building a "leave alliance" across party lines to remove trade restrictions with the EU. Although the Conservative Party has declined to merge or form a pact with the Brexit Party, Farage suggests that an alliance between Conservatives, Brexit, and even Labour will position Britain in the strongest position for a fair exit. "17.4 million people voted Brexit and they deserve to get it," Farage stated.
During a candid interview between Brexit leader Nigel Farage and US President Trump, President Trump noted that it is too difficult for the US to trade directly with Britain under current conditions. "We can't make a trade deal with the UK because I think we can do many times the numbers that we're doing right now and certainly much bigger numbers than you are doing under the European Union," President Trump told Farage. Although perhaps not a popular suggestion between the two political parties, President Trump said that an alliance between Farage and Johnson would produce "an unstoppable force."
Saudi Arabia is hoping for a $2 trillion valuation on Aramco ahead of the IPO release set for next week. The IPO release was previously postponed due to lower than expected valuations. The company plans to issue a 3.75% dividend yield, which is less than competitor such as ExxonMobil and Shell are offering. Given that the royal family is the main investor, Crown Prince Mohammed will have the final say on when the IPO is released.
The major Europe stock markets had a green day today:
CAC 40 increased 32.04 points or 0.56% to 5,761.89
FTSE 100 increased 54.04 points, or 0.75% to 7,302.42
DAX 30 increased 94.26 points or 0.73% to 12,961.05
The major Europe currency markets had a mixed day today:
EURUSD increased 0.0014 or 0.12% to 1.1164
GBPUSD decreased 0.0005 or 0.04% to 1.2935
USDCHF decreased 0.0003 or 0.03% to 0.9860
Some economic news from Europe today:
Swiss:
Retail Sales (YoY) (Sep) increased from -1.0% to 0.9%
CPI (MoM) (Oct) decreased from -0.1% to -0.2%
CPI (YoY) (Oct) decreased from 0.1% to -0.3%
procure.ch PMI (Oct) increased from 44.6 to 49.4
Norway:
Manufacturing PMI (Oct) increased from 51.8 to 54.9
Unemployment Change (Oct) increased from 76.54K to 76.62K
Unemployment Rate n.s.a. (Oct) decreased from 2.20% to 2.10%
UK:
Manufacturing PMI (Oct) increased from 48.3 to 49.6
US/AMERICAS:
The American workforce is stronger and growing faster than anticipated according to the data released in the jobs report this Friday. The US economy exceeded expectations last month after adding 128,000 new jobs. Analysts originally anticipated an increase of only 75,000 as it was thought the GM strike would have a more direct impact on figures. Hourly earnings rose 0.1% in October (3% YoY) and the hourly work week held firm at 34.4 hours. Unemployment remains near historic lows despite rising 0.1% to 3.6%. Revision to August's and September's jobs reports were reported this Friday coming in at 219,000 (originally 168,000) and 180,000 (originally 136,000) respectively.
Robert Lighthizer and Steven Mnuchin had a productive discussion with Vice Premier Liu He this Friday. Both sides reported progress in trade discussions. The White House issued a statement saying that the US and China are "in the process of resolving outstanding issues" and talks will continue at the "deputy level." White House Economic Advisor Larry Kudlow also expressed that he felt optimistic about the trade progressing. However, Kudlow noted that the US is still prepared to implement additional tariffs on December 15 if progress stalls.
The encouraging jobs reports, US-China trade progress, and FOMC rate decision led to a bullish Friday for American indexes; both the S&P 500 and Nasdaq closed at 52-week highs. Apple benefitted from the positive US-China sentiments this Friday and advanced to a new high, spurring a surge in both the Nasdaq and Dow. Caterpillar, also US-China trade sensitive, advanced 4.77% from Thursday's session and led the rally in the Dow. Semiconductor Quovo soared over 20% this Friday, leading the way for the S&P 500.
Varying state taxes in the US has caused a recent influx of citizens into tax-friendly states. The Trump family is the most recent, and public, household to leave their home state to avoid high taxes. "Unfortunately, despite the fact I pay millions of dollars in city, state and local taxes each year, I have been treated very badly by the political leaders of both the city and state," President Trump tweeted when announcing his decision to leave New York in favor of Florida. Unlike New York, Florida does not require residents to pay personal income or estate taxes.
US Market Closings:
Dow advanced 301.13 points or 1.11% to 27,347.36
S&P 500 advanced 29.35 points or 0.97% to 3,066.91
Nasdaq rose 94.04 points or 1.13% to 8,386.40
Russell advanced 26.88 points or 1.72% to 1,589.33
Canada Market Closings:
TSX Composite advanced 110.91 points or 0.67% to 16,594.07
TSX 60 advanced 6.62 points or 0.67% to 992.95
Brazil Market Closing:
Bovespa advanced 975.80 points or 0.91% to 108,195.63
ENERGY:
The oil markets had a green day today:
Crude Oil increased 2.01 USD/BBL or 3.71% to 56.3030
Brent increased 1.47 USD/BBL or 2.44% to 61.7482
Natural gas increased 0.064 USD/MMBtu or 2.43% to 2.6916
Gasoline increased 0.0277 USD/GAL or 1.70% to 1.6581
Heating oil increased 0.0543 USD/GAL or 2.89% to 1.9335
Top commodity gainers: Live Cattle (7.12%),Crude Oil (3.71%),Oat (2.94%), and Heating Oil (2.89 %)
Top commodity losers : Lean Hogs(-2.73 %), Rubber(-2.38%), Palm Oil (-1.24%), and Bitumen (-0.53%)
The above data was collected around 15:05 EST on Friday.
BONDS:
Japan -0.18%(-4bp), US 2's 1.52% (-0bps), US 10's 1.74%(+5bps), US 30's 2.18%(+0bps), Bunds -0.41% (-1bp), France -0.10% (+0bp), Italy 1.13% (+10bp), Turkey 12.53% (-14bp), Greece 1.21% (-41bp), Portugal 0.21% (+4bp), Spain 0.29% (+4bp) and UK Gilts 0.67% (+4bp).