Blog/Market Talk
Posted Nov 1, 2016 by Martin Armstrong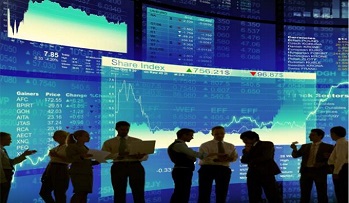 Asian markets went from strength to strength today after a disappointing opening. The Nikkei initially saw selling pushing the index down over 100 points but turned on data and a no-change BOJ announcement. Exporters have been hit recently having seen the JPY dismiss the 105 handle and especially as we see the currency play with a 103 handle in late US trading. The Shanghai and Hang Seng indices found renewed vigor after the PMI came in at 51.2 against an expected 50.3 with the Non-Manufacturing also releasing better than expected. Shanghai closed up +0.7% with the HSI closing up +0.9%. RBA left rates unchanged also which supported the A$ despite it giving back a little of that in late US trading this evening.
As the European trading day progressed, stocks traded heavier and heavier. The DAX led the way with IT shares under heavy selling but also with Deutsche Bank trading down over 3%. The Euro did see some renewed bounce rallying almost 1% which was one reason traders were thinking was a possible balance given recent swings. What was interesting is that although the DAX and IBEX closed 1.3% lower and the CAC was off 0.9% there was no movement into government bonds as many had expected.
This evening we saw the US markets under pressure as nerves continue surrounding the election but also news that Trump may be leading in key states. The VIX also saw a pick-up as the DOW was off over 200 points when it traded close to 20. Treasuries are still trading heavy with very little support given the recent sell-off in bond prices. This sell-off comes when earnings have been beating expectations signals uncertainty but is finally starting to price in the likelihood of a Trump victory, traders commented. The DOW, NASDAQ and S+P are closing down around 0.7% on the day.
After a weak trading day for Treasuries US bonds eventually closed almost unchanged on the day. 2's closed 0.84% with 10's at 1.83% (closing 2/10 curve at +99bp). Europe was less supported with 10yr Bunds closing 0.18% which closes the US/Germany 10yr spread at +165bp. Italy closed 1.75% (+8bp), Greece 7.95% (-15bp), Turkey 9.89% (+8bp) Currency was also weak today falling 0.7%; Portugal 10yr closed 3.32% (+4bp) and UK Gilt 10's at 1.28% (+3bp).