Blog/Market Talk
Posted May 9, 2017 by Martin Armstrong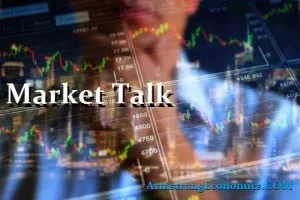 Most of the talk in Asia surrounded the Hang Seng and the new highs seen since last summer. The index rallied over 1% in todays trading led by energy and petrochemical stocks as Shanghai rebounded after recent losses. As the deleveraging within the mainland continues the HSI rally has benefited. HSI has climbed nearly 13% so far this year against the backdrop of a negative return for the Shanghai market. We continue to see selling in the Yuan also with a decline today of -0.55%. The ASX lost ground today (-0.5%), lead mostly by banking stocks, after reports that the government may impose a levy on lenders in next weeks budget. The SENSEX continues to play at near record highs though has bounced off of last Mondays lows. Property stocks continue to benefit from the governments policy to increase housing investment.
Core Europe performed well today across the board but was at the determent of the Euro again. Stable commodity prices helped but many are discussing the big unwind trade out of fixed-income and back into equities. FTSE was the best of the core, closing up +0.55%, with DAX not far behind at 0.45% and CAC small better after yesterdays losses. One interesting price action today was that of Commerzbank which having reported better than forecast results fell from a 3% bounce (almost trading at 10 but denied) to close up just 0.4% at 9.38. Germany's trade numbers were the best seen in a while yet many feel this is just a one-way street with little or not volatility which will hurt brokers and eventually banks.
A fairly steady but sustained session for US stocks but was probably blamed on the stronger USD and higher bond yields. A split finish with the DOW and S+P both closing small weaker while the Russell and NASDAQ closed better. A headline late in the trading day that North Korea plans to proceed with another nuclear test wobbled the core initially but they were very quick to respond positively. Q1 numbers have been great in supporting the market as a whole so now it is time to watch the flow move back towards the US in search of both safety (geopolitically), the strengthening currency, a lower VIX index (trading with a 9 handle now) and as the bond market unwinds from crazy yield levels. Data still encouraging – today we saw Wholesale Inventories +0.25 better than the +0.1% forecast.
2's closed 1.34% (+1bp), 10's at 2.39% (+1bp), 30's 3.02% (u/c). Bunds at 0.43% (+2bp) which closes the US/Germany spread at +196bp (-1bp). France 0.86% (+2bp), Italy 2.26% (+4bp), Greece 5.51% (-3bp), Turkey 10.29% (+6bp), Portugal 3.41% (+4bp) and UK Gilts 1.20% (+6bp)