Blog/Market Talk
Posted May 10, 2019 by marty armstrong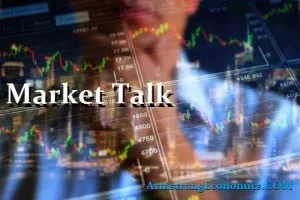 ASIA:
China and the U.S. entered the day with just one day left to agree to a trade deal before the U.S. imposed tariffs on $200 billion dollars' worth of Chinese goods goes up from 10% to 25%. Chinese Premier Liu is in the U.S. meeting with trade negotiators in an attempt to resolve differences, but as of this publishing no deal or delay on tariffs has been reached.
U.S., Japan, India, and the Philippines had a joint naval drill in the South China Sea, perhaps to illustrate to China that their military dominance in the region is not certain.
Most of the major Asian stock markets had a negative day today: SENSEX decreased 230.22 points (-0.61%) to 37,558.91; NIKKEI 225 decreased 200.46 points (-0.93%) to 21,402.13; Hang Seng decreased 692.13 points (-2.39%) to 28,311.07; Shanghai decrease 42.80 points (-1.48%) to 2,850.95; KOSPI decreased 66.00 points (-3.04%) to 2,102.01. ASX 200 took the opposite route and increased 26.20 points (0.42%) to 6,295.30.
The major Asian currency markets had a mixed day today: The AUDUSD increased 0.0003 or 0.04% to 0.6991; NZDUSD increased 0.0018 or 0.27% to 0.6591; and USDCNY increased 0.0301 or 0.44% to 6.8376. The USDJPY took the opposite route decreased 0.3830 or 0.35% to 109.7170.
Gold increased 3.17USD/t oz. or 0.25% to 1,285.05 and silver decreased 0.081 USD/t. oz or -0.55% to 14.7342
Some economic news:
South Korea:
M2 Money supply (Mar) decreased from 6.70% to 6.50%
China:
CPI (MoM) (Apr) increased from -0.4% to 0.1%
CPI (YoY) (Apr) increased from 2.3% to 2.5%
PPI (YoY) (Apr) increased from 0.4% to 0.9%
M2 Money Stock (YoY) (Mar) increased from 8.0% to 8.5%
New Loans (Mar) increased from 885.8B to 1020.0B
Outstanding Loan Growth (YoY) (Mar) increased from 13.4% to 13.5%
Economic news from Japan today:
Japan's Household Confidence (Apr) decreased from 40.5 to 40.4
EUROPE:
The EU rejected Iran's nuclear 60-day "ultimatum" after the U.S. imposed sanctions on further Iranian exports. Initially, the sanctions were waved as Iran agreed to a 2015 nuclear agreement. As the sanctions were imposed, Tehran announced they will continue with high-level enrichment of uranium if world powers do not keep their promises under the deal.
UK Labour leader Corbyn says a second referendum for a Brexit could be a "healing process" for the UK. Further adding, "Nothing is easy in this. But our essential message has to be to bring people together and that's the basis on which we've approached both what we've done in parliament and in the negotiations itself." Elsewhere, PM Theresa May is rejecting calls to resign; arguing that the handling of Brexit is not an issue about her.
Around 15 percent of primary school teachers in France are expected to take to the streets on Thursday to protest the government's planned education reforms. The main issue being that teaching unions say the education bill does nothing to improve teaching in schools.
In Spain, Spanish acting PM Sanchez met with opposition leaders to attempt to form a collation.
The major European stock markets had a negative day today: CAC 40 decreased 104.43 points or -1.93% to 5,313.16; FTSE 100 decreased 63.59 points or -0.87% to 7,207.41; and DAX decreased 206.01 points or -1.69% to 11,973.92.
The major European currency markets had a mixed day today. EURUSD increased 0.0029 or 0.26% to 1.1220 and GBPUSD increased 0.0008 or 0.06% to 1.3014. The USDCHF took the opposite route and decreased 0.0051 or 0.50% to 1.0150.
Some economic news:
United Kingdom:
BRC Retail Sales Monitor (YoY) (Apr) increased from -1.1% to 3.7%
RICS House Price Balance (Apr) remain the same at -23%
Norway:
Interest Rate Decision remain the same at 1.00%
Spanish:
Spanish Industrial Production (YoY) (Mar) decreased from -0.2% to -3.1%
US/AMERICAS:
Wall Street continued its decline Thursday with tensions rising on China trade negotiations. The Dow lost 138.97 points (-0.54%), closing at 25828.36. The S&P 500 dropped 8.70 points (-0.30%), closing at 2870.72. The Nasdaq slipped 32.73 points (-0.41%), closing at 7910.59. The Russell 2000 shed 4.92 points (-0.31%), closing at 1570.06.
At midnight, U.S. imposed tariffs on Chinese goods will go into effect (beginning with exports from China on May 10) – and China plans to retaliate. "They broke the deal," President Trump declared at a rally earlier this week. It appears that China's back peddling was the final straw for the U.S., who agreed to delay prior trade deal deadlines in hopes of reaching an agreement. The President is taking a hard stance on raising tariffs this go around in the belief that the U.S. has the upper hand on trade regardless of China retaliating with increased tariffs of their own. Although an agreement is still the likely outcome here, the timing and manner in which such a deal is struck is unknown given the latest turn of events. It could accelerate a deal, or it could cause a notable step backwards in progress.
Separately, President Trump urged congress this week to adjust America's complicated and costly medical system. The President is urging congress to pass legislation to prevent Americans from receiving unexpected medical bills from out-of-network providers who practice at in-network facilities, among other changes. "We're going to hold insurance companies and hospitals accountable," the President stated.
While Wall Street is primarily watching China trade talks, there is a notable (and thankful perhaps) distraction with Uber's planned IPO on the New York Stock Exchange this Friday. The offering was priced at $45 per share after Thursday's close – this is at the low end of the range, valuing the company at approximately $75 billion (well below the $100 billion+ that many had believed was the target as recently as 4-6 weeks ago). The popular ride share company grossed $11.3 billion in 2018 after posting $2.2 billion in losses the year prior.
Lyft, Uber's closest (albeit smaller) competitor, went public earlier this year and recently posted less than stellar Q1 earnings. The company lost $211.5 million during the first quarter, but representatives claim the company expects to gross around $3.3 billion during 2019.
In Canada, markets continued to trade down this Thursday as well. The TSX Composite slipped 75.65 points (-0.46%), closing at 16321.75. The TSX 60 dropped 5.73 points (-0.58%), finishing the session at 979.94.
In South America, Brazil's B3 stock exchange reached a historic landmark after hosting over one million investors during April. The exchange has welcomed over 232,000 new investors in 2019 alone, and is on track to make its mark as a competitive emerging market.
Meanwhile the Bovespa lost 788.76 points this Thursday (-0.83%), closing at 94807.85.
ENERGY:
The current trade battle with the U.S. and China is putting downward pressure on crude oil; the market is expecting a less than optimistic outcome to the deal.
In Switzerland, Locals are beginning to trade Solar energy using blockchain technology.
The oil markets had a negative day today: Crude Oil decreased 0.53 USD/BBL or -0.85% to 61.7136; Brent decreased 0.15 USD/BBL or -0.21% to 70.0934; Natural gas decreased 0.018USD/MMBtu or -0.69% to 2.5900; Gasoline decreased 0.0046 USD/GAL or -0.23% to 1.9738; and Heating oil decreased 0.0149 USD/GAL or -0.72% to 2.0397.
Top commodity gainers were Coffee (2.64%), Lumber(1.75%),Cocoa(1.35%), and Oat (1.27%). The biggest losers were Corn (-3.24%), Wheat (-2.53%), Ethanol (-2.42%), and Soybeans (-2.00%).
The above data were collected around 16:25 EST on Thursday.
BONDS:
Japan -0.05%(-1bp), US 2's 2.30% (-3bps), US 10's 2.49%(-4bps), US 30's 2.90%(-2bps), Bunds -0.05% (-5bp), France 0.33% (+0bp), Italy 2.60% (+4bp), Turkey 19.99% (+104bp), Greece 3.46% (-38bp), Portugal 1.13% (+2bp), Spain 0.96% (-1bp) and UK Gilts 1.14% (-5bp)
UK:
UK 5-Year Treasury Gilt Auction increased from 0.748% to 0.849%
Spain:
Spanish 5-Year Bonos Auction decreased from 0.171% to 0.089%
Spanish 10-Year Obligacion Auction decreased from 1.121% to 0.936%
U.S.:
S. 4-Week Bill Auction decreased from 2.390% to 2.385%
S. 8-Week Bill Auction decreased from 2,390% to 2.380%
S. 30-Year Bond Auction decreased from 2.930% to 2.892%