Blog/Market Talk
Posted May 8, 2018 by Martin Armstrong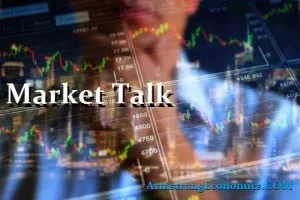 Although we await US President Trump's Iran Nuclear address later this afternoon, Asian markets still closed better bid across the boards. Most of this was associated to the regional currency declines, but we did see some markets that performed. In Hong Kong the Hang Seng opened over 1% higher and continued to make progress for the remainder of the day (closing +1.4%). Advances were seen from tech, auto's and real estate as fresh money appeared to enter the market. It was more of a struggle for the Shanghai index having opened +0.2%, steady buying resulted in a +0.8% return for the day. In Japan having seen a negative open, midday gains were lost after the currency whipsawed for much of the day. This evening as President Trump addresses the nation Yen plays with the 109 handle. SENSEX completes the set for market variations for Asia having opened at its highs and weakened by the close. The INR recouped a little of yesterdays losses but still trades with the 67 handle. INR is not the only currency that has lost ground against the USD recently, so really should not reflect too harshly on the sovereign. The A$ continues to drift and looks set in that trend for a while yet, so look for more weakness in the INR for comfort.
Not a great day for Europe with all core markets closing lower, although only slightly. What we should have seen however, was some support given the Euro gave back another 0.5% of its value today. The assets are losing and so is the currency, which will certainly promote a response if this trend were to continue its course. The FTSE MIB lost over 1.5% as concerns that the current movement could force another EU discussion. BTP's (Italian government bonds) widened 10bp earlier on these fears. May well be that confidence is the key ingredient that is finally showing signs of absence as equities, bonds and currency all head south.
Lets jump forward to the US session and President Trumps Iran press conference. Word was out earlier than his appearance and much of the markets response had already been seen. Oil returned much of their recent gains and gold bounced off of its lows. Stocks were negative ahead of the news, accelerated just after, but by the close were little changed on the day. Worth keeping an eye on currencies and especially the continued strength of the USD. Markets that see declines in all key asset classes (stocks, bonds and currency) should be questioned going forward.
Japan 0.04%, US 2's closed 2.51% (+2bp), 10's 2.96% (+1bp), 30's closed 3.12% (u/c), Bunds 0.56% (+3bp), France 0.8% (+4bp), Italy 1.86% (+11bp), Greece 4.15% (+9bp), Turkey 13.56% (+15bp), Portugal 1.71% (+6bp), Spain 1.31% (+5bp) and Gilts 1.44% (+4bp).
​