Blog/Market Talk
Posted May 8, 2019 by marty armstrong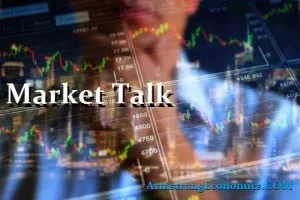 ASIA:
China stated they will take required countermeasures if the US raises tariffs to 25% on 200 billion's worth of Chinese goods. "The Chinese side deeply regrets that if the US tariff measures are implemented, China will have to take necessary countermeasures," the ministry said.
The Bank of Japan march minutes indicated that the board is very divided over the need to expand their already sizable stimulus program. In other news, Japan Airlines and Malaysia Airlines are entering a flight-sharing agreement, as the JAL takes another step to expand its Asian partnerships since it was freed from government restrictions in 2017.
The major Asian stock markets had a negative day today: SENSEX decreased 487.50 points (-1.27%) to 37,789.13; NIKKEI 225 decreased 321.13 points (-1.46%) to 21,602.59; ASX 200 decreased 26.60 points (-0.42%) to 6,269.10; Hang Seng decreased 359.82 points (-1.23%) to 29,003.20; Shanghai and KOSPI decreased 32.63 points (-1.12%) to 2,893.76 and 8.98 points (-0.41%) to 2,168.01 respectfully.
The major Asian currency markets had a mixed day today: The AUDUSD decreased 0.0023 or 0.33% to 0.6988; the NZDUSD decreased 0.00303 or -0.46% to 0.65707; and the USDJPY decreased 0.1470 or 0.13% to 110.0930. However, the USDCNY took the opposite route increased 0.0137 or 0.20% to 6.8078.
Gold decreased 3.85USD/t oz. or -0.30% to 1,279.70 and silver decreased 0.075 USD/t. oz or -0.50% to 14.8483.
Some economic news:
Japan:
Monetary Base (YoY) decreased from 3.8% to 3.1%
10-Year JGB Auction remain the same at -0.060%
China:
Exports (YoY) (Apr) decreased from 14.2% to -2.7%
Imports (YoY) (Apr) increased from -7.6% to 4.0%
Trade Balance (USD) (Apr) decreased from 32.67B to 13.84B
New Zealand
RBNZ Interest Rate Decision decreased from 1.75% to 1.5%
Economic news from today:
Indonesian: FX Reserves (USD) (Apr) decreased from 124.50B to 124.30B
China: FX Reserves (USD) decreased from 3.099T to 3.095T
Indian: M3 Money Supply decreased from 10.9% to 10.0%
EUROPE:
Eight European countries have called for aggressive strategies to tackle climate change and will spend up to 25% of the European budget to do so. The joint statement notes that EU should have a net zero greenhouse emissions by 2050.
UK Labour leader Jeremy Corbyn's support for Venezuelan leader Maduro has been criticized by US Secretary of State Mike Pompeo, labeling his support as "disgusting."
The European elections are due to take place between the 23-26th of May, with over 700 MEP's being chosen for office. A survey has been taken showing immigration, climate change, and the economy as top topics of concern.
The major European stock markets had a green day today: CAC 40 increased 21.85 points or 0.40% to 5,417.59; the FTSE 100 increased 10.53 points or 0.15% to 7,271.00, and the DAX increased 87.19 points or 0.72% to 12,179.93.
The major European currency markets had a mixed day today: The EURUSD increased 0.0001 or 0.01% to 1.1191 and the USDCHF increased 0.0007 or 0.07% to 1.0201. The GBPUSD took the opposite route decreased 0.00691 or -0.53% to 1.30049.
Some economic news:
Swiss:
Unemployment Rate n.s.a. (Apr) decreased from 2.5% to 2.4%
Unemployment Rate s.a. (Apr) remain the same at 2.4%
German
German Industrial Production (MoM) (Mar) increased from 0.4% to 0.5%
Norway:
Manufacturing Production (MoM) (Mar) decreased from -0.3% to -0.8%
UK:
Halifax House Price Index (YoY) (Apr) increased from 2.6% to 5.0%
Halifax House Price Index (MoM) (Apr) increased from -1.3% to 1.1%
U.S. / AMERICAS:
Another volatile day due to U.S.-China trade uncertainty. The Dow was able to recover from early negative territory, closing the day at 25967.33 (+0.01%), but it has failed to fully reclaim losses from earlier in the week. The S&P 500 declined by -0.16%, closing the session at 2879.42. The Nasdaq slid -0.26%, closing the day at 7943.32. The Russell 2000 was the percentage loser of the day, falling -0.46% to close at 1574.97.
Stocks began to recover in early morning trading after President Trump reiterated plans to meet with China's Vice Premier this week. However, optimism quickly waned after China announced that they will take "countermeasures" against the U.S. if the tariff hike occurs. The U.S. appears to be taking a firm stance on raising tariffs, and unless Vice Premier Liu He can finalize an agreement during this next round of negotiations, it appears that both parties are willing to ramp up the rhetoric.
Despite political tensions, Amazon is playing the long game and announced plans to launch a lending service based in China. Last month, Amazon made the decision to cease its marketplace operations in China. However, the company is promoting Chinese selling on its website with their new "Lending Referral Program." The program will begin as an invite-only offer for merchants who meet set criteria. Shanghai Fuyou Commercial Factoring is on board to process loans granted through the program.
Meanwhile, Disney closed the day up +1.16% in anticipation of a favorable earnings release after the close. The company didn't disappoint, reporting $14.92 billion in gross revenue compared to the expected $14.36 billion. This amount also reflects the assets obtained from the Fox acquisition that recently. EPS reached $1.61 compared to the expected $1.58. The stock has been in an upward trend since announcing details of its forthcoming streaming service, Disney+.
In Canada, both the TSX Composite and TSX 60 regained +0.24%, closing at 16397.40 and 985.67 respectively.
In Brazil, the Bovespa gained 1207.88 points today (+1.28%), closing at 95596.61.
ENERGY:
The EIA report today reported a decline in US crude oil inventories by 4 million barrels, this ignited the concern about the sanctions on Iranian supply of oil.
The oil markets had a green day today: Crude Oil increased 0.59 USD/BBL or 0.96% to 61.8667; Brent increased 0.34 USD/BBL or 0.49% to 70.2975; Natural gas increased 0.067USD/MMBtu or 2.64% to 2.6076; Gasoline increased 0.0238 USD/GAL or 1.22% to 1.9763; and Heating oil increased 0.0192 USD/GAL or 0.94% to 2.0587.
Top commodity gainers were Orange Juice (4.27%), Nature Gas (2.64%), Lumber (1.74%) and Gasoline (1.22%). The biggest losers were Palm Oil (-7.25%), Oat (-3.47%), Sugar (-2.51%) and Feeder Cattle (-1.29%).
The above data was collected around 17:15 EST time on Wednesday.
BONDS:
Japan -0.05%(-1bp), US 2's 2.30% (-3bps), US 10's 2.49%(-4bps), US 30's 2.90%(-2bps), Bunds -0.05% (-5bp), France 0.33% (+0bp), Italy 2.60% (+4bp), Turkey 19.99% (+104bp), Greece 3.46% (-38bp), Portugal 1.13% (+2bp), Spain 0.96% (-1bp) and UK Gilts 1.14% (-5bp)
German 5-Year Bobl Auction decreased from -0.410% to -0.460%
S. 10-Year Note Auction increased from 2.466% to 2.479%