Blog/Market Talk
Posted May 7, 2020 by Martin Armstrong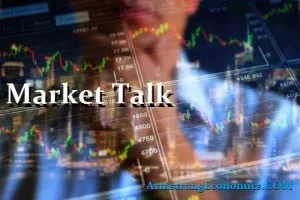 ASIA:
China said that their exports rose 3.5% in April, crushing expectations of a group of economists who predicted a decline of 1-5.7% for the same period. According to data from the General Administration of Customs released on Thursday, exports rose 3.5% from a year ago while imports fell 14.2% in the same period.
China's leaders have declared the coronavirus outbreak largely under control within its borders, but a few media reports are suggesting that the Chinese government is now working to control the narrative of how the country contained the virus by questioning and even detaining people who might possess information that challenges the official storyline. This includes the list of people from internet-savvy activists, families, and their legal counsel suing the state for damages from the coronavirus epidemic, and even lauded volunteers who staffed critical emergency services from the epicenter city of Wuhan.
India is seeking to lure US businesses, including medical devices giant Abbott Laboratories, to relocate from China as President Donald Trump's administration steps up efforts to blame Beijing for its role in the coronavirus pandemic. Prime Minister Modi has formed a committee that reached out to more than 1000 companies in the US and through overseas missions to offer incentives for manufacturers seeking to move out of China.
GlaxoSmithKline is selling $3.45 billion value of shares in Unilever's enterprise on the open market, as per a report published by Reuters. The 5.7% stake in Hindustan Unilever that's now available on the market, was accepted by GSK as the cost for the sale of the malted drink model and different diet manufacturers to Unilever, agreed in late 2018.
India will supply Europe with about 1,000 tonnes of the active pharmaceutical ingredient (API) for common pain reliever paracetamol, a top exports body said, easing export controls on over-the counter medicines used to cope with COVID-19 symptoms. The Indian government in March put a hold on exports of several drugs, including paracetamol, to secure supplies for its people after the coronavirus outbreak disrupted the industry's supply chain globally.
Alibaba bought half of a $1.2bn skyscraper in Singapore as China's largest tech company ramps up its push into southeast Asia. The ecommerce company's local subsidiary will purchase the stake in the 50-floor Axa Tower in downtown Singapore from a group led by Perennial Real Estate, the property company said in a filing. The transaction is the biggest commercial deal in the Asian city-state since 2017.
The major Asian stock markets had a mixed day today:
NIKKEI 225 increased 55.42 points or 0.28% to 19,674.77
Shanghai decreased 6.62 points or -0.23% to 2,871.52
Hang Seng decreased 156.85 points or -0.65% to 23,980.63
ASX 200 decreased 20.40 points or -0.38% to 5,364.20
Kospi decreased 0.15 points or -0.01% to 1,928.61
SENSEX decreased 242.37 points or -0.76% to 31,443.38
The major Asian currency markets had a mixed day today:
AUDUSD increased 0.01177 or 1.84% to 0.65008
NZDUSD increased 0.00875 or 1.46% to 0.60866
USDJPY increased 0.17 or 0.16% to 106.27
USDCNY decreased 0.04107 or -0.58% to 7.09483
Precious Metals:
Gold increased 25.65 USD/t oz. or 1.52% to 1,712.95
Silver increased 0.409 USD/t. oz or 2.75% to 15.2900
Some economic news from last night:
Australia:
AIG Services Index (Apr) decreased from 38.7 to 27.1
Exports (MoM) (Mar) increased from -5% to 15%
Imports (MoM) (Mar) remain the same at -4%
Trade Balance (Mar) increased from 4.361B to 10.602B
New Zealand:
Inflation Expectations (QoQ) decreased from 1.9% to 1.2%
China:
Caixin Services PMI (Apr) increased from 43.0 to 44.4
Exports (YoY) (Apr) increased from -6.6% to 3.5%
Imports (YoY) (Apr) decreased from -1.0% to -14.2%
Trade Balance (USD) (Apr) increased from 19.93B to 45.34B
South Korea:
Current Account (Mar) decreased from 6.37B to 6.23B
FX Reserves – USD (Apr) increased from 400.21B to 403.98B
Japan:
Monetary Base (YoY) decreased from 2.8% to 2.3%
Some economic news from today:
China:
FX Reserves (USD) increased from 3.061T to 3.092T
Hong Kong:
Foreign Reserves (USD) (Apr) increased from 437.60B to 441.20B
EUROPE/EMEA:
The Bank of England (BOE) has warned that the UK could face the sharpest recession in history. The BOE suggests that the economy could shrink as much as 14% this year, far above the EC estimate of 8%, ut like the EC, they expect a recovery in 2021.
More news coverage this week suggesting that the EU chiefs did water down a report on the coronavirus as they were pressured by China to do so. A segment was released by the Chinese press omitting that the outbreak originated from China with permission from the EU.
Phil Hogan, the European Trade Commissioner, has said that he feels the UK is not planning to succeed in talks with the UK and that any failure will be blamed on the coronavirus pandemic.
The major Europe stock markets had a green day today:
CAC 40 increased 68.06 points or 1.54% to 4,501.44
FTSE 100 increased 82.22 points, or 1.40% to 5,935.98
DAX 30 increased 153.07 points or 1.44% to 10,759.27
The major Europe currency markets had a mixed day today:
EURUSD increased 0.00215 or 0.20% to 1.08156
GBPUSD increased 0.00316 or 0.26% to 1.23573
USDCHF decreased 0.00123 or -0.13% to 0.97410
Some economic news from Europe today:
Swiss:
Unemployment Rate n.s.a. (Apr) increased from 2.9% to 3.3%
Unemployment Rate s.a. (Apr) increased from 2.8% to 3.3%
UK:
BoE MPC vote cut (May) decreased from 2 to 0
BoE MPC vote hike (May) remain the same at 0
BoE MPC vote unchanged (May) remain the same at 9
BoE QE Total (May) remain the same at 645B
BoE Interest Rate Decision (May) remain the same at 0.10%
Halifax House Price Index (MoM) (Apr) decreased from -0.3% to -0.6%
Halifax House Price Index (YoY) decreased from 3.0% to 2.7%
Germany:
German Industrial Production (MoM) (Mar) decreased from 0.3% to -9.2%
France:
French Current Account (Mar) increased from -3.80B to -3.30B
French Exports (Mar) decreased from 42.3B to 35.2B
French Imports (Mar) decreased from 47.3B to 38.5B
French Industrial Investments (Q2) decreased from 3.0% to -7.0%
French Industrial Production (MoM) (Mar) decreased from 0.8% to -16.2%
French Non-Farm Payrolls (QoQ) (Q1) decreased from 0.4% to -2.3%
French Trade Balance (Mar) increased from -5.0B to -3.3B
Italy:
Italian Retail Sales (MoM) (Mar) decreased from 0.9% to -20.5%
Italian Retail Sales (YoY) (Mar) decreased from 6.1% to -18.4%
Norway:
Interest Rate Decision decreased from 0.25% to 0.00%
US/AMERICAS:
Neel Kashkari, president of the Federal Reserve Bank of Minneapolis, predicts tomorrow's jobs report will not reveal the true number of Americans who lost their livelihoods due to the coronavirus crisis. The Labor Department only includes those who are actively seeking work in their unemployment data, which leaves out many citizens who work in industries that are temporarily suspended. Kashkari believes the real unemployment figure for April is around 25% or ¼ of the population. Yet, he anticipates the jobs report to reflect an unemployment rate of about 16%. "I think it's becoming clear that we are in for a long, gradual recovery, which is unfortunate, but I think we're going to avert the depression scenario because policymakers are going to continue to be aggressive to fight that outcome," the Fed president stated this Thursday.
Following the trend of allowing employees to work remotely, Facebook (+1.34%) CEO Mark Zuckerberg announced that he will allow employees to work from home throughout the remainder of the year. In a more cautious measure, Facebook announced that they would not hold gatherings of over 50 people until July of 2021. The news comes shortly after Facebook announced a new video conferencing feature that will allow up to 50 users or non-users to chat at once.
President Trump's personal valet driver tested positive for the coronavirus. Both Trump and Vice President Pence have since tested negative for the virus.
Moderna shares rose 8.66% this Thursday after the biotech company announced they are moving onto phase two of testing for a COVID-19 vaccine. The next phase of testing, backed by the FDA, entails studying immune responses to the vaccination compared to a placebo. The third phase is expected to commence in the summer.
Brazil's President Jair Bolsonaro will deploy the military to the Amazon rainforest to fight deforestation. The military will have a presence in the Amazon from May 11 to June 10. This comes after prior criticism of the Bolsonaro administration's response to the ongoing wildfires, which included accusations that they supported excessive deforestation for monetary gain.
US Market Closings:
Dow advanced by 211.25 points or 0.89% to 23,875.89
S&P 500 advanced 32.77 points or 1.15% to 2,881.19
Nasdaq advanced 125.27 points or 1.41% to 8,979.66
Russell 2000 advanced 19.92 points or 1.58% to 1,282.93
Canada Market Closings:
TSX Compsite advanced 2.95 points or 0.02% to 14,833.69
TSX 60 declined 1.23 points or -0.14% to 897.5
Brazil Market Closing:
Bovespa declined 945.11 points or -1.2% to 78,118.57
ENERGY:
Saudi Arabia's Aramco increased the price of its June contracts across all grades, as it feels demand is starting to pick up. Brent Crude broke above 30 USD today before dropping down below before the end of the day.
The oil markets had a mixed day today:
Crude Oil increased 1.14 USD/BBL or 4.75% to 25.1300
Brent increased 0.68 USD/BBL or 2.29% to 30.4000
Natural gas decreased 0.012 USD/MMBtu or -0.62% to 1.9340
Gasoline increased 0.0553 USD/GAL or 6.28% to 0.9362
Heating oil increased 0.0403 USD/GAL or 4.91% to 0.8605
The above data was collected around 12.46 EST on Thursday.
Top commodity gainers: Gasoline (6.28%), Heating Oil (4.91%), Live Cattle (5.03%), and Ethanol (5.16%)
Top commodity losers: Coffee (-2.06%), Cocoa (-2.02%), Soda Ash (-1.19%), and Orange Juice (-0.71%)
The above data was collected around 12.50 EST on Thursday.
BONDS:
Japan 0.00%(+1bp), US 2's 0.15% (-3bps), US 10's 0.66%(-5bps); US 30's 1.36%(-6bps), Bunds -0.55% (-5bp), France -0.03% (-4bp), Italy 1.93% (-5bp), Turkey 12.56% (+22bp), Greece 2.19% (+0bp), Portugal 0.97% (-2bp); Spain 0.90% (-2bp) and UK Gilts 0.23% (+0bp).
US 4-Week Bill Auction remain the same at 0.095%
US 8-Week Bill Auction increased from 0.095% to 0.110%
Spanish 3-Year Bonos Auction decreased from 0.266% to 0.036%
Spanish 5-year Bonos Auction decreased from 0.411% to 0.254%
French 10-Year OAT Auction decreased from 0.04% to 0.03%