Blog/Market Talk
Posted May 7, 2018 by Martin Armstrong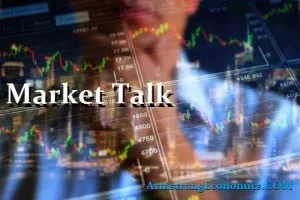 Shanghai was the star performer today, gaining 1.5% as moves to open the domestic market continues to progress. New rules that will allow overseas listed companies to list domestically is a strong signal that China is open (and encouraged) for business. News that the regulator is to issue draft rules surrounding the issuance of CDR's (China Depository Receipts) will encourage off-shore listings. Also, the lack of any scary trade headlines were a welcome omission over the weekend and with optimism over upcoming economic data has encouraged further buying. Unfortunately, the Hang Seng could not hold onto early gains and returned much into the close, but still managed a positive day (+0.25%). The SENSEX went from strength to strength but sadly was only to the detriment of the currency. The index closed up +0.8% whilst the INR lost -0.45% breaching the psychological 67 level.
Europe was quiet with London on holidays, but core did close at their highs after a weak opening. Again, currency probably played a major role here also as the Euro lost -0.4% today and is flirting with another big figure change. Interesting, that we had to wait until the US markets opened before the strong run started. The DAX was the best core while the CAC had its problems following the government comment that they would not bail-out Air France (the stock declined 10%). Oil prices have been strong and have almost dragged indices along the way especially once it traded through the $70 level. Will be back to full compliment for the market tomorrow which many hope will lead to even greater stability.
US closed well under the days highs but, was a strong day across indices. the timing did match but not too sure that was the specific excuse given but, after President Trump announced he would speak on Iran decision tomorrow US afternoon. Oil turned also around the Tweet bringing it back under the $70 mark. Tech led us down and its tech that appears to be taking us back up. Strong rally in the FANG's today, especially Netflix closing near 2% higher.
Japan 0.04%, US 2's closed 2.49% (-1bp), 10's 2.95% (u/c), 30's 3.12% (u/c), Bunds 0.53% (-1bp), France 0.76% (-2bp), Italy 1.75% (-4bp), Greece 4.06% (u/c), Turkey 13.41% (+11bp), Portugal 1.65% (-2bp), Spain 1.26% (-2bp) and Gilts 1.40% (closed).