Blog/Market Talk
Posted May 5, 2017 by Martin Armstrong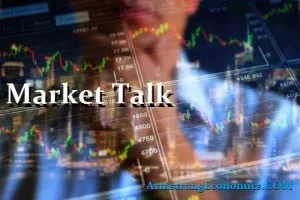 The continued decline in Metals, Energy and Commodities hit nerves and confidence today in Asian trading with Japan just finishing Golden Week (today was Children's Day). Money has been leaving Asian markets all week but given their close ahead of the US NFP's and French elections it is not really surprising. Oil traded down to the $43 handle but had a healthy bounce midway through the European session. The ASX lost around -0.7% as Resources (BHP and RIO) suffered on the back of heavy selling losing a little more than 2%. China is still the named suspect for their reduction of capital and retrenching of Commodity purchases and today it finally had an effect on the CNH as it flirted with the 7 handle. The A$ has also been heavy the latter half of the week but we are also seeing the C$, Rouble and other energy/commodity exporters taking a hit.
Europe seemed to be coasting until the US employment release mid-session and only then did we see some movement. However, that said – it really was not that much to write home about. 211k the headline number, 4.4% the rate (unexpected drop from the previous 4.5%), participation rate fell 62.9% (from a previous 63% – not great) but the U6 was at its lowest since 2007 at 8.6% from 8.9%. The afternoon session therefore, was constructive with all core indices closing a very healthy week. The CAC and IBEX were both around 1% higher whilst FTSE and DAX both at 0.5% returns. All markets are pricing "as fact" that Macron will be victorious on Sunday and even the UK the polls have moved further in favour of a Conservative Party victory early June. Things may well play out that way but some markets appear to be running a little too confidently this evening. The UK probably had a taste of how BREXIT may go today after EU President Junker, claimed the English language was losing importance and so gave his address in French.
US markets swung around unchanged for most of the session then began to push north around 90 minutes ahead of the close, resulting in record closes for S+P and NASDAQ. Earnings have been great (Q1 +14%) supporting markets as analysts begin the raise their forecast for future growth; difficult to put money to work when the indices are at their highs – it was quoted. The NFP's did provide a little end of week support for the oil market and even managed a solid +3% bounce off of earlier lows to close +1.6% higher on the day. Although reaction to the data was muted in the US, it certainly did not deter European peripheral bond markets. The German Bund gained yield while Iberian sovereign debt yield fell narrowing the spreads against core.
2's closed 1.31% (u/c), 10's at 2.35% (u/c), 30's at 2.99% (-1bp), Bund at 0.41% (+2bp) which closes the US/Germany spread at +194bp (-2bp). France 0.84% (+2bp), Italy 2.15% (-9bp), Greece 5.70% (-12bp), Turkey 10.23% (+3bp), Portugal 3.34% (-4bp) and UK Gilts closed 1.11% (u/c).