Blog/Market Talk
Posted May 5, 2016 by Martin Armstrong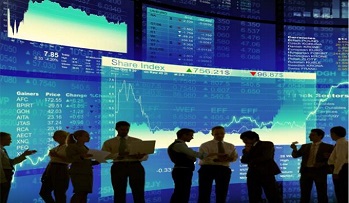 A relatively quiet night in Asia with China PMI (51.8%) marginally under the April  52.2% reading. Although this had a short-term influence just ahead of lunch but it really did not alter the bounce and we closed the session marginally better. Hang Seng however, was lower on the day closing down 0.37%, which actually was not a bad performance and well off of the openings low.
With much of Europe on holiday for Ascension Day and so volumes were poor on most exchanges. Dealers took this opportunity to ready the books ahead of tomorrows main event – US Non-Farms. The DAX and CAC were both open and here we saw a mixed performance. At one stage we did see the DAX up over 100 points but that rally had been scuttled by the close of business this evening.
Oil had seen a 3% rally as the US markets opened but as that turned-around, so did US equity markets. Soon we were back negative on the day and dealers were focusing on tomorrow numbers. We had a host of FED speakers today and all are indifferent and happy to watch data as far as rate movements are concerned. We have been waiting all week for the NFP's so lets see how this moves us tomorrow. VIX back below 16, last seen 15.8.
US Bond market did see a healthy gain (in price; lower yield) more because equity markets have entered a lull and there is yield for the taking. US 10yr notes closed this evening at 1.74% (-3bp) whilst 2's closed only 2bp lower at 0.72%. Closes 2/10's at +102bp. German 10yr Bund closed 0.16% closing the US/Germany spread at +158bp. Italy 10yr closed 1.49%, Greece 8.28%, Turkey 9.57% (+20bp as the result of last nights political news), Portugal 3.24% and UK 10yr 1.46%.
DXY starting to turn with a bounce today of 0.7% and was last seen at 93.77. Euro one of the main losers today falling 0.8% against the USD. The South African Rand came under pressure today breaking 15 per Dollar upon expectations that the credit rating may come under renewed pressure. The Rand fell 1.2% today and is down 4.7% this week. Currently, South Africa is rated BBB- by S+P. PBOC fixed the Yuan at 6.5128 per USD today whilst off-shore trades 6.5159. The Euro closed in a bearish mode for now whereas the technical support comes in as 11290. A closing below that would tend to warn that the May high may be in place. The dollar has declined from its December high on the index for 5 months. So if this May low now holds, the trend will reverse.
Silver continued to close in a negative position. Technically, a closing back below 16.80 will also warn that the May high may be in place, Resistance in gold continues to stand at the 1285 level intraday and on a closing basis.