Blog/Market Talk
Posted May 4, 2018 by Martin Armstrong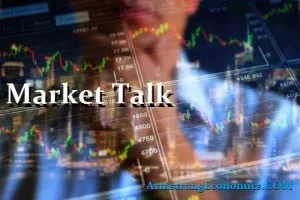 Pretty much a waiting game for both Asia and Europe ahead of the non-farm payrolls report. The US – China trade talks were on everyone's mind, but statements and comments were few and far between and so we closed Asia weaker more on concerns of what an assumed conclusion. The Hang Seng lost 1.3 as financials, tech and real-estate were all sold ahead of fearful weekend headlines. Yuan was last seen 6.3585. Both SENSEX and the Aussie All-Ords lost 0.5% as the fears spread. In late US trading all Asian futures have gained on the back of US markets but also the strengthening US Dollar. INR last seen 66.89, a gain of +0.3%.
If you look at core European equities ahead of the payrolls number and most were unchanged to a touch higher. The strength a supporting factor from the depreciating currency. At their lows both the Euro and GBP were around -0.6% weaker on the day. In fact, Sterling has lost all gains it had made against the USD for 2018. French banks were in the news earlier having reported disappointing results and was probably for that reason that the CAC made just +0.25% whilst the DAX climbed over 1%. FTSE MIB in Italy added 1.2% today and probably helped by Ferrari stock which added a near 8% on impressive results and an increase in demand.
However, it was always going to be about the numbers today and hence the market decided to concentrate on the 3.9% print instead of the 165k headline number. The initial reaction was to the headline print (165k below the forecast 190k), with stocks off and a move towards the long end of the treasury market. This wasn't to last and one headline that Warren Buffet had recently purchased 75M shares of Apple was a good excuse to lift some offers. This helped the NASDAQ to a near 2% gain while Apple added 4.1%. The easing of trade tensions, supporting data and a tweet or two really did turn the markets today and with the feeling that next week could very well add to the euphoria. Closing gains of 1.4% for the DOW and +1.3% for the S+P is a great way to end the week.
Japan 0.04%, US 2's closed 2.50% (+1bp), 10's at 2.95% (u/c), 30's 3.12% (u/c), Bunds 0.54% (+1bp), France 0.78% (+2bp), Italy 1.79% (+2bp), Greece4.06% (+12bp), Turkey 13.30% (+30bp), Portugal 1.67% (+5bp), Spain 1.28% (+4bp) and Gilts 1.40% (+1bp). When you look at the yield differential along, you would have to question why anyone would want to own these through treasuries – especially with a depreciating currency.