Blog/Market Talk
Posted May 3, 2016 by Martin Armstrong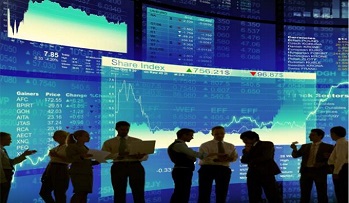 A morning where PMI's (Purchasing Managers Index) continue to rule the markets. China's reaction was somewhat muted after mainland index rallied to close with a strong 1.85% performance but that was countered by the Hang Seng dropping 1.8%. The RBA surprised the markets with a 25bp cut in rates to take key rates back to 1.75%. ASX liked the news though and rallied 2.1%. Tokyo cash market remains closed. In late US trading both the Nikkei and HSI futures contracts are around 0.9% lower.
Having seen a mixed Asian session most European indices were unsure in which direction to go and so we saw an unchanged opening across the board. However, it was not too long before bank earnings provided the answer. HSBC was the first releases – an 18% drop in pre-tax profits, shares down 1.8%. Commerzbank reported a €163mio profit for Q1 '16 (a drop of 52% YoY; shares closed -9.5%) and also UBS reported a  €1.4bn profit against a YoY comparison of €2.4bn (shares closed down 7.5%). Banks shares led most indices lower and so we saw DAX, CAC and IBEX all between 1.6 and 2.9% lower whilst FTSE closed 0.9% down.
Dow futures, on the back of weaker Europe, led the move lower prior to the cash opening. Soon after the opening we saw the DOW around 200 points off and what was very interesting, very high volume. It is always scary with triple digit moves if the volume is equally high. A healthy bounce around early afternoon managed to half the days losses but by the close of play the DOW finished around -140 points -0.8% lower.
Some of the key talking points today have been oil decline (-3%), bank stocks and the knock-on effect, the bond markets renewed vigour and the sudden turnaround in the USD rout. Oil was rumoured to still be concerned about the current glut and also the rumour Saudi is close to producing 10.5m bpd compared to its recent 10.15m bpd. Banks continue to suffer from the investment divisions. Market volatility and lack of market participants are beginning to have a real drag on profits. AIG mentioned today that they have requested Hedge Funds return some of their allocations (estimated $4.4bn) due to poor performances (AIG shares down 3.3% today). BNP Paribas results today were better than expected on and saw its shares initially buck the trend only to close the day -1.1%.
A very busy day in many markets with the USD making a much anticipated revival! The Euro was the talk of the town as many start to entertain the idea that the Eurozone could fail. After reaching 11615 it crashed falling at 11495 closing under 11500 for New York closing. Likewise, the precious metals fell out of bed as well Silver was the weakest and made another new low closing again beneath the previous day's low. Gold firmed up more than silver in the morning session but could not make new highs falling back to 1284 and closing below the previous day's low. With European bank shares dropping sharply, there seems to be little hope of saving Europe. Germany is also looking at departing from ECB policy which is wiping out pension funds making news headlines in Germany. Many are beginning to question what could possible reverse the trend on a sustainable basis against the dollar?
The fixed-income market also saw some action today with prices rallying as equities fell. The US 10yr dipped below 1.80% again only to close back at 1.8%, a decline of 8bp. 10's outperformed 2's by 5bp closing the curve at +105bp. In Europe the German Bund tightened 6bp to close at 0.20% closing the US/Germany 10yr spread at +160bp. Italy closed 1.45% (-1bp), Greece 8.32% (+8bp), Turkey 9.25% (+20bp), Portugal 3.06% (-2bp) and UK Gilt 10yr closed 1.53% (-6bp).