Blog/Market Talk
Posted May 3, 2018 by Martin Armstrong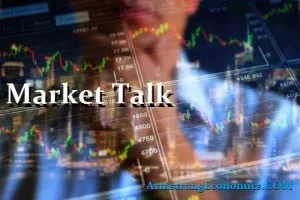 Obviously the focus of attention was always going to be on the US/China trade talks and so most of Asia closed mixed. Japan is still on holidays and not expected to reopen until Monday. Fears were certainly evident in Hong Kong, where the Hang Seng lost 1.3% today with losses from Energy, property, trade and technology. It took most of the day before Shanghai managed to trade positive and even closed +0.6% higher on the day. Headlines will still be watched but many are aware a trade war is in no-ones interest. The ASX returned +0.8% today with commodities and the A$ lending a hand. The SENSEX bounced off of earlier morning lows but then buckled again just at the close with a small negative -0.2%. The technology sector was also blamed here for the losses but could also claim auto's and financials were also in the frame. INR saw another day of consolidation but will not alter the negative (weaker INR) trend.
Eurozone inflation number was a surprise for the markets today and obviously the reason why all closed weaker. It does pull into question what fire power the ECB would have if they were called upon to offer assistance! Initially, the Euro traded weaker but recovered once core European markets opened. We also saw strength in GBP but all ground was rejected by the close as sellers look to becoming a tad more aggressive. Earnings are also becoming something to be concerned about as todays and recent results, forecasts have been poor and concerning. As Europe close so US markets were at their lows causing Europe to close at theirs.
Early weakness (DOW -400 points) had actually put the decline to around 12% since January highs and around 4% YTD. The confusion is a rising stock market with rising rates. It is expected that the FED could hike another three times this year, resulting in a stronger USD, many questioning if this could and with employment near capacity. Inflation is under the headlines but only just, but if we see a big print tomorrow this really will wake everyone up! Bonds were trading weaker (price/higher yield) ahead of the US data release but the wobble then recovered the fixed-income markets on both sides on the water and again flattening the curve. The turnaround mid-session came after a rejection of the 200 day moving average that many players like to use as a long term indicator. More numbers and data tomorrow so will interesting to see where we close the week.
Japan 0.04%, US 2's closed 2.49% (u/c), 10's 2.95% (-3bp), 30's 3.12% (-3bp), Bunds 0.53% (-5bp), France 0.76% (-4bp), Greece 3.94% (+6bp), Turkey 13% (+49bp 12.2% inflation rate released), Portugal 1.62% (-4bp), Spain 1.24% (-5bp), and Gilts 1.39% (-7bp).