Blog/Market Talk
Posted May 31, 2018 by Martin Armstrong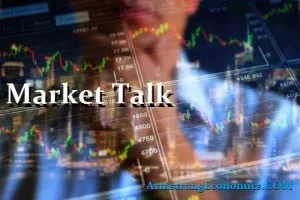 Asia followed the US bounce opening strong across the region. Dealers were relieved to have seen the US markets rebound after Tuesdays price uncertainty. The Yen returned some of the safe-haven demand and was trading closer to the 109 handle again. The Nikkei regained 0.85% of its losses with financials and exporters leading the pack. China also saw a good return with the Hang Seng and Shanghai both making around 1.5% on the day. The added performance was due also to better than expected economic data with PMI (know also as a sentiment index) releasing better than forecast. Another market that closed on its days high print was the SENSEX, finishing up 1.2%. Building on two weeks worth of gains, the optimism is high for Fridays release of the GDP number but also credit that the currency INR was well behaved against the USD. Weekend press will be dominated by the US NFP data and US/China Trade talks.
Europe was only well behaved in the morning session because we had seen no new headlines, however, that was to change once the US opened for business. The afternoon session opened with the talk that the US would impose tariffs on steel and aluminium imports from Canada, Mexico and the EU and that hit all markets. The DAX was the first to trade off as auto companies were hit and the rest did not need an excuse to follow.  IBEX had its own issues with the no-confidence vote on PM Rajoy. Financials really haven't had chance to recover from 
Tuesday
, but today Deutsche Bank was again in the spotlight named in "troubled condition" shares were down over 7%.
It was the large caps (DOW -1%) that took the hit during todays session after news of tariffs hit the screens, with the S+P (-0.6%) and the NASDAQ (-0.15%) following in its shadow. Both Europe and Canada were quick to reply, which is why stocks closed near their lows. The end of the month and NFP's numbers released 
Friday
 could spike a little volume. However, given what news we could hear over the weekend and the fragile situation within the Eurozone, it is doubtful it will be that exaggerated. With volumes still low and many players still happy to sit it out, there is little reason to buy protection anytime soon, so we will probably see the VIX hit again on any rise.
Japan 0.03%, US 2's closed 2.42% (+1bp), 10's 2.85% (+1bp), 30's 3.00% (-1bp), Bunds 0.35% (-2bp), France 0.68% (u/c), Italy 2.78% (-6bp), Greece 4.50% (u/c), Turkey 13.85% (+22bp), Portugal 1.92% (-8bp), Spain 1.46% (-4bp), and Gilts 1.23% (-2bp).