Blog/Market Talk
Posted May 30, 2018 by Martin Armstrong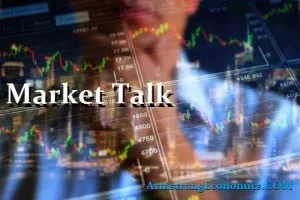 Asia responded to the uncertain US session by trading lower fro the open. It was only the Shanghai index that closed on its days low (-2.5%), with other core markets showing little trading range and closing almost unchanged from opening levels. US/China Trade negotiations continue to sway with headlines. Hang Seng held-in a little better but also was down 1.4%. The strength of the Yen was a concern for Japanese exporters and with the Yen flirting with a 107 handle, those nerves were evident. The Nikkei finished the day down 1.5%, but has rallied with US markets late in the trading day. SENSEX recovered early losses and closed almost unchanged. The INR returned an impressive turn today gained ground against the USD to close mid 67 level.
All eyes were again on Europe with expectation that an Italian headline could wobble markets yet again. The fear was obvious with volumes again low, but today we did see a small bopunce in some core indices. The FTSE MIB recovered 2% of yesterdays losses and that encouraged bounces in the DAX and UK FTSE. The CAC meanwhile failed to join the party playing in negative territory all day and closing -0.2%. Core data were largely ignored in Europe, as the elephant in the room remains Eurozone structure. Most are keeping fingers crossed in the hope the populist vote blows over, but this is the long game and that is still in play.
US futures were already trading better before cash opened as Europe had calmed down. As bonds declined (price) and stocks recovered the focused returned to the US. Although the ADP number missed forecasts talk was that not enough to deter sentiment or even the optimism for Fridays NFP release. Late in the US session we hear that the FED's proposal to lighten the Volker Rule freeing banks to participate more. The idea of a tiered approach for banks by asset size is too arbitrary and easily negotiated, it remains to be seen if it levels the playing field in anyway. Regardless, a constructive day for bank stocks. A strong close for all core with the Russell leading the way with a 1.5% gain and the DOW and S+P returning 1.3%.
Japan 0.03%, US 2's closed 2.41% (+9bp), 10's 2.84% (+7bp), 30's 3.01% (+5bp), Bunds 0.37% (+12bp), France 0.68% (+4bp), Italy 2.84% (-29bp), Greece 4.50% (-18bp), Turkey 13.63% (+12bp), Portugal 2% (-13bp), Spain 1.5% (-8bp), and Gilts 1.25% (+6bp).