Blog/Market Talk
Posted May 30, 2019 by marty armstrong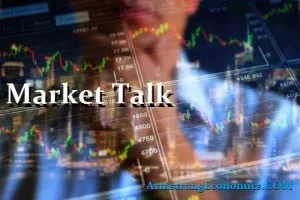 ASIA / AUSTRALIA:
China accused the U.S. of "economic terrorism." The Ministry of Foreign Affairs said the White House had "brought huge damage to the economy of other countries and the U.S. itself," spokesperson Lu Kang told reporters in Beijing on Thursday. China has now reportedly stopped ordering soy from the U.S. over the trade war. U.S. soybean farmers have taken a hard hit, with Trump last week announcing a $16 billion USD trade aid program for those impacted by retaliatory tariffs. Meanwhile, Chinese company Huawei argued that congress cannot create legislation to target a specific person (or company), and that Huawei specific targeting is the latest violation of the U.S. constitution.
Japanese telecom, which is owned by SoftBank, has selected Nokia Oyj and Ericsson AB as vendors for its next-generation wireless network, while excluding longtime supplier Huawei Technologies Co. This may reflect, at least in some part, the Japanese support for the U.S. in the trade war.
Singapore's UOB bank stated that it believes East Asia can become a safe haven for the U.S.-China trade deal and that it is betting on AI and digital technology for the future.
The major Asian stock markets had a mixed day today. Shanghai decreased 8.89 points or -0.31% to 2,905.81; KOSPI increased 15.48 points or 0.77% to 2,038.80; ASX 200 decreased 47.90 points or -0.74% to 6,392.10; NIKKEI 225 decreased 60.84 points or -0.29% to 20,942.53; Hang Seng decreased 120.83 points or -0.44% to 27,114.88; and SENSEX increased 329.92 points or 0.84% to 39,831.97.
The major Asian currency markets had a mixed day today. AUDUSD decreased 0.0001 or 0.02% to 0.6916; NZDUSD increased 0.0002 or 0.03% to 0.6511; USDJPY increased 0.0420 or 0.04% to 109.6220; and USDCNY decreased 0.0052 or 0.07% to 6.9271.
Gold increased 8.9 USD/t oz. or 0.70% to 1,290.29 and silver increased 0.115 USD/t. oz or 0.80% to 14.5580.
Some economic news:
Japan:
Foreign Bonds Buying decreased from 1,359.0B to -189.0B
Foreign Investments in Japanese Stocks decreased from -57.3B to -128.2B
New Zealand:
Building Consents (MoM) (Apr) decreased from -7.4% to -7.9%
Budget Balance (Jan) increased from -5.000B to -2.785B
Net Debt Forecast (Jan) decreased from 20.90% to 20.10%
Economic Forecast (Jan) increased from 1.724B to 3.465B
Australia:
HIA New Home Sales (MoM) (Oct) decreased from -0.1% to -11.8%
Building Approvals (MoM) (Apr) increased from -13.4% to -4.7%
Building Capital Expenditure (MoM) (Q1) decreased from 2.5% to -2.8%
Plant/Machinery Capital Expenditure (QoQ) (Q1) decreased from 0.7% to -0.5%
Private House Approvals (Apr) increased from -3.5% to -2.6%
Private New Capital Expenditure (QoQ) (Q1) decreased from 1.3% to -1.7%
EUROPE / EMEA:
The U.S. warned Europe over the fate of the Iranian nuclear accord and is threatening penalties against the financial body created by Germany, UK, and France to protect trade with Iran from US sanctions. Regarding the recent oil tanker strikes of the Gulf of Oman, Trump's National Security Advisor John Bolton says he can provide evidence to the UN security council as early as next week, but time will tell.
Elsewhere in Europe, Albania and North Macedonia have made good progress towards EU membership. Brussels should open accession talks with them, the EU Commission says. Both have official "candidate" status in their EU membership bids. There are three other candidate countries in the queue to join: Montenegro, Serbia, and Turkey. Turkish membership is said to be at a standstill.
In Israel, Netanyahu failed to form a coalition and therefore new fresh national elections will take place. A meeting with Trump's son-in-law Kushner and Nethanyahu took place today in order to plan peace between the Israel and Palestine. A Palestinian state official believes the new elections will end Trump's peace plan. Jordan's King Abdullah weighed in on the peace plan, stating that the Palestinians must be given their own state. Earlier, both China and Russia announced they would shun the event after Palestinian Authority complained that the U.S. president's pro-Israel policies are undermining a two-state solution.
The major European stock markets had a green day today. CAC 40 increased 26.79 points or 0.51% to 5,248.91; FTSE 100 increased 32.86 points or 0.46% to 7,218.16; and DAX increased 64.27 points or 0.54% to 11,902.08.
The major European currency markets had a mixed day today. EURUSD increased 0.0007 or 0.06% to 1.1136; GBPUSD decreased 0.0013 or -0.10% to 1.26120; and USDCHF decreased 0.00013 or -0.01% to 1.0074.
Some economic news:
Spain:
Spanish CPI (MoM) decreased from 1.0% to 0.2%
Spanish CPI (YoY) decreased from 1.5% to 0.8%
Spanish HICP (YoY) (May) decreased from 1.6% to 0.9%
Spanish HICP (MoM)  decreased from 1.1% to 0.2%
Spanish Retail Sales (YoY) (Apr) decreased from 1.4% to 1.1%
U.S./AMERICAS:
For the first time in nine years, the U.S. has lost its title of having world's most competitive economy. According to the Swiss-based International Institute for Management Development's (IMD) annual report, Singapore now reigns supreme as the world's most competitive economy followed by Hong Kong. The U.S. ranks third on the list. "In a year of high uncertainty in global markets due to rapid changes in the international political landscape as well as trade relations, the quality of institutions seem to be the unifying element for increasing prosperity," stated Arturo Bris, a professor at IMD. The study employed 235 indicators to produce rankings, such as GDP, unemployment, globalization, corruption, and government spending.
According to the study, these are the top-20 competitive economies:
Singapore
Hong Kong SAR
United States
Switzerland
United Arab Emirates
Netherlands
Ireland
Denmark
Sweden
Qatar
Norway
Luxembourg
Canada
China
Finland
Taiwan, China
Germany
Australia
Austria
Iceland
Separately, U.S. mortgage rates fell for the fifth consecutive week, according to Freddie Mac. The average rate for a 30-year, fixed-rate mortgage currently stands at 3.99% compared to 4.06% the week prior. Last year at this time, the benchmark rate hovered around 4.56%. This week marks the first time since January 2018 that 30-year mortgages have dropped below 4%. The average 15-year, fixed-rate mortgage dropped to 3.46% from 3.51% on a weekly basis.
Federal Reserve Vice Chairman Richard Clarida gave a speech in New York this Thursday where we reiterated the Fed's decision to remain "patient" in regards to interest rate changes. Clarida cited low unemployment and inflation in congruence with a sound economy to validate the current policy. However, he noted what conditions would need to be present for the Reserve to go off course. "If the incoming data were to show a persistent shortfall in inflation below our 2 percent objective or were it to indicate that global economic and financial developments present a material downside risk to our baseline outlook, then these are developments that the [Federal Open Market Committee] would take into account in assessing the appropriate stance for monetary policy," Clarida stated.
The Bank of Canada also reiterated their decision this week to leave interest rates unchanged. The current overnight rate is 1.75% and will remain in place until further notice. "Overall, recent data have reinforced Governing Council's view that the slowdown in late 2018 and early 2019 was temporary, although global trade risks have increased," the central bank noted. The bank disclosed that trade tensions are a growing concern for the Canadian economy. "Trade restrictions introduced by China are having direct effects on Canadian exports," they stated. On a positive note, the recent lift of U.S. imposed sanctions on aluminum and copper "will have positive implications for Canadian exports and investment."
Wall Street traded in a choppy pattern this Thursday. The Dow advanced 43.47 points or +0.17% to 25,169.88; the S&P 500 added 5.84 points or +0.21% to 2,788.86; the Nasdaq rose 20.41 points or +0.27% to 7,567.72; the Russell 2000 was the loan major index in the red today, declining 4.42 points or -0.30% to 1,485.53.
The major Canadian indices were in the red. The TSX Composite lost 42.23 points or -0.26% to 16,089.24, and the TSX 60 slipped 2.67 points or -0.28% to 965.62.
Brazil's Bovespa gained 890.81 points or +0.92% to 97,457.36.
ENERGY:
Saudi Arabia is expected to raise oil prices using their official selling price (OSP) of all grades sold to Asia. The demand has spiked in the region, given both Venezuela and Iran are facing sanctions.
The oil markets had a negative day today. Crude Oil decreased 2.02 USD/BBL or -3.43% to 56.6820; Brent decreased 2.67 USD/BBL or -3.84% to 66.7993; Natural gas decreased 0.077 USD/MMBtu or -2.92% to 2.5574; Gasoline decreased 0.0639 USD/GAL or -3.29% to 1.8786; and Heating oil decreased 0.0512 USD/GAL or -2.60% to 1.9130.
Top commodity gainers: Wheat (4.79%), Corn (4.12%), Ethanol (3.47%), and Coffee (3.22%). Top commodity losers: Brent (-3.93%), Crude Oil (-3.49%), Gasoline (-3.46%), and Natural Gas (-3.15%)
The above data was collected around 14:25 EST on Thursday.
BONDS:
Japan -0.10%(+0bp), US 2's 2.10% (-6bps), US 10's 2.25%(-12bps), US 30's 2.68%(-14bps), Bunds -0.17% (-2bp), France 0.24% (+1bp), Italy 2.65% (-10bp), Turkey 18.71% (-34bp), Greece 3.05% (-90bp), Portugal 0.87% (-12bp), Spain 0.77% (-6bp) and UK Gilts 0.90% (-15bp).
Italian 10-Year BTP Auction increased from 2.59% to 2.60%
Italian 5-Year BTP Auction increased from 1.72% to 1.81%
US 4-Week Bill Auction decreased from 2.335% to 2.330%
US 8-Week Bill Auction remain the same at 2.330%