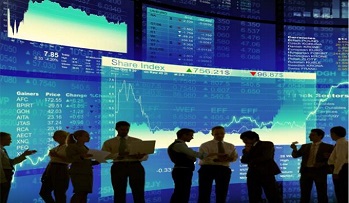 Nikkei cash opened today following the same trend from Friday's late US futures session with cash down around 4%. This did ultimately produce the days low and we rallied from there in low volume but cash still closed 3.1% lower on the day. China, Hong Kong, Taiwan, Singapore, and Malaysia markets were also closed today.
Like Asia, Europe had its share of closed markets (UK, Ireland, Russia, Austria, Switzerland, Norway….) and therefore volumes around the world continued extremely light. We did see PMI releases where results were rather a mixed set of results. In Germany, we saw a marginally positive number whilst France slightly negative. Europe as a whole was 51.7 aided by Italy that released at 53.5 but either way it beat market consensus of 51.5. DAX and CAC finished the day better at +0.85% and +0.35%. This was a strong performance by the DAX considering we saw Deutsche Banks shares decline 2.7% after the FCA (Financial Conduct Authority) claimed it has serious and systemic failings in it controls (according to the Financial Times). In Italy, we again saw weakness in some banks shares after Banca Popolare di Vicenea managed a take-up of only 7.7% of its additional share offering (Atlante – will take the balance). Banca Monte dei Paschi di Sienna fell 5.5% and Banca Popolare di Milano fell 6%. The FTSE MIB closed 0.98% lower on the day.
The DOW opened little changed but gradually made ground as the day wore-on. In light volume, we saw the closing up 0.5% whilst the broader S+P closed 0.8% higher. As we enter the new month most eyes will be on the first Friday economic data – US jobs release! Expected is a number around 200k (previous 215k) and a rate of 5%.
The USD continued to be the top discussion point this evening after a day when we saw the DXY close down -0.5% at 92.62. Big gains were seen in the Euro, AUD and Swedish Krona. Silver made an outside reversal to the downside closing below Friday's low and both gold and silver made the new highs in May but could not hold on to the gains just yet despite the rally in the Euro. Both failed to exceed the 2015 high and gold was really knocking on heaven's door topping at 1306 against a 2015 high of 1307.80.
Metals and Euro report are provided in the Private Investor Blog.
Treasuries saw selling today resulting in a curve steepening theme. The long end (10's and 30's) lost 3 and 4bp a piece whilst 2's saw only a 1bp loss. 2's closed 0.79% and 10's at 1.86%. 2/10 curve closed +107bp. German 10's closed 0.275% closing the US/Germany 10yr spread at +158.5bp.
Puerto Rico warned of more defaults after missing payment.