Blog/Market Talk
Posted May 29, 2019 by marty armstrong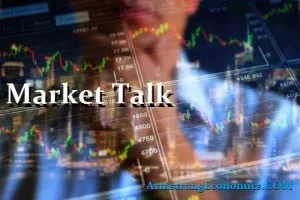 ASIA / AUSTRALIA:
There seems to be no end to the US-China trade deal in sight. China is signaling that it could increase tariffs on rare earth materials, which are essential for components in the tech industry.
The governments of the United States and Japan have agreed to further cooperation in space, which could include flying Japanese astronauts to the moon. "I am pleased to confirm that Prime Minister Abe and I have agreed to dramatically expand our nations' cooperation in human space exploration," Trump said. "Japan will join our mission to send U.S. astronauts to space. We'll be going to the moon. We'll be going to Mars very soon. It's very exciting."
The US published a report on currency manipulators. According to the report, China, Japan, Malaysia, Korea, Germany, Italy, Ireland, Singapore, and Vietnam are on the list. It targets countries with a favorable trade surplus against the United States. "Malaysia has maintained a significant bilateral goods trade surplus with the US since 2015, registering US$27 billion last year," the report said.
The major Asian stock markets had a mixed day today. Shanghai increased 4.79 points or 0.16% to 2,914.70; KOSPI decreased 25.51 points or -1.25% to 2,023.32; ASX 200 decreased 44.80 points or -0.69% to 6,440.00; NIKKEI 225 decreased 256.77 points or -1.21% to 21,003.37; Hang Seng decreased 155.10 points or -0.57% to 27,235.71; and SENSEX decreased 247.68 points or -0.62% to 39,502.05.
The major Asian currency markets had a mixed day today. AUDUSD decreased 0.0008 or 0.11% to 0.6914; NZDUSD decreased 0.0030 or 0.46% to 0.6511; USDJPY increased 0.1700 or 0.16% to 109.5300; and USDCNY increased 0.0134 or 0.19% to 6.9339.
Gold increased 1.89USD/t oz. or 0.15% to 1,280.19 and silver increased 0.0971 USD/t. oz or 0.68% to 14.4724.
Some economic news:
South Korea:
Manufacturing BSI Index (Jun) decreased from 73 to 72
New Zealand:
ANZ Business Confidence (May) increased from -37.5 to -32.0
NBNZ Own Activity (May) increased from 7.1% to 8.5%
EUROPE / EMEA:
The winners of the EU parliament elections were said to be the "greens," as they demand more radicalized climate control measures going forward. Another winner from the EU parliamentary elections was the "populist" agenda. Angel Merkel warned about the rise of "dark forces" in Europe. With anti-Semitism on the rise, recently German Jews were warned by German officials against wearing their kippahs in public. Angel Merkel stated there were no Jewish schools that did not need protection by police this year.
Boris Johnson, who could become the next UK Prime Minister, is facing court over the "lies" that he apparently spread in the run up to the Brexit referendum. A judge at Westminster Magistrate's Court in London ruled that Boris Johnson, a former UK foreign secretary, must face a private summons on three counts of misconduct in public office.
In France, Paris-based rights group ACAT says it filed a legal challenge to prevent a Saudi ship from taking delivery of its cargo. The cargo ship is said to hold French weapons for Saudi Arabia.
Elsewhere in the Middle East, the U.S. says that Iranian naval mines almost certainly damaged tankers in the Gulf of Oman earlier this month. They are unsure what the repercussions of these findings will be. Iran dismissed the report as "laughable" with no evidence. Last Friday, U.S. Vice Admiral Michael Gilday said he believed "with a high degree of confidence that this [attack] stems back to the leadership of Iran at the highest levels."
The major Europe stock markets had a negative day. CAC 40 decreased 90.57 points or -1.70% to 5,222.12; FTSE 100 decreased 83.65 points, or -1.15% to 7,185.30; and DAX decreased 189.24 points or -1.57% to 11,837.81.
The major Europe currency markets had a mixed day today. EURUSD decreased 0.0028 or 0.25% to 1.1132; GBPUSD decreased 0.0030 or 0.24% to 1.2622; and USDCHF increased 0.0005 or 0.05% to 1.0080.
Some economic news:
Norway:
Credit Indicator (YoY) (Apr) decreased from 5.8% to 5.7%
Core Retail Sales (MoM) (Apr) increased from 0.7% to 1.8%
Swiss:
KOF Leading Indicators (May) decreased from 96.2 to 94.4
ZEW Expectations (May) decreased from -7.7 to -14.3
Germany:
German Unemployment Change (May) increased from -12K to 60K
German Unemployment Rate (May) increased from 4.9% to 5.0%
German Unemployment (May) increased from 2.220M to 2.279M
German Unemployment n.s.a. (May) increased from 2.229M to 2.236M
France:
French Consumer Spending (MoM) (Apr) increased from -0.3% to 0.8%
French CPI (MoM) decreased from 0.3% to 0.2%
French CPI (YoY) decreased from 1.3% to 1.0%
French GDP (YoY) increased from 1.1% to 1.2%
French GDP (QoQ) (Q1) remain the same at 0.3%
French HICP (YoY) decreased from 1.5% to 1.1%
French HICP (MoM) decreased from 0.4% to 0.2%
French PPI (MoM) (Apr) decreased from 0.0% to -0.6%
Italy:
Italian Business Confidence (May) increased from 100.8 to 102.0
Italian Consumer Confidence (May) increased from 110.6 to 111.8
U.S./AMERICAS:
People's Daily, the official newspaper of the Chinese Communist Party, released an ominous article this Wednesday entitled, "United States, Don't Underestimate China's Ability to Strike Back." China's tightly controlled media was initially taking a victimizing stance, but now the propaganda has turned aggressive. "We advise the U.S. side not to underestimate the Chinese side's ability to safeguard its development rights and interests. Don't say we didn't warn you!" As previously mentioned, rumors have been circulating as to whether China will impose tariffs on rare earth minerals, and today's publication addressed that concern. "Will rare earths become a counter weapon for China to hit back against the pressure the United States has put on for no reason at all? The answer is no mystery," People's Daily declared.
On a related note, Huawei's chief legal officer, Song Liuping, spoke out in favor of the company's legal motion to overturn the U.S. imposed partial ban on the tech giant. Liuping claims that Huawei is not a threat to national security, and further asserted his message by stating the U.S. does not have concrete evidence to prove their claims. "There is no gun, just smoke. Only speculation," Liuping stated. "[The U.S.] is using the strength of an entire nation to come after a private company," he continued. The motion filed yesterday in Texas aims to overturn part of the National Defense Authorization Act. Huawei alleges that the act violates the U.S. Constitution by singling out a private company while failing to provide a proper trial.
Separately, Special Counsel Robert Mueller made his first public announcement today since releasing his 448-page investigative report on President Trump's possible illegal interference in the 2016 U.S. Presidential Election. In summary, the verdict is still out as to whether Trump technically committed an illegal crime, but Mueller seemed to want to make very clear that even if they felt President Trump had committed a crime, the DOJ does not have the right to charge a sitting US President. This appeared to be an effort to clarify Congress has the ball now, and to look to them for further guidance.
"If we had confidence after a thorough investigation of the facts that the president clearly did not commit obstruction of justice, we would so state," Mueller grudgingly stated. "Based on the facts and the applicable legal standards, however, we are unable to reach that judgment." President Trump claims that he did not use or facilitate Russian influence to sway the election. Regardless, Mueller also made very clear that his investigation revealed "there were multiple, systematic efforts to interference [sic] in our election. That allegation deserves the attention of every American."
In his final remarks today, Mueller said he does not plan to go beyond the content of his report, even if he were requested to testify before Congress. "The report is my testimony," he avowed. Mueller is resigning from the Justice Department to "return to private life."
Domestic and geopolitical turmoil took a toll on the marketplace. The Dow dropped another 221.36 points or -0.87% to 25,126.41; the S&P 500 declined 19.37 points or -0.69% to 2,783.02; the Nasdaq fell 60.04 points or -0.79% to 7,547.31; and the Russell 2000 lost 14.07 points or -0.94% to 1,489.95.
The major Canadian indices closed in the red once again as well. The TSX Composite lost 165.99 points or -1.02% to 16,131.47, and the TSX 60 lost 9.79 points or -1% to 968.29.
Brazil's Bovespa continued to buck the trend, gaining 173.79 points today, or +0.18% to 96,566.55.
ENERGY:
U.S. stockpiles of crude oil are rising and the ongoing trade war worries is causing downward pressure on the crude price.
Crude Oil decreased 0.29 USD/BBL or -0.49% to 58.9339; Brent decreased 0.68 USD/BBL or -0.97% to 69.5566; Natural gas increased 0.04 USD/MMBtu or 1.43% to 2.6204; Gasoline decreased 0.0122 USD/GAL or -0.62% to 1.9451; and Heating oil decreased 0.0242 USD/GAL or -1.21% to 1.9705.
Top commodity gainers: Coffee (3.59%), Canola (1.53%), Soybeans (1.79%), and Natural Gas (1.43%). Top commodity losers: Wheat (-3.32%), Copper (-1.48%), Ethanol (-1.35%), and Coal (-2.60%)
The above data was collected around 15:45 EST on Wednesday.
BONDS:
Japan -0.07%(+0bp), US 2's 2.08% (-8bps), US 10's 2.24%(-14bps), US 30's 2.82%(+0bps), Bunds -0.16% (-1bp), France 0.23% (-4bp), Italy 2.64% (-12bp), Turkey 18.92% (-13bp), Greece 3.13% (-73bp), Portugal 0.87% (-11bp), Spain 0.73% (-6bp) and UK Gilts 0.89% (-16bp).
German 5-Year Bobl Auction decreased from -0.460% to -0.560%
US 7-Year Note Auction decreased from 2.426% to 2.144%
Italian 6-Month BOT Auction decreased from -0.028% to -0.048%