Blog/Market Talk
Posted May 28, 2020 by Martin Armstrong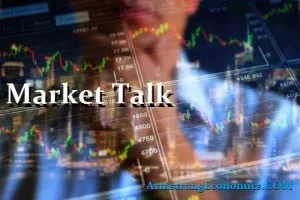 ASIA:
China's Parliament has backed security legislation for Hong Kong, which would make it a crime to undermine Beijing's authority in the territory. Clashes broke out on Wednesday as Hong Kong's Parliament debated a different proposed law, which would make it a crime to disrespect the Chinese national anthem. Hundreds of people were arrested in protests over that and the security law.
The United States requested for an immediate online United Nations Security Council meeting to discuss a new legislation for Hong Kong to crush all dissent — a move that was subsequently blocked by China. A US representative at the UN said that China's proposed national security law for Hong Kong is a "matter of urgent global concern that implicates international peace and security, and warrants the immediate attention of the UN Security Council."
China and Russia continue to stall Turkey's proposal to open a new border gate to Syria's northeastern Tal Abyad province, insisting on risking future humanitarian aid deliveries to the region despite the harsh living conditions plaguing locals. According to an online news agency, diplomatic sources confirm that neither country welcomes Turkey's idea to open a new border gate, and their stance poses a humanitarian threat to the region.
India on Wednesday said it was engaged with China to resolve the border issue while reacting to US President Donald Trump's offer to mediate between the two countries to settle the festering dispute. In the midst of the tense border standoff between India and China, Trump on Wednesday said he was "ready, willing and able to mediate" between the two countries.
Novavax Inc is buying a manufacturing plant from privately held Serum Institute of India as the U.S. company aims to produce 1 billion doses of its COVID-19 vaccine candidate next year. The U.S. company said on Wednesday it would buy Czech Republic-based Praha Vaccines, a unit of India's Cyrus Poonawalla Group, which also owns Serum Institute, for $167 million in cash.
The major Asian stock markets had a mixed day today:
NIKKEI 225 increased 497.08 points or 2.32% to 21,916.31
Shanghai increased 9.42 points or 0.33% to 2,846.22
Hang Seng decreased 168.60 points or -0.72% to 23,132.76
ASX 200 increased 76.10 points or 1.32% to 5,851.10
Kospi decreased 2.66 points or -0.13% to 2,028.54
SENSEX increased 595.37 points or 1.88% to 32,200.59
The major Asian currency markets had a mixed day today:
AUDUSD increased 0.00461 or 0.70% to 0.66622
NZDUSD increased 0.00367 or 0.59% to 0.62215
USDJPY decreased 0.1 or -0.10% to 107.65
USDCNY decreased 0.02452 or -0.34% to 7.15630
Precious Metals:
Gold increased 14.88 USD/t oz. or 0.87% to 1,723.75
Silver increased 0.14 USD/t. oz or 0.81% to 17.4400
Some economic news from last night:
Japan:
Foreign Bonds Buying increased from -456.9B to -432.9B
Foreign Investments in Japanese Stocks increased from -222.6B to 75.4B
South Korea:
Interest Rate Decision (May) decreased from 0.75% to 0.50%
Australia:
Building Capital Expenditure (MoM) (Q1) increased from -5.9% to -1.1%
Plant/Machinery Capital Expenditure (QoQ) (Q1) decreased from 0.8% to -2.3%
Private New Capital Expenditure (QoQ) (Q1) increased from -2.8% to -1.6%
Nre Zealand:
ANZ Business Confidence (May) increased from -66.6 to -41.8
NBNZ Own Activity (May) increased from -55.1% to -38.7%
EUROPE/EMEA:
The DAX, CAC, FTSE continued its impressive run in the last five business days, with the markets seeming to be in a disconnect to the actual global economy. Recent reports suggest that small/family businesses across the world could suffer irreversible damage over the preventive measures COVID-19 has caused. However, the market seemed to bounce back without any suggestion that there are long term concerns over the state of the global economy.
Phil Hogan EU Trade Commissioner said that the UK and the EU were not making much progress at the moment with post-Brexit dealings and that the UK perhaps already is aiming for a "no-deal." He went on to stress that the EU was willing to budge on their stance for certain aspects of the trade deal and renegotiate in a more flexible manner, but also requires for the UK to meet them halfway on talks.
The EU is adamant to rebuild the economy in a green way, claiming that the money spent on reviving the economy will in no way disrupt their green targets. The European Commission estimates that at least a million jobs will be created in the green industry. A further 40 billion euros will be spent to help the economy transition from coals, and will provide help for workers in polluting industries transition to new roles. Germany, Poland, and Romania look to be the biggest benefactors due to their heavy coal use.
The Dubai government announced new measures to lift restrictions on businesses, allowing gyms, movie theaters, leisure venues, educational and training institutes, child learning centers, and all retail and wholesale establishments to reopen at varying limited capacities. The emirate of 3.3 million, the UAE's commercial capital, is pushing ahead with reopening its economy after a grueling two months of lockdown that included a three-week stretch in April of some of the strictest measures imposed anywhere in the world, requiring residents to apply for a police permit in order to leave their homes.
The major Europe stock markets had a green day today:
CAC 40 increased 82.65 points or 1.76% to 4,771.39
FTSE 100 increased 74.54 points or 1.21% to 6,218.79
DAX 30 increased 123.44 points or 1.06%% to 11,781.13
The major Europe currency markets had a mixed day today:
EURUSD increased 0.0054 or 0.49% to 1.10694
GBPUSD increased 0.00655 or 0.53% to 1.23262
USDCHF decreased 0.00363 or -0.37% to 0.96445
Some economic news from Europe today:
Spain:
Spanish CPI (YoY) decreased from -0.7% to -1.0%
Spanish CPI (MoM) decreased from 0.3% to 0.0%
Spanish HICP (YoY) (May)  decreased from -0.7% to -0.9%
Spanish HICP (MoM) decreased from 0.4% to 0.0%
Spanish Retail Sales (YoY) (Apr) decreased from -14.2% to -31.6%
Spanish Business Confidence increased from -35.1 to -33.0
Italy:
Italian Business Confidence (Apr) decreased from 87.2 to 71.2
Italian Consumer Confidence (Apr) decreased from 100.1 to 94.3
Italian Trade Balance Non-EU (Apr) decreased from 5.21B to -0.15B
Italian PPI (MoM) (Apr) decreased from -1.1% to -2.6%
Italian PPI (YoY) (Apr) decreased from -3.7% to -5.1%
Euro Zone:
Business and Consumer Survey (May) increased from 64.9 to 67.5
Business Climate (May) decreased from -1.99 to -2.43
Consumer Confidence (May) increased from -22.0 to -18.8
Consumer Inflation Expectation (May) decreased from 29.2 to 28.6
Selling Price Expectations (May) decreased from -7.5 to -8.6
Services Sentiment (May) decreased from -38.6 to -43.6
Industrial Sentiment (May) increased from -32.5 to -27.5
France:
France Jobseekers Total increased from 3,488.6K to 4,315.7K
Germany:
German CPI (YoY) (May) decreased from 0.9% to 0.6%
German CPI (MoM) (May) decreased from 0.4% to -0.1%
German HICP (MoM) (May) decreased from 0.4% to 0.0%
German HICP (YoY) (May) decreased from 0.8% to 0.5%
US/AMERICAS:
President Trump is concerned that media outlets are stifling the First Amendment of the Constitution by censoring conservative politics. The president believes that social media outlets are trying to influence the 2020 US presidential election by promoting Democratic policies. "Republicans feel that Social Media Platforms totally silence conservatives voices. We will strongly regulate, or close them down, before we can ever allow this to happen," the US president posted on Wednesday. President Trump announced that he plans to sign an executive order to curb the censored, fake news.
First-time unemployment claims rose by 2.1 million in the US last week, slightly exceeding analysts' expectations of 2.05 million. The total number of continuing claims (collecting unemployment for more than two weeks), however, dipped to 21.05 million and suggests 3.86 million previously unemployed Americans are back to work.
GlaxoSmithKline (GSK) announced optimistic plans to produce 1 billion COVID-19 vaccines next year as the race for a vaccine continues to dominate the pharmaceutical industry. Following AztraZeneca's method, the CEO of GSK stated that he foresees the need for multiple vaccines.
Boeing has resumed manufacturing the 737 MAX aircraft after a five-month halt in production. The aircraft had been grounded since March 2019 after two separate crashes claimed 346 lives. Cautious buyers were reluctant to buy the 737 MAX before the coronavirus neutralized demand entirely. The Federal Aviation Administration must certify that the planes are safe to fly, but the agency announced that they refuse to "speculate on a timeframe for completing it." Still, Boeing intends to produce 31 planes per month in 2021.
US Market Closings:
Dow declined 147.63 points or -0.58% to 25,400.64
S&P 500 declined 6.4 points or -0.21% to 3,029.73
Nasdaq declined 43.37 points or -0.46% to 9,368.99
Russell 2000 declined 35.69 points or -2.48% to 1,400.67
Canada Market Closings:
TSX Composite declined 9.3 points or -0.06% to 15,262.73
TSX 60 declined 1.49 points or -0.16% to 923.16
Brazil Market Closing:
Bovespa declined 997.16 points or -1.13% to 86,949.09
ENERGY:
The EIA report put into question whether oil demand has picked up in the US. A 7.9 million barrel build of crude oil was announced this week. However, the price of Brent and WTI were largely unaffected with both July contracts up on the day.
The oil markets had a mixed day today:
Crude Oil increased 0.55 USD/BBL or 1.68% to 33.3600
Brent increased 0.48 USD/BBL or 1.38% to 35.2200
Natural gas decreased 0.024 USD/MMBtu or -1.28% to 1.8470
Gasoline increased 0.0277 USD/GAL or 2.85% to 1.0004
Heating oil increased 0.0025 USD/GAL or 0.27% to 0.9444
The above data was collected around 12.15 EST on Thursday.
Top commodity gainers: Ethanol (6.79%), Gasoline (2.85%), Corn (2.42%), and Cocoa (2.62%)
Top commodity losers: Lean Hogs (-5.53%), Steel (-2.11%), Palladium (-1.32%), and Coffee (-2.88%)
The above data was collected around 12.28 EST on Thursday.
BONDS:
Japan 0.00%(+0bp), US 2's 0.18% (-0bps), US 10's 0.69%(+1bps); US 30's 1.46%(+3bps), Bunds -0.42% (+0bp), France -0.05% (-4bp), Italy 1.43% (-6bp), Turkey 12.04% (-4bp), Greece 1.51% (-7bp), Portugal 0.56% (-8bp); Spain 0.59% (+1bp) and UK Gilts 0.21% (+2bp).
UK 30-Year Treasury Gilt Auction decreased from 0.612% to 0.025%
US 4-Week Bill Auction increased from 0.090% to 0.130%
US 8-Week Bill Auction increased from 0.105% to 0.135%
US 7-Year Note Auction decreased from 0.525% to 0.000%