Blog/Market Talk
Posted May 28, 2019 by marty armstrong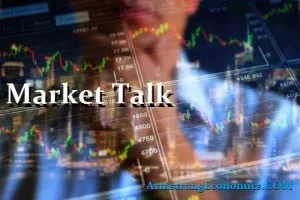 ASIA / AUSTRALIA:
After U.S. President Trump's visit to Japan concluded, he stated he expects Japan's military to reinforce the U.S. forces throughout Asia and elsewhere. Meanwhile, Chinese Vice President Wang Qishan is visiting Pakistan before he heads to Europe as both nations are trying to show up regional allies as tensions rise.
The founder of Huawei said the idea of his company being part of a trade deal is a big joke. He followed up by stating, "The US has never bought products from us. Even if the US wants to buy our products in the future, I may not sell to them. There is no need for negotiation."
Chinese chip maker SMIC called rumors of delisting from the NYSE due to ongoing tensions between the U.S. and China false, stating there is simply not enough volume traded on the NYSE compared to that of the HKSE.
The major Asian stock markets had a green day today. Shanghai increased 17.53 points or 0.61% to 2,909.91; KOSPI increased 4.62 points or 0.23% to 2,048.83; ASX 200 increased 32.90 points or 0.51% to 6,484.80; NIKKEI 225 increased 77.56 points or 0.37% to 21,260.14; Hang Seng increased 102.72 points or 0.38% to 27,390.81; and SENSEX increased 66.44 points or 0.17% to 39,749.73.
The major Asian currency markets had a mixed day today. AUDUSD increased 0.0012 or 0.17% to 0.6929; NZDUSD increased 0.0006 or 0.09% to 0.6549; USDJPY decreased 0.0330 or 0.03% to 109.4670; and USDCNY increased 0.0086 or 0.12% to 6.9154.
Gold decreased 5.4USD/t oz. or -0.42% to 1,280.13, and silver decreased 0.258 USD/t. oz or -1.77% to 14.3377.
Some economic news:
South Korea:
Consumer Confidence (May) decreased from 101.6 to 97.9
Japan:
Corporate Services Price Index (CSPI) (YoY) decreased from 1.1% to 0.9%
BoJ Core CPI (YoY) increased from 0.5% to 0.7%
EUROPE / EMEA:
European elections concluded over the weekend; the major trend change was the center-left and center-right losing the majority for the first time in a European Parliament. Nationalist parties performed well, mainly those in favor of cranking down on immigration and anti-EU sentiment in favor of a more conventional national power (such as the Brexit-Party). Although a shift to pro-European alternatives also proved successful, parties such as Green and liberal groups are pushing to the extremes. The general public are more understanding of what the European parliament's represent, reflected in a higher turnout then before.
President Trump tweeted that the U.S. was not interested in regime change in Iran, stating that America is only interested in preventing Iran from obtaining nuclear weapons. Iranian Foreign Minister Javad Zarif insisted Tehran is not seeking nuclear weapons and is instead accusing the U.S. of causing regional tensions by sending troops. The Moscow Times announced that Russia would unlikely remain neutral if the U.S. and Iran go to war, further reporting that the fall of Iran would undermine Russia's capacity to balance the Middle East.
The major Europe stock markets had a negative day today. CAC 40 decreased 23.50 points or -0.44% to 5,312.69; FTSE 100 decreased 8.78 points or -0.12% to 7,268.95; and DAX decreased 44.13 points or -0.37% to 12,027.05.
The major Europe currency markets had a mixed day today. EURUSD decreased 0.0024 or 0.21% to 1.1172; GBPUSD decreased 0.0014 or 0.11% to 1.2663; and USDCHF increased 0.0054 or 0.53% to 1.0091.
Some economic news:
Norway:
Consumer Confidence (Q2) decreased from 13.30 to 12.80
Swiss:
GDP (YoY) (Q1) increased from 1.5% to 1.7%
GDP (QoQ) (Q1) increased from 0.3% to 0.6%
Trade Balance (Apr) decreased from 3.247B to 2.294B
Germany:
German Import Price Index (MoM) (Apr) increased from 0.0% to 0.3%
German Import Price Index (YoY) (Apr) decreased from 1.7% to 1.4%
GfK German Consumer Climate (Jun) decreased from 10.2 to 10.1
France:
French Consumer Confidence (May) increased from 96 to 99
Italy:
Italian Trade Balance Non-EU (Apr) decreased from 3.42B to 1.89B
UK:
Gross Mortgage Approvals increased from 40.6K to 43.0K
Spain:
Spanish Business Confidence increased from -3.7 to -3.3
Eurozone:
M3 Money Supply (YoY) (Apr) increased from 4.5% to 4.7%
Private Sector Loans (YoY) increased from 3.3% to 3.4%
Business and Consumer Survey (May) increased from 103.9 to 105.1
Business Climate (May) decreased from 0.42 to 0.30
Consumer Confidence (May) increased from -7.3 to -6.5
Consumer Inflation Expectation (May) increased from 19.3 to 23.2
Selling Price Expectations (May) increased from 5.2 to 5.3
Services Sentiment (May) increased from 11.8 to 12.2
Industrial Sentiment (May) increased from -4.3 to -2.9
U.S. / AMERICAS:
U.S. home prices have steadily declined for the past year, according to the S&P Case-Shiller National Home Price Index. In March, home prices rose only 3.7% on average compared to 3.9% the prior month. Additionally, according to a separate report, new home sales fell 6.9% in April and existing home sales declined by 0.4%. The cities with the largest YoY increases during March were Las Vegas (8.2%), Phoenix (6.1%), and Tampa (5.3%). The cities with the largest YoY decreases were Seattle (-11.4%), San Francisco (-9.9%), and Los Angeles (-6.7%).
The U.S. Department of Education announced plans to release new data that will help college hopefuls estimate the amount of debt they will incur after obtaining a degree. The College Scorecard is a government-provided online tool that helps students and families assess schools by providing data such as graduation rates, tuition costs, and the average amount borrowed. The Department of Education hopes that adding data on levels of debt incurred will help curb the nation's growing epidemic of student loan debt.
U.S. consumer confidence reached a six-month high in May, according to a report released on Tuesday by the Confidence Board. The consumer confidence index now stands at 134.1 compared to 129.2 the month prior. The Present Situation Index increased from 169 to 175.2, indicating that Americans in general, unlike many investors, are not concerned about on-going trade or geopolitical tensions.
Barron's released an article this Tuesday disclosing the five best performing stocks on the S&P 500 this year. In the lead is Coty, known for popular beauty lines such as CoverGirl and Clairol, which is up 88.6%. Second place goes to Anadarko Petroleum who posted gains of 61.8% (and in the process to be acquired by Occidental after it beat out Chevron in a bid for the company). Xerox made third place on the list after rising by 58.4%. Tyson Foods and Chipotle came in at fourth and fifth after postings gains of 53.2% and 50.5% respectively.
Wall Street closed down on the first day of trading after the Memorial Day holiday, while volatility spiked (VIX +10.41% to 17.50). The Dow declined 237.92 points or -0.93% to 25,347.77; the S&P 500 lost 23.67 points or -0.84% to 2,802.39; NASDAQ slipped 29.66 points or -0.39% to 7607.35; and the Russell 2000 lost 10.09 points or -0.67% to 1,504.02.
The Canadian markets were also in the red today, with the TSX Composite losing 49.20 points or -0.30% to 16,297.46, and the TSX 60 shedding 2.52 points or -0.26% to 978.08.
Brazil's Bovespa was the lone major index in the Americas to post a gain for the day, closing up 1,528.51 points or +1.61% to 96,392.76.
Energy:
A recent report suggests that Iran may resume Iranian oil purchases. Indian President Modi is set to begin negotiations to pay Iran in rupees in order to bypass U.S. sanctions. India is Iran's biggest importer and reportedly was struggling to fill the void left by the sanctions.
The oil markets had a green day today. Crude Oil decreased 0.2829 USD/BBL or -0.48% to 59.0282; Brent decreased 0.29 USD/BBL or -0.41% to 69.7299; Natural gas increased 0.0006 USD/MMBtu or 0.02% to 2.5806; Gasoline decreased 0.0078 USD/GAL or -0.40% to 1.9553; and Heating oil decreased 0.0081 USD/GAL or -0.40% to 1.9934.
Top commodity gainers: Oat (2.91%), Wheat (3.33%), Soybeans (2.90%), and Ethanol (4.68%). Top commodity losers: Lumber (-3.22%), Lean Hogs (-2.43%), Silver (-1.71%), and Coal (-1.58%)
The above data was collected around 13:01 EST on Tuesday.
BONDS:
Japan -0.07%(+0bp), US 2's 2.16% (+0bps), US 10's 2.27%(-10bps), US 30's 2.82%(+0bps), Bunds -0.14% (-3bp), France 0.25% (-1bp), Italy 2.68% (-7bp), Turkey 19.05% (+0bp), Greece 3.18% (-77bp), Portugal 0.94% (-5bp), Spain 0.79% (-4bp) and UK Gilts 0.92% (-14bp).
German 2-Year Schatz Auction decreased from -0.580% to -0.650%
US 2-Year Note Auction decreased from 2.355% to 2.125%
US 6-Month Bill Auction decreased from 2.340% to 2.320%
US 3-Month Bill Auction decreased from 2.335% to 2.310%
US 5-Year Note Auction decreased from 2.315% to 2.065%