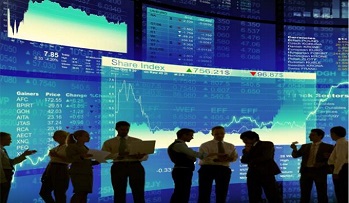 A choppy session in Asia saw the Nikkei open strong but close almost unchanged while HSI and Shanghai spent the majority of the day negative only to close small positive. Focus remains on oil, currency as the JPY remains around the 110 handle, continued disappointing data and todays G7 meeting. China set the mid-point at 6.5552 today while off-shore trades 6.5605 in late US trading. Japanese PM Mr Abe's opening comments at the G7 warned of a crisis on the scale of Lehman Brothers. Was mentioned in Europe but strangely did not find it that significant for the US markets.
Mixed session in Europe with the DAX and CAC producing a similar steady trading pattern, whilst FTSE and IBEX both closed lower. Spain suffered as Banco Popular fell 25% at the open after its declared a plan to sell an additional 2bn shares. G7 headlines did not move markets meaningfully and so we were left awaiting US data in the afternoon. Having seen the $50 Brent most of the day we did dip into the close and that, along with continued fixed-income demand nerved markets and we drifted into the close.
Ahead of tomorrows data and Janet Yellen's speech the markets just failed to hold the trend. NASDAQ did manage to string three days of positive momentum together but sadly the DOW and S+P did not. All eyes will be on tomorrow GDP data where expectations are for a 0.9% and a Core PCE 2.1%. A little later we will see the final U. Mich – Sentiment where expectations are for a 95.4 print (where previous was 95.8).
Gold rejected the $1230 level in early trading and currently stands a little under $1220. Next Tuesday's close (Month end) will be crucial in highlighting future direction. DXY closed a little lower at 95.20 as JPY and Euro clawed back some much lost ground. There is a lot of talk surrounding the SAR (Saudi Riyal) Forwards as it appears speculators are attacking the currency in order to break the peg. Saudi has apparently requested more information fro their banks in relations to this market. SAR Frwds have traded from 320 to 660 within this past month.
The uncertainty within today's numbers pushed money back to chasing yield and hence we saw buyers chasing the Bond market. The 2/10 curve closed this evening at +96bp, with 10's closing 1.84%. In Europe German Bunds also saw renewed buying and closed 0.145% (puts the US/Bund spread at +169.5bp. Italy closed 1.37% (+2bp), Greece 7.03% (+5bp), Turkey 9.68% (-15bp), Portugal 2.99% (+6bp) and Gilts 1.41%(-4bp).