Blog/Market Talk
Posted May 26, 2020 by Martin Armstrong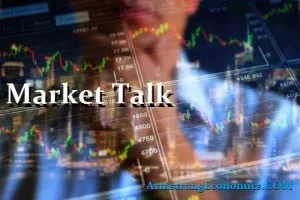 ASIA:
An internal Chinese report warns that China is facing a rising wake of hostility in the wake of the coronavirus outbreak that could tip relations with United States into a confrontation, people familiar with the matter told Reuters. State media reports say that Chinese President Xi Jinping on Tuesday directed China's armed forces to strengthen the training of troops and to be ready in case a war-like situation arises. Xi also said that it was important to "comprehensively strengthen the training of troops and prepare for war" to safeguard the national sovereignty and the strategic stability of the country.
Russia became the top crude oil supplier to China last month, overtaking Saudi Arabia with an average of 1.75 million bpd versus 1.26 million bpd for Saudi Arabia, Reuters has reported, citing customs data. In fact, last month Saudi Arabia fell to the third spot among Chinese oil suppliers, with Iraq taking number-two.
India is looking at storing some low-priced US oil in facilities there as its local storage is full, oil minister Dharmendra Pradhan told CNBC TV18 news channel. Pradhan said India, which is the world's third-biggest oil consumer and importer, had already filled its 5.33 million tonnes of strategic storage and parked about 8.5-9 million tonnes of oil on ships in different parts of the world, primarily in the Gulf. Oil prices have dropped more than 40% so far in 2020 but have picked up in the past few weeks partly due to efforts by the Organization of the Petroleum Exporting Countries and allies to reduce supply.
India's Finance Ministry has ruled out GST waiver or deference to businesses as part of the economic relief package to help them cope with the situation arising in the wake of COVID-19 pandemic and the resultant nationwide lockdown. In discussions within the ministry, it has been said that Goods and Sales Tax (GST) exemption or deferral is not required as it would not give any benefit to industry, but seriously impact the revenues of both the states and the center.
The Japanese government is looking to revive the tourism industry, a key driver of the economy that has been battered by the novel coronavirus pandemic, by paying for people to go on vacation in the country. Under its Go To Travel initiative, the government will provide subsidies worth up to 20,000 yen ($185) per day for people going on leisure trips. Prime Minister Shinzo Abe announced on Monday that the state of emergency declared over the coronavirus crisis is over in Japan, ending curbs on economic activity in Tokyo and four other prefectures as experts judged the spread of infections is now under control.
The major Asian stock markets had a mixed day today:
NIKKEI 225 increased 529.52 points or 2.55% to 21,271.17
Shanghai increased 28.58 points or 1.01% to 2,846.55
Hang Seng increased 432.42 points or 1.88% to 23,384.66
ASX 200 increased 164.40 points or 2.93% to 5,780.00
Kospi increased 35.18 points or 1.76% to 2,029.78
SENSEX decreased 63.29 points or -0.21% to 30,609.30
The major Asian currency markets had a mixed day today:
AUDUSD increased 0.0129 or 1.98% to 0.66709
NZDUSD increased 0.0126 or 2.07% to 0.62234
USDJPY decreased 0.1720 or -0.16% to 107.55
USDCNY decreased 0.0058 or -0.08% to 7.14215
Precious Metals:
Gold decreased 16.94 USD/t oz. or -0.98% to 1,712.25
Silver decreased 0.087 USD/t. oz or -0.51% to 17.1130
Some economic news from last night:
Japan:
Corporate Services Price Index (CSPI) (YoY) decreased from 1.6% to 1.0%
South Korea:
Consumer Confidence (May) increased from 70.8 to 77.6
Singapore:
GDP (QoQ) (Q1) increased from -10.6% to -4.7%
GDP (YoY) (Q1) increased from -2.2% to -0.7%
New Zealand:
Exports (Apr) decreased from 5.82B to 5.26B
Imports (Apr) decreased from 5.09B to 3.99B
Trade Balance (MoM) (Apr) increased from 722M to 1,267M
Trade Balance (YoY) (Apr) increased from -3,400M to -2,500M
Some economic news from today:
Japan:
All Industries Activity Index (MoM) decreased from -0.7% to -3.8%
BoJ Core CPI (YoY) decreased from 0.1% to -0.1%
Singapore:
CPI (YoY) (Apr) decreased from 0.3% to -0.7%
Industrial Production (YoY) (Apr) decreased from 16.5% to 13.0%
Industrial Production (MoM) (Apr) decreased from 21.7% to 3.6%
EUROPE/EMEA:
The European markets had an impressive two days, with DAX, CAC, and FTSE posting two-day gains. The big news over the course of the day was the German airline Lufthansa requiring a bailout of 9bn euros from the German government. Lufthansa rose 7.49% over the trading day.
The Netherlands suggested that the EU should offer member countries who have been hit by the coronavirus a loan rather than a grant, as suggested by the Franco-German plan. The Dutch Rutte said that member states could have access to loans, but the loans are not comingled. This is a variance to the Macron-Merkel plan, which would have seen the funds being comingled and paid back as part of the EU budget according to the economic size of the nation.
The EU is using the current pandemic to rebuild the economy in a green way. The EU released a report which suggested half of the global GDP is related to nature and that EU needs to reenvision their relationship with nature. The EU green deal VP Frans Timmermans said the green deal must be the "cornerstone" of the EU recovery. The EU maintains its plan to be carbon-neutral by at least 2050.
The major Europe stock markets had a green day today:
CAC 40 increased 66.33 points or 1.46% to 4,606.24
FTSE 100 increased 74.48 points or 1.24% to 6,067.76
DAX 30 increased 113.37 points or 1.00%% to 11,504.65
The major Europe currency markets had a mixed day today:
EURUSD increased 0.00979 or 0.90% to 1.09958
GBPUSD increased 0.01466 or 1.20% to 1.23422
USDCHF decreased 0.00692 or -0.71% to 0.96467
Some economic news from Europe today:
UK:
CBI Distributive Trades Survey (May) increased from -55 to -50
Norway:
Consumer Confidence (Q2) decreased from 4.70 to -7.60
Swiss:
Trade Balance (Apr) increased from 3.962B to 4.043B
Employment Level (Q1) decreased from 5.130M to 5.102M
Germany:
GfK German Consumer Climate (Jun) increased from -23.1 to -18.9
US/AMERICAS:
"The transition to greatness has started, ahead of schedule," President Donald Trump tweeted during the end of today's bullish day of trading. "Stock Market up BIG, DOW crosses 25,000. S&P 500 over 3000. States should open up ASAP," he continued. The US indexes closed in the green this Tuesday, with the Dow advancing 529.95 points to 24,995.11, just shy of the 25,000 level, and the S&P 500 advancing 36.32 points to 2,991.77.
The New York Stock Exchange reopened its doors on Wall Street this Tuesday morning after being closed for two months due to COVID-19. Masks were required and the number of traders on the floor was limited to 25% capacity. Still, the symbolism of reopening the floor enriched confidence into the markets. "This moment comes as we begin working together across America to restart our economy. We are starting cautiously, with new safety measures to limit the strain on the health-care system and the risk to those who work beneath our roof," NYSE President Stacy Cunningham stated today.
Democratic presidential nominee Joe Biden made a crucial misstep in his political campaign by announcing, "If you have a problem figuring out whether you're for me or Trump, then you ain't black." The racist comment fueled anger among citizens who claimed the message was a form of voter intimidation. Biden apologized by saying, "I was making the point that I never take the vote for granted and in fact I know in order to win the presidency, I need the African American vote."
Travel between the US and Canada is set to resume on June 21, however, a new poll by the Angus Reid Institute shows that most people feel it is too soon to reopen the border. The study exclusively polled Canadians (n=1,777) and found that 42% of respondents would prefer if the border reopened in September, while 26% of respondents said they would like the ban to extend into 2021. Only 14% of those polled said they were comfortable with the June expiration date. Even among Canadians living close to the border, 84% said they would avoid traveling to the US when the ban lifts.
US Market Closings:
Dow advanced 529.95 points or 2.17% to 24,995.11
S&P 500 advanced 36.32 points or 1.23% to 2,991.77
Nasdaq advanced 15.63 points or 0.17% to 9,340.22
Russell 2000 advanced 37.54 points or 2.77% to 1,393.07
Canada Market Closings:
TSX Composite advanced 72.7 points or 0.48% to 15,148.12
TSX 60 advanced 4.87 points or 0.53% to 915.67
Brazil Market Closing:
Bovespa declined 194.57 points or -0.23% to 85,468.91
ENERGY:
According oilprice.com, Russian President Putin will create measures to help support the Russian oil industry during the OPEC+ production cuts. Russia recently became the largest exporter of oil to China, as the previous number one Saudi cuts its oil exports significantly.
Brent Crude and WTI continued to move up well into the mid 30s USD a barrel region.
The oil markets had a mixed day today:
Crude Oil increased 0.73 USD/BBL or 2.20% to 33.9800
Brent increased 0.76 USD/BBL or 2.16% to 35.8900
Natural gas increased 0.06 USD/MMBtu or 3.49% to 1.7800
Gasoline decreased 0.0088 USD/GAL or -0.84% to 1.0418
Heating oil decreased 0.0148 USD/GAL or -1.48% to 0.9857
The above data was collected around 15.08 EST on Tuesday.
Top commodity gainers: Ethanol (10.85%), Natural Gas (3.49%), Oat (3.26%), and Feeder Cattle (3.35%)
Top commodity losers: Heating Oil (-1.48%), Platinum (-1.10%), Palladium (-1.60%), and Lumber (-1.90%)
The above data was collected around 15.15 EST on Tuesday.
BONDS:
Japan 0.01%(+1bp), US 2's 0.18% (+1bps), US 10's 0.70%(+4bps); US 30's 1.43%(+6bps), Bunds -0.43% (+6bp), France 0.01% (+5bp), Italy 1.57% (-2bp), Turkey 12.19% (+10bp), Greece 1.67% (-1bp), Portugal 0.71% (-1bp); Spain 0.72% (+2bp) and UK Gilts 0.22% (+4bp).
German 2-Year Schatz Auction increased from -0.680% to -0.660%
US 3-Month Bill Auction remain the same at 0.130%
US 6-Month Bill Auction increased from 0.150% to 0.160%
US 2-Year Note Auction decreased from 0.229% to 0.178%