Blog/Market Talk
Posted May 25, 2018 by Martin Armstrong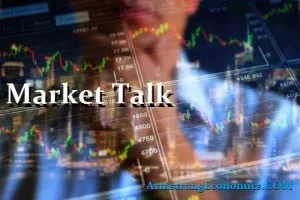 The safe-haven bid that the Yen has received this week, has resulted in a 2% decline for the Nikkei by the time we closed Friday. Despite todays market managing to hold a small positive for much of the afternoon, the currency has had a significant influence. The Yen is closing mid 109 in late US trading, but again volumes have been thin. Shanghai and the Hang Seng both closed around 0.5% lower on the day with both closing near their days low prints. US news this evening that President Trumps dialogue with North Korea have reopened should support confidence for next weeks trade, but chances are the key remains US/China Trade Talks. There was good rally seen for the Indian SENSEX with a +0.75% rally today. The currency also found fresh impetus into the close to reclaim the 67 handle. Talk was that institutional clients helped flow, but also worth checking the RBI FX reserves fell $2.7bn last week after some support.
Another mixed picture in Europe with a definite, what appears to be, a line of luxury being drawn between north and south. DAX and FTSE both finished higher on the day, CAC was just a smidgeon lower having spent much of the day trading higher. However, markets such as Athens, FTSE MIB and IBEX were all over 1.5% lower on the day. Even the peripheral bonds suffered in todays trading as confidence starts to wane yet again and questions are being asked. Italian Prime Minister-designate, Giuseppe Conte, has spiked fears that his Eurosceptic views may jeopardise the current delicate budget balance. The fixed-income government market (BTP's) also lost ground to Bunds by widening 13bp. On the currency front both the Euro and GBP remain under pressure following last weeks declines. Sterling in currently around five month lows while the Euro was last seen at these levels last November. The oil price lost over 4% today after recent supply capping may be eased.
Interesting that the NASDAQ spent much of its day trading positive whilst the S+P and DOW traded lower. Although prices have declined, yet again we have seen volumes extremely low despite some very good earnings being reported. International investors will be asking themselves if earnings, geopolitical risks or cracks in Europe are the key pieces to complete this puzzle. The poor performance in southern Europe must be a huge concern for many investors, especiallty given the currency's performance against the USD. The headline that US/N Korea are talking again will certainly help sentiment and the US/China talks although extensive, certainly sound to have grounds for optimism. A huge cloud hangs over Europe even with 10yr Bunds at 0.4% apparently pricing-in virtually no risk!!
Japan 0.045%, US 2's closed 2.48% (-3bp), 10's 2.93% (-5bp), 30's 3.09% (-4bp), Bunds 0.4% (-7bp), France 0.7% (-5bp), Italy 2.44% (+6bp), Greece 4.33% (+13bp), Turkey 14.11% (-10bp), Portugal 1.91% (+4bp), Spain 1.44% (+6bp) and Gilts 1.32% (-8bp).