Blog/Market Talk
Posted May 24, 2019 by marty armstrong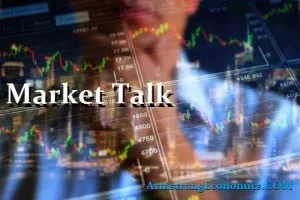 ASIA / AUSTRALIA:
China is accusing the U.S. of seeking to take over and capture global business. However, Beijing stated today that they are committed to striking a deal with the U.S., even with pressure against Chinese company Huawei. The Chinese Ambassador to the U.S. is asking for a balanced approach to the trade deal, stating that the U.S. is "changing their position." He also dismissed allegations of military ownership of Huawei.
President Trump departed for a visit to Japan today to honor the new emperor and to meet with PM Abe.
The major Asian stock markets had a mixed day today. Shanghai increased 0.48 points or 0.02% to 2,852.99; KOSPI decreased 14.28 points or -0.69% to 2,045.31; ASX 200 decreased 35.80 points or -0.55% to 6,456.00; NIKKEI 225 decreased 33.92 points or -0.16% to 21,117.22; Hang Seng increased 86.80 points or 0.32% to 27,353.93; and SENSEX increased 623.33 points or 1.61% to 39,434.72.
The major Asian currency markets had a mixed day today. AUDUSD increased 0.0025 or 0.36% to 0.6924 NZDUSD increased 0.0036 or 0.56% to 0.6553; USDJPY decreased 0.2380 or 0.22% to 109.3520; and USDCNY decreased 0.0104 or 0.15% to 6.9153.
Gold increased 1.35USD/t oz. or 0.11% to 1,286.80 and silver decreased 0.015 USD/t. oz or -0.10% to 14.5836.
Some economic news:
New Zealand:
Exports (Apr) decreased from 5.60B to 5.55B
Imports (Apr) increased from 4.78B to 5.11B
Trade Balance (YoY) (Apr) increased from -5,710M to -5,480M
Trade Balance (MoM) (Apr) decreased from 824M to 433M
Japan:
National Core CPI (YoY) (Apr) increased from 0.8% to 0.9%
National CPI (MoM) increased from 0.0% to 0.1%
National CPI (YoY) (Apr) increased from 0.5% to 0.9%
All Industries Activity Index (MoM) decreased from -0.2% to -0.4%
Singapore:
GDP (QoQ) (Q1) increased from 2.0% to 3.8%
GDP (YoY) (Q2) decreased from 1.3% to 1.2%
Industrial Production (MoM) (Apr) increased from -2.5% to 2.4%
Industrial Production (YoY) (Apr) increased from -4.3% to 0.1%
India:
Bank Loan Growth remain the same at 13.0%
Deposit Growth increased from 9.7% to 10.4%
FX Reserves, USD decreased from 420.06B to 418.00B
EUROPE/ EMEA:
In the UK, Theresa May (finally) submitted her resignation today. In a tearful message to the public, she stated, "I will shortly leave the job that it has been the honor of my life to hold." Theresa May will forever be remembered as the PM that could not deliver on Brexit – in short, a disappointment. Her final attempt at a Brexit deal as well as a Conservative leadership contest were the final straws that broke the camel's back. She never really had a hold of the parliament, and over the last few months their confidence in her was waning. The UK is set to go through the process of solidifying her replacement, but that is most likely not until the end of July. She will still be in power when U.S. President Trump will visit at the start of June.
Europe is under pressure to review its border controls after it emerged that an individual sanctioned over his alleged role in Russia's biggest tax fraud visited member states more than 70 times in the past four years.
The U.S. has ordered 1,500 troops to the Middle East, which is a lower number than the original estimate of 15,000. President Trump mentioned that he does not expect a war, because if he did, he would have sent more than 1,500 troops.
The major Europe stock markets had a green day today. CAC 40 increased 35.15 points or 0.67% to 5,316.51; FTSE 100 increased 46.69 points, or 0.65% to 7,277.73; and DAX increased 58.63 points or 0.49% to 12,011.04.
The major Europe currency markets had a mixed day today. EURUSD increased 0.0030 or 0.27% to 1.1210; GBPUSD increased 0.0066 or 0.52% to 1.2720; and USDCHF decreased 0.0016 or 0.16% to 1.0015.
Some economic news:
Spain:
Spanish PPI (YoY) decreased from 2.4% to 2.3%
UK:
Core Retail Sales (MoM) (Apr) decreased from 1.4% to -0.2%
Core Retail Sales (YoY) (Apr) decreased from 6.3% to 4.9%
Retail Sales (MoM) (Apr) decreased from 1.2% to 0.0%
Retail Sales (YoY) (Apr) decreased from 6.7% to 5.2%
CBI Distributive Trades Survey (May) decreased from 13 to -27
U.S. / AMERICAS:
The Trump administration plans to bailout farmers who have been hurt by tariffs – reportedly to the tune of $16 billion. The U.S. Department of Agriculture (USDA) predicts that the soybean market won't see a recovery until 2024. In December, the USDA reported that the amount of soybeans in storage waiting to be sold hit a record high at 3.7 bushels. Although Trump alleges that China will ultimately pay for the bailout package, the money will most likely come from fees on U.S. imports that will then be passed on to the consumer.
America's beer industry has also been hurt by tariffs, albeit not necessarily on Chinese goods. Aluminum tariffs have caused costs to rise for beer manufacturers. According to a study by the National Beer Wholesalers Association, 40,000 jobs in the industry have been eliminated since 2016. Perhaps the recent decision to lift aluminum tariffs on Canada and Mexico through the restructured NAFTA deal will help to boost the industry.
Meanwhile, Toronto-Dominion Bank (TD), one of Canada's leading banks, reported better than expected quarterly earnings this week. "Earnings increased 7% to $3.3 billion and EPS rose 8% to $1.75, driven by record results in our Retail businesses and a rebound in Wholesale. We had good revenue growth in the quarter. Credit quality remains sound, and we continue to invest in building the bank of the future," TD CEO Bharat Masrani announced during a shareholders meeting.
Brazilian Economic Minister Paulo Guedes threatened to quit his position and leave the country if pension plans are not reformed. "I'll get on a plane and I'll live abroad. I'm old enough to retire," Guedes told Veja magazine in a heated interview published on Friday. Guedes, along with other top Brazilian economists, predict that Brazil will be bankrupt by 2020 if major changes are not implemented. "If we do not reform, Brazil will catch fire. It will be chaos in the public sector," he continued.
Major US stock indices finished up green just before the long holiday weekend. The Dow gained 95.22 points or +0.37% to 25,585.69; the S&P 500 added 3.82 points or +0.14% to 2,826.06; the Nasdaq increased by 8.73 points or +0.11% to 7,637.01; and the Russell 2000 advanced 12.73 points or +0.85% to 1,514.11.
U.S. markets will be closed on Monday in observance of Memorial Day.
 We thank the men and women who serve America.
The Canadian markets closed the last day of the week in positive territory as well. The TSX Composite rose 65.43 points or +0.40% to 16,230.04, and the TSX 60 rose 4.17 points or +0.43% to 973.60.
In Brazil, the Bovespa declined -282.23 points this Friday (-0.30%) to 93,627.80.
ENERGY:
Crude oil rebounded slightly after a large dip in yesterday's trading. Concerns over global growth is putting downward pressure on the Crude oil price.
The oil markets had a green day today: Crude Oil increased 0.64 USD/BBL or 1.11% to 58.5613; Brent increased 0.72 USD/BBL or 1.06% to 68.5968; Natural gas increased 0.018 USD/MMBtu or 0.70% to 2.6009; Gasoline increased 0.0086 USD/GAL or 0.45% to 1.9186; and Heating oil increased 0.0046 USD/GAL or 0.23% to 1.9695.
Top commodity gainers: Feeder Cattle (5.49%), Wheat (3.35%), Corn (3.01%), and Ethanol (2.89%). Top commodity losers: Bitumen (-4.14%), Lean Hogs (-3.35%), Coal (-0.73%), and Coffee (-0.37%)
The above data was collected around 13:54 EST on Friday.
BONDS:
Japan -0.06%(+0bp), US 2's 2.17% (+1bps), US 10's 2.33%(-5bps), US 30's 2.75%(-7bps), Bunds -0.12% (-4bp), France 0.29% (+0bp), Italy 2.57% (-18bp), Turkey 19.06% (+1bp), Greece 3.39% (-61bp), Portugal 0.99% (-5bp), Spain 0.83% (-5bp) and UK Gilts 0.95% (-10bp).