Blog/Market Talk
Posted May 24, 2018 by Martin Armstrong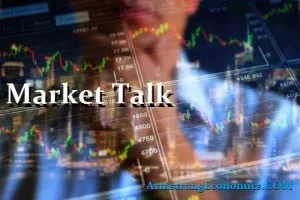 Asian markets declined on the President Trump China Trade headline and also on talk that the Singapore meeting with North Korea leader Kim Jong Un may not happen. Markets are nervous and volumes thin, which is why we are seeing such movement. The Nikkei lost over 1% with exporters leading the pack as the Yen rallied 0.75% to trade low 109's. Even though the markets continue the erratic movements, we are seeing some constructive headlines away from the USA. In China they announced that they would reduce tariffs on some vehicles helping ease pressures. Shanghai closed down -0.45% while the Hang Seng finished up 0.35%. In Turkey they raised rates 300bp to defend the Lira having lost over 25% YTD we finally saw a 2.7% reversal late today.
Europe was in a downward move even before markets had opened. The DAX and UK's FTSE took much of the pressure with near 1% declines for both. Exporters were again under the hammer, but it was banks and financials specifically in Germany (Commerzbank -6.5% and Deutsche Bank -4.8%) that suffered. Peripheral stock markets were also pressured with Athens, Austria and FTSE MIB all around 1% lower. Peripheral bonds also continued their bounce as the big buyer pursued its demand.
At one stage we saw the DOW off nearly 300 points, only to bounce to almost unchanged. This was an impressive comeback after the cancelled meeting disappointment, but just shows the appetite and cash levels sitting on the side lines. Volumes are even lighter now than they have been for a while, but guess holiday weekends do help. Treasury auctions have been very well received this week even after the US is criticized by the ECB Vice President Constancio.
Japan 0.04%, US 2's closed 2.51% (-2bp), 10's 2.98% (-1bp), 3-0's 3.13% (-2bp), Bunds 0.47% (-3bp), France 0.75% (-5bp), Italy 2.38% (-1bp), Greece 4.20% (-10bp), Turkey 14.21% (u/c), Portugal 1.87% (-5bp), Spain 1.38% (-5bp)_ and Gilts 1.40% (-4bp).