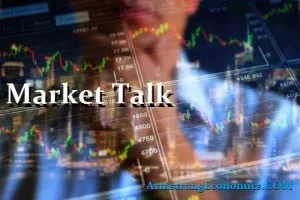 Due to the US bank holiday on Monday, "Market Talk" will resume on Tuesday, May 26.
ASIA:
Chinese President Xi Jinping said on Wednesday on the 20th anniversary of Macao's return to China that the "One Country, Two Systems" principle is totally feasible and enjoys broad public support with characteristics of Macao. Xi made the remarks during a meeting with Ho Iat Seng, who will take office as the fifth-term chief executive of the Macao Special Administrative Region (SAR) on December 20.
China's 2020 government report highlights that it is reasonable for China to drop its GDP growth target when faced with so many uncertainties caused by the COVID-19 pandemic, and the top priority is to stabilize the employment under significant pressure, experts told CGTN on Friday. Under current circumstances, dropping the GDP growth target will help China avoid some negative side effects, such as data fraud and high leverage by local governments, Lu Ting, chief China economist at Nomura told CGTN on Friday.
Hong Kong Special Administrative Region (HKSAR) residents from all walks of life have voiced their support for the national security legislation for the HKSAR. A draft decision on establishing and improving the legal system and enforcement mechanisms for the HKSAR to safeguard national security was submitted to the third session of the 13th National People's Congress (NPC) for deliberation on Friday.
The Monetary Policy Committee (MPC) of India's central bank on Friday slashed its key policy rates to stabilize the financial system and tackle the economic fallout from the ongoing nationwide lockdown to contain the spread of the coronavirus pandemic. The RBI panel unexpectedly cut the repo rate by 40 basis points to 4% and the reverse repo rate by 40 basis points to 3.35%. In another significant move, the RBI also announced an extension of the moratorium on loan repayments by another three months to August 31.
India's Union Health Minister Harsh Vardhan on Friday took charge as the chairman of the World Health Organization (WHO)'s 34-member executive board at its 147th session to become the third Indian to currently occupy a senior position in the global health agency. Vardhan will chair meetings of the board but the assignment isn't a full-time one. He will be chairman for a year.
Amazon India is rolling out services to deliver food in India, pitting it against established players Swiggy and Zomato in a market that has seen explosive growth in the last few year. About 100 restaurants and kitchens are currently involved in the trial in Bengaluru, a tech hub in the southern part of the country. Depending on its success, Amazon hopes to offer the service across the country.
Japan has raised its travel advisory for 11 countries including Argentina, India, and South Africa to level 3, urging against any trips to the areas during the global coronavirus pandemic. The countries are expected to soon be added to a list of countries and regions subject to an entry ban for foreign travelers after discussion by the National Security Council, Motegi said at a press conference. The other countries are Afghanistan, Bangladesh, El Salvador, Ghana, Guinea, Kyrgyzstan, Pakistan, and Tajikistan.
The major Asian stock markets had a negative day today:
NIKKEI 225 decreased 164.15 points or -0.80% to 20,388.16
Shanghai decreased 54.16 points or -1.89% to 2,813.77
Hang Seng decreased 1,349.89 points or -5.56% to 22,930.14
ASX 200 decreased 53.40 points or -0.96% to 5,497.00
Kospi decreased 28.18 points or -1.41% to 1,970.13
SENSEX decreased 260.31 points or -0.84% to 30,672.59
The major Asian currency markets had a mixed day today:
AUDUSD decreased 0.00385 or -0.59% to 0.65277
NZDUSD decreased 0.00362 or -0.59% to 0.60869
USDJPY decreased 0.08 or -0.07% to 107.54
USDCNY increased 0.01735 or 0.24% to 7.14794
Precious Metals:
Gold increased 8.75 USD/t oz. or 0.51% to 1,734.35
Silver increased 0.11 USD/t. oz or 0.65% to 17.1700
Some economic news from last night:
Japan:
CPI, n.s.a (MoM) (Apr) increased from -0.2% to -0.1%
National Core CPI (YoY) (Apr) decreased from 0.4% to -0.2%
National CPI (MoM) decreased from 0.0% to -0.2%
National CPI (YoY) (Apr) decreased from 0.4% to 0.1%
BoJ Interest Rate Decision remain the same at -0.10%
New Zealand:
Core Retail Sales (QoQ) increased from 0.5% to 0.6%
Retail Sales (QoQ) (Q1) decreased from 0.7% to -0.7%
Retail Sales Quarterly Vs. Year Ago (Q1) decreased from 3.3% to 2.3%
Some economic news from today:
India:
Cash Reserve Ratio remain the same at 3.00%
Interest Rate Decision decreased from 4.40% to 4.00%
Reverse REPO Rate decreased from 4.00% to 3.35%
Bank Loan Growth decreased from 6.7% to 6.5%
Deposit Growth increased from 9.8% to 10.6%
FX Reserves, USD increased from 485.31B to 487.04B
EUROPE/EMEA:
The UK has unveiled plans for quarantining any arrival in the UK from June 8th. Those arriving must self isolate for 14 days, and random spot checks will be carried out with fines of up to 1000 GBP given for anyone failing to self-isolate. The timing seems a little off as the rest of Europe is easing restrictions, with Italy opening its border on the 3rd of June and Greece and Germany on the 15th of June.
The European Union has asked China today to respect the autonomy of Hong Kong after China (Beijing) proposed a new security law which will impede on Hong Kong's independence.
An Apple whistleblower, who was a previous contractor, has revealed that the iPhone takes recordings of people and sends it to Apple without the user's knowledge. The case was opened last August by the EU and the whistleblower has revealed his identity as he believes the problem still exists
The major Europe stock markets had a mixed day today:
CAC 40 decreased 0.89 points or -0.02% to 4,444.56
FTSE 100 decreased 21.97 points or -0.37% to 5,993.28
DAX 30 increased 7.94 points or 0.07%% to 11,073.87
The major Europe currency markets had a mixed day today:
EURUSD decreased 0.00611 or -0.56% to 1.08892
GBPUSD decreased 0.00566 or -0.46% to 1.21674
USDCHF increased 0.0020 or 0.21% to 0.9728
Some economic news from Europe today:
UK:
GfK Consumer Confidence (May) decreased from -33 to -34
Core Retail Sales (YoY) (Apr) decreased from -4.2% to -18.4%
Core Retail Sales (MoM) (Apr) decreased from -3.8% to -15.2%
Public Sector Net Borrowing (Apr) increased from 14.01B to 61.40B
Public Sector Net Cash Requirement (Apr) increased from 7.750B to 89.544B
Retail Sales (MoM) (Apr) decreased from -5.2% to -18.1%
Retail Sales (YoY) (Apr) decreased from -5.8% to -22.6%
Steel Production (Metric Ton) (Apr) decreased from 629.80K to 560.00K
US/AMERICAS:
Dr. Anthony Fauci, a former proponent of the strict lockdown measures, announced this Friday that a prolonged quarantine could cause "irreparable damage." Continuing the lockdown could cause "irreparable damage and have unintended consequences, including consequences for health," the nation's top health expert told reporters. "Now is the time, depending upon where you are and what your situation is, is to begin seriously looking at reopening the economy, reopening the country to try and get back to some degree of normal," he warned.
US Secretary of State Mike Pompeo said that the US "stands with the people of Hong Kong" in defiance of China's new policy to punish "subversion" or treasonous acts against the Communist Party. Pompeo warned that Hong Kong would lose its preferential trading status if the country loses its autonomy. "The decision to bypass Hong Kong's well-established legislative processes and ignore the will of the people of Hong Kong would be a death knell for the high degree of autonomy Beijing promised for Hong Kong," the secretary warned this Friday.
CDC Director Robert Redfield stated on Thursday that he would reconsider advocating a second lockdown if the virus resurfaces, but President Trump said he would not allow that to happen. The president acknowledged that a second wave is a possibility but does not see a second lockdown as a viable option. "We can put out the fires. Whether it is an ember or a flame, we are going to put it out. But we're not closing our country," President Trump declared.
US Market Closings:
Dow declined 8.96 points or -0.04% to 24,465.16
S&P 500 advanced 6.94 points or 0.24% to 2,955.45
Nasdaq advanced 39.71 points or 0.43% to 9,324.59
Russell 2000 advanced 7.97 points or 0.59% to 1,355.53
Canada Market Closings:
TSX Composite advanced 28.79 points or 0.19% to 14,913.64
TSX 60 advanced 2.14 points or 0.24% to 900.53
Brazil Market Closing:
Bovespa declined 853.88 points or -1.03% to 82,173.21
ENERGY:
Eight European countries have backed the use of natural gas to help Europe transition to carbon neutrality by 2050. The countries are promoting investments in natural gas said it will be a viable back-up, which will allow time for renewable energies to develop.
The oil markets had a mixed day today:
Crude Oil decreased 0.56 USD/BBL or -1.65% to 33.3600
Brent decreased 0.85 USD/BBL or -2.36% to 35.2100
Natural gas increased 0.021 USD/MMBtu or 1.22% to 1.7400
Gasoline decreased 0.0153 USD/GAL or -1.46% to 1.0336
Heating oil decreased 0.0083 USD/GAL or -0.84% to 0.9838
The above data was collected around 15.17 EST on Friday.
Top commodity gainers: Ethanol (6.25%), Natural Gas (1.22%), Cocoa (1.79%), and Feeder Cattle (2.26%)
Top commodity losers: Bitumen (-3.01%), Brent (-2.36%), Palladium (-2.75%), and Rubber (-2.92%)
The above data was collected around  15.25 EST on Friday.
BONDS:
Japan 0.00%(+0bp), US 2's 0.17% (-0bps), US 10's 0.66%(-2bps); US 30's 1.37%(-3bps), Bunds -0.49% (+1bp), France -0.04% (+2bp), Italy 1.60% (-3bp), Turkey 12.19% (+10bp), Greece 1.70% (-5bp), Portugal 0.75% (-2bp); Spain 0.71% (+7bp) and UK Gilts 0.18% (+1bp).