Blog/Market Talk
Posted May 22, 2018 by Martin Armstrong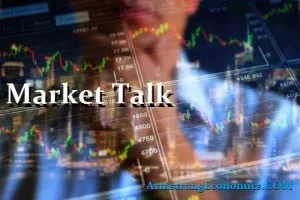 A fairly quiet day across all regions today, but probably expected given little overhang of the US/China Trade Talks, a lack of economic data and the FED minutes we will see being released tomorrow. In China the Shanghai closed almost unchanged, as Hang Seng market was closed for holidays. In Australia the ASX dipped -0.7% as the A$ rallied from its recent sell-off. Energy and commodities helped this correction after China/US announced buying some time at the weekend. The Nikkei dipped a touch but in equally thin trade, whilst the Yen regained some lost ground. In India the SENSEX was equally undecided and after bouncing around finally closed with a small positive on the day.
Lots of eyes on the European Bond Market this morning after Germany returned to work after the Monday holiday. It was interesting to see the peripherals tighten back in whilst Bunds returned gains. Stocks caught a bit of a bid with DAX +0.7% mostly due to auto's share performance. Also, good to see UK FTSE add +0.2% onto yesterdays gains. Better economic data helped stocks and the currency, although GBP lost most of that as US trading closed. This on the back of the governor Mark Carney claiming the UK economy will fair better in the second half of 2018. Italy's FTSE MIB was less than impressive recovering just 0.5% of the past few days losses.
US markets traded heavy as the day wore-on, but even by the close was only -0.5% on the day. Interesting that the NASDAQ and S+P both held much better than the DOW. However, the headline and confusion over whether or not President Trump meets with North Korea's Kim Jong Un now seems in the balance and subsequently gave the market some jitters. Added to this are a few hazy headlines that Trump is not happy with the Chinese trade talks and the markets finished close to the days lows.
Japan 0.05%, US 2's closed 2.57% (u/c), 10's 3.06% (u/c), 30's 3.21% (+1bp), Bunds 0.56% (+4bp), France 0.83% (+2bp), Italy 2.32% (-5bp), Greece 4.33% (-13bp), Turkey 14.40% (-8bp), Portugal 1.93% (-4bp), Spain 1.44% (-5bp), and Gilts 1.52% (+5bp).