Blog/Market Talk
Posted May 21, 2020 by Martin Armstrong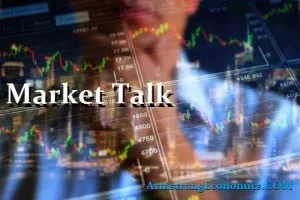 ASIA:
China's parliament has announced that a new national security law in Hong Kong, a move likely to fuel further anger and protests in the semi-autonomous city. The law, which is expected to ban sedition, secession, and subversion of the central government in Beijing, will be introduced through a rarely used constitutional method that could effectively bypass Hong Kong's legislature.
The US has backed India amidst a flare-up of boundary tensions with China with a top diplomat describing Beijing's aggression as "not always rhetorical" and accusing it of continuing with its "provocative and disturbing behavior" to try to shift the status quo. Alice G Wells, the senior US diplomat for South and Central Asia, said China's boundary tensions with India and Beijing's increasing assertiveness in the contested South China Sea have some correlation.
India's central bank, Reserve Bank of India, may announce a rate cut to revive the demand shock in the country along with 266 billion USD of the stimulus package announced by the government earlier. India went into the coronavirus pandemic amid falling growth and a sharp contraction in demand — both of which have been worsened by the pandemic.
India's domestic flights will start their operations in a calibrated manner from Monday, May 25, 2020, the country's Civil Aviation Ministry announced on Thursday. According to the ministry, special operating procedures (SOPs) for passenger movement are being separately issued.
Japan lifted a state of emergency from its second-largest urban region around Osaka, but kept the restriction in force for the Tokyo area, where new coronavirus infections have been slightly higher but are trending down. Prime Minister Shinzo Abe said he would convene a panel of medical experts on Monday to take their opinion on whether to end the state of emergency from other remaining areas.
The major Asian stock markets had a mixed day today:
NIKKEI 225 decreased 42.84 points or -0.21% to 20,552.31
Shanghai decreased 15.81 points or -0.55% to 2,867.92
Hang Seng decreased 119.92 points or -0.49% to 24,280.03
ASX 200 decreased 22.60 points or -0.41% to 5,550.40
Kospi increased 8.67 points or 0.44% to 1,998.31
SENSEX increased 114.29 points or 0.37% to 30,932.90
The major Asian currency markets had a mixed day today:
AUDUSD decreased 0.00188 or -0.29% to 0.65701
NZDUSD decreased 0.00225 or -0.37% to 0.61221
USDJPY increased 0.09 or 0.09% to 107.66
USDCNY increased 0.01577 or 0.22% to 7.12472
Precious Metals:
Gold decreased 23.55 USD/t oz. or -1.35% to 1,724.50
Silver decreased 0.41 USD/t. oz or -2.33% to 17.0720
Some economic news from last night:
Japan:
Exports (YoY) (Apr) decreased from -11.7% to -21.9%
Foreign Bonds Buying decreased from 237.7B to -463.5B
Foreign Investments in Japanese Stocks decreased from -92.7B to -223.2B
Imports (YoY) (Apr) decreased from -5.0% to -7.2%
Trade Balance (Apr) decreased from 5.4B to -930.4B
Manufacturing PMI (May) decreased from 41.9 to 38.4
Services PMI increased from 21.5 to 25.3
South Korea:
PPI (MoM) (Apr) increased from -0.9% to -0.7%
PPI (YoY) (Apr) decreased from -0.5% to -1.5%
Australia:
Manufacturing PMI decreased from 44.1 to 42.8
Services PMI increased from 19.5 to 25.5
New Zealand:
Credit Card Spending (YoY) decreased from -9.4% to -49.4%
Some economic news from today:
Hong Kong:
CPI (YoY) (Apr) decreased from 2.30% to 1.90%
EUROPE/EMEA:
European markets were negative today, after an impressive start to the week as equities surged.
On May 27, the EU plans to unveil details of their proposed "green deal," which will give the EU the aim of net-zero carbon emissions by 2050. This will include half a trillion worth of euros to restart the economy.
Eleven countries have agreed on a coordinated approach to easing the borders as they strongly believe in restoring the freedom of travel as soon as possible. The Bulgarian minister has scrapped the travel ban, effective immediately, allowing EU citizens to travel to the country.
The European Aviation Safety Agency (EASA) published a 28-paged report on the safety airports should use when reopening. Guidelines such as closing duty-free shops, making sure masks are worn, as well as family members saying their goodbyes outside of the airport.
Hungary has closed their asylum camp where hundreds of asylum seekers were held after the European Court of Justice claimed that the camp was illegal.
The major Europe stock markets had a negative day today:
CAC 40 decreased 51.53 points or -1.15% to 4,445.45
FTSE 100 decreased 51.91 points or -0.86% to 6,015.25
DAX 30 decreased 157.78 points or -1.41%% to 11,065.93
The major Europe currency markets had a mixed day today:
EURUSD decreased 0.00208 or -0.19% to 1.09582
GBPUSD increased 0.00045 or 0.04% to 1.22387
USDCHF increased 0.00534 or 0.55% to 0.97025
Some economic news from Europe today:
France:
French Manufacturing PMI (May) increased from 31.5 to 40.3
French Markit Composite PMI (May) increased from 11.1 to 30.5
French Services PMI (May) increased from 10.2 to 29.4
Germany:
German Composite PMI (May) increased from 17.4 to 31.4
German Manufacturing PMI (May) increased from 34.5 to 36.8
German Services PMI (May) increased from 16.2 to 31.4
Euro Zone:
Manufacturing PMI (May) increased from 33.4 to 39.5
Markit Composite PMI (May) increased from 13.6 to 30.5
Services PMI (May) increased from 12.0 to 28.7
UK:
Composite PMI increased from 13.8 to 28.9
Manufacturing PMI increased from 32.6 to 40.6
Services PMI increased from 13.4 to 27.8
CBI Industrial Trends Orders (May) decreased from -56 to -62
US/AMERICAS:
According to a new Reuters/Ipsos poll, over 40% of Americans believe a coronavirus vaccine would be riskier than the actual virus. Out of the 4,428 citizens polled, around 14% said they would not take the vaccine, 10% said they were not very interested, and 11% said they were unsure. Experts say that around 70% of Americans would need to be immunized for the vaccine to be effective.
Despite concerns, the race is on for companies to develop the first coronavirus vaccine as part of the US' "Operation Warp Speed" program. AstraZeneca CEO Pascal Soriot told reporters that drug companies are "trailblazing because we are not following the standard process." Soriot said his company has partnered with the Oxford group to develop a vaccine quickly without "cutting corners." Developing the first COVID-19 vaccine will be extremely lucrative, but Soriot urged companies to work together and said there would be a need for multiple vaccines. "One vaccine will not be enough. We are all trying to do the same thing which is bring a solution to this terrible pandemic," he told reporters at CNN this Thursday.
Prime Minister Justin Trudeau announced that he will allocate C$75 million in additional funding to help Indigineous populations fight the pandemic. The Indigenous Community Support Fund will provide C$305 million in support. "COVID-19 is having unique impacts on First Nations, Inuit, and Métis across our country. For Indigenous peoples living off reserve, in urban centres, or separated from their communities, it can be even more challenging to access the help they need," Trudeau stated. The announcement was met with backlash from those who believe the Trudeau administration is attempting to buy votes to compensate for the pipeline debacle.
The Bank of Canada is preparing for downward pressure on inflation once the economy reopens. The central bank's current target is 2%, but Deputy Governor Timothy Lane said weakened supply and demand could lead to higher inflation long-term. Lane also anticipates Q2 growth to decline by 15% to 30% YoY, and inflation to plummet to 0%. "The bank's analysis suggests that the decline in demand stemming in part from weaker business and consumer confidence is likely to have a larger effect. On balance, there is likely to be downward pressure on inflation," Lane noted.
US Market Closings:
Dow declined 101.78 points or -0.41% to 24,474.12
S&P 500 declined 23.1 points or -0.78% to 2,948.51
Nasdaq declined 90.89 points or -0.97% to 9,284.88
Russell 2000 advanced 0.63% to 0.05% to 1,347.56
Canada Market Closings:
TSX Composite declined 112.78 points or -0.75% to 14,884.85
TSX 60 declined 7.7 points or -0.85% to 898.39
Brazil Market Closing:
Bovespa advanced 1,707.64 points or 2.1% to 83,027.09
ENERGY:
Crude and WTI moved up slightly today as volatility begins to come down from last week's boost. OPEC member Algeria is planning to invest 3.6 billion USD in solar panels for exporting electricity.
The oil markets had a mixed day today:
Crude Oil increased 0.49 USD/BBL or 1.46% to 33.9800
Brent increased 0.37 USD/BBL or 1.03% to 36.1200
Natural gas decreased 0.053 USD/MMBtu or -2.99% to 1.7170
Gasoline increased 0.0012 USD/GAL or 0.11% to 1.0466
Heating oil decreased 0.001 USD/GAL or -0.10% to 0.9906
The above data was collected around  15.12 EST on Thursday.
Top commodity gainers: Ethanol (2.11%), Orange Juice (1.84%), Lean Hogs (4.53%), and Bitumen (1.76%)
Top commodity losers: Natural Gas (-2.99%), Palladium (-3.34%), Cocoa (-2.54%), and Silver (-2.33%)
The above data was collected around 15.15 EST on Thursday.
BONDS:
Japan 0.01%(+1bp), US 2's 0.17% (+1bps), US 10's 0.67%(-1bps); US 30's 1.39%(-1bps), Bunds -0.49% (-3bp), France -0.05% (-2bp), Italy 1.62% (-1bp), Turkey 12.09% (+0bp), Greece 1.75% (-5bp), Portugal 0.76% (-1bp); Spain 0.74% (+9bp) and UK Gilts 0.18% (-6bp).
Spanish 3-Year Bonos Auction decreased from 0.036% to -0.160%
Spanish 5-Year Bonos Auction decreased from 0.254% to 0.053%
Spanish 10-Year Obligacion Auction increased from 0.694% to 0.711%
US 4-Week Bill Auction remain the same at 0.090%
US 8-Week Bill Auction decreased from 0.110% to 0.105%