Blog/Market Talk
Posted May 21, 2019 by marty armstrong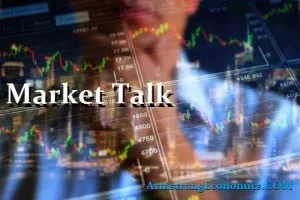 ASIA / AUSTRALIA:
There are reports emerging that China could cut off U.S. supply of rare earth elements, which are essential for use in weapons, cell phones, hybrid cars, and magnets. Recently, President Xi spoke out stating there was a "new Long March" and China "must start over again," which signals a longer than expected trade war with the United States. Something of humor (at least for those not effected), the Game of Thrones series finale was blocked in China with some suggesting that it is due to the trade war.
The National Democratic Alliance of India (NDA) has laid out its 5-year plan, promising that it will make India a strong nation by 2022. The next few days are vital to the party as the election results are due which could give them a second term in power.
Indonesian elections resulted in President Joko Widodo as a victor in his re-election. His rival Prabowo is vowing to take his claims of widespread cheating to court as several thousand of his supporters rallied in the streets of Jakarta.
The major Asian stock markets had a mixed day. Shanghai increased 35.36 points or 1.23% to 2,905.97; KOSPI increased 5.54 points or 0.27% to 2,061.25; ASX 200 increased 24.00 points or 0.37% to 6,500.10; NIKKEI 225 decreased 29.28 points or -0.14% to 21,272.45; SENSEX decreased 382.87 points or -0.97% to 38,969.80; and Hang Seng decreased 130.37 points or -0.47% to 27,657.24.
The major Asian currency markets had a mixed day today: AUDUSD decreased 0.00298 or -0.43% to 0.68762; NZDUSD decreased 0.0030 or -0.45% to 0.6502; USDJPY increased 0.6110 or 0.56% to 110.6610; and USDCNY decreased 0.0053 or -0.08% to 6.9328.
Gold decreased 3.79USD/t oz. or -0.30% to 1,274.08 and silver decreased 0.012 USD/t. oz or -0.08% to 14.4596.
Some economic news:
South Korea:
PPI (YoY) (Apr) increased from 0.1% to 0.6%
PPI (MoM) (Apr) remain the same at 0.3%
Singapore:
GDP (QoQ) (Q1) increased from 2.0% to 3.8%
GDP (YoY) (Q1) decreased from 1.3% to 1.2%
Non-Oil Exports (YoY) (Apr) increased from -11.80% to -10.00%
New Zealand:
Credit Card Spending (YoY) remain the same at 4.5%
Global Dairy Trade Price Index decreased from 0.4% to -1.2%
EUROPE / EMEA:
In the UK, Theresa May says that MPs have one last chance to back her in delivering Brexit. May is urging MPs to back her in her latest proposals. Her withdrawal agreement gives a vote on whether another referendum will be held. It also touches upon guarantees of workers' rights, environmental protection, and a Northern Irish border with Ireland.
Elsewhere in Europe, the council of Europe accused Hungary of widespread human rights violations by depriving asylum seekers of food. Some groups have called this a matter of urgency.
The major Europe stock markets had a green day today. CAC 40 increased 26.88 points or 0.50% to 5,385.46; FTSE 100 increased 18.04 points or 0.25% to 7,328.92; and DAX increased 102.12 points or 0.85% to 12,143.47.
The major Europe currency markets had a mixed day today: EURUSD decreased 0.0008 or 0.07% to 1.1162; GBPUSD increased 0.0002 or 0.01% to 1.27277; and USDCHF increased 0.0023 or 0.23% to 1.0106.
Some economic news:
Spain:
Spanish Trade Balance increased from -2.63B to -2.35B
UK:
CBI Industrial Trends Orders (May) decreased from -5 to -10
Eurozone:
Consumer Confidence (May) increased from -7.3 to -6.5
U.S. / AMERICAS:
The Commerce Department announced that it will ease the ban on Huawei by allowing the company to purchase U.S. manufactured goods. Furthermore, existing Huawei phones containing Google's Android software will be permitted to continue using Google applications for the time being.
Boeing shares were up 1.69% today after a report alleging the fatal flight in March may have been provoked, at least in part, by birds crashing into the engines. Boeing is one of the leading components in the price-weighted Dow Industrials. The company has traded in volatile territory in recent months after numerous countries grounded their 737 Max jet planes after two fatal crashes over a span of less than one year. Southwest airlines, whom has been one of the more notable clients of the 737 Max jets,  shared in the bump today (+2.61%) with optimism that the plane may soon be cleared for use.
Meanwhile, Ford laid off approximately 500 employees in North America today, a step towards its previously disclosed plan to eliminate ~10% of its workforce (7,000 jobs) this year. The car manufacturer is planning to restructure the company to the tune of $11 billion. The company has announced plans to eliminate much of its car lineup, focusing primarily on SUV's and trucks (with only a few exceptions), but it also has aspirations to be a major player in electric vehicles over time.
Over the weekend, Brazilian Vice President Mourao traveled to Beijing to commence trade talks with China. Despite President Bolsonaro's desire to strengthen ties with the U.S., it is within Brazil's best interest to continue diplomatic trade relations with China as it is their main trading partner. Brazil's Ministry of Economy estimated that Chinese exports represented 28% of Brazil's total exports and amounted to $66 billion in 2018. "China has money to invest, so the same way that we have to be a global player with the U.S., we have to be with China, and we have to find ways with mutual benefits for both countries," Vice President Mourao commented.
On Wall Street, the Dow advanced 197.43 points or +0.77% and closed at 25,877.33; the S&P 500 rose 24.13 points or +0.85% and closed at 2,864.36; the Nasdaq added 83.35 points or +1.08% and closed at 7,785.72; and the Russell 2000 increased by 20.28 points or +1.33% and closed at 1,545.25.
Canada's TSX Composite increased by 24.72 points or +0.15% and closed at 16,426.47. The TSX 60 added 1.59 points or +0.16% and closed at 984.35.
The Bovespa is continuing to recover from its poor performance last week, advancing 2,538.44 points or +2.76% and closed at 94,484.63.
ENERGY:
Despite initially criticizing the U.S. for sanctions on Iran, Turkey is now fully compliant with the sanctions and has closed its ports to Iranian oil.
A 4.5bn Trans Adriatic Pipeline (TAP) project led by BP and Socar, beginning in 2020, will bring gas from Azerbaijan to Italy, Greece, and Albania. The project was designed to reduce Europe's dependence on Russian gas and is currently 87.5% complete.
The oil markets had a negative day today. Crude Oil decreased 0.2 USD/BBL or -0.32% to 62.9475; Brent decreased 0.2 USD/BBL or -0.28% to 71.8272; Natural gas decreased 0.056 USD/MMBtu or -2.10% to 2.6153; Gasoline decreased 0.0074 USD/GAL or -0.37% to 2.0043; and Heating oil decreased 0.0074 USD/GAL or -0.36% to 2.0636.
Top commodity gainers: Coffee (5.50%), Oat (3.37%), Cocoa (2.43%), and Rubber (2.39%). Top commodity losers: Natural Gas (-2.28%), Palm Oil (-2.00%), Orange Juice (-1.25%), and Lean Hogs (-1.72%).
The above data was collected around 13:10 EST on Tuesday.
BONDS:
Japan -0.04%(+0bp), US 2's 2.25% (+9bps), US 10's 2.43%(+6bps), US 30's 2.82%(+0bps), Bunds -0.09% (+2bp), France 0.33% (+1bp), Italy 2.65% (-6bp), Turkey 19.05% (-63bp), Greece 3.39% (-61bp), Portugal 1.04% (-9bp), Spain 0.88% (-1bp) and UK Gilts 1.09% (+3bp).
US 52-Week Bill Auction decreased from 2.360% to 2.280%