Blog/Market Talk
Posted May 21, 2018 by Martin Armstrong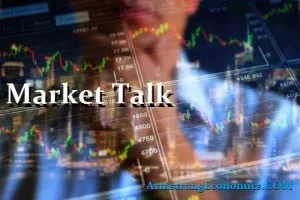 The weekends news of on-going constructive talks between the US and China, certainly gave Asian markets a boost this morning. One noticeable event was the weakening in the Yen, now trading comfortably with a 111 handle (-0.6% on the day). Now close to its weakest since January, the fear is it now targets the mid 120's seen back in May 2015. The Nikkei responded accordingly moving +0.3% as exporters helped the move, but the performance is disappointing given the currency adjustment. Mainland Shanghai and the Hang Seng both benefited from the news with a +0.6% rally today. The SENSEX lost ground again today (its fifth straight loss) as an unsettled political landscape and rallying energy prices continue to way on confidence. This is also having a continued negative impact on the INR, which is now trading its weakest since January 2017. This trend does not look as though it will alter anytime soon.
In Europe Monday was all about politics and from many quarters. In the UK rumours that Theresa May could opt for a September election scared Sterling into a -0.6% decline early trading. The talk is she is blocked at every turn by the House and so is going nowhere fast! If she wins she has her say over BREXIT or looses others deal with it – if this materialises then history will debate this for many years to come. UK FTSE saw intraday record highs, whilst GBP dropped another -0.5% taking it to a 6% decline in almost as many days. The French Finance Minister reminded Italian political parties to be mindful of EU budget rules, after both parties present this Monday. The FTSE MiB did not like that and ended the day down over 1.5%. DAX was closed due to national holidays. Interesting that peripheral bonds are starting to move wider as corporate credit also come under pressure. Spreads are no-longer a one-way bet as FED policy and supply weighs as stocks rally. Worth keeping a very close eye on ECB purchases going forward, as many see them as literally the only buyer. More Treasury issuance later in the week with FED minutes also on the cards for Wednesday.
After the strong cash open, markets had almost a quiet day. Futures in Asia were already pointing to a 200 point opening rally, which proved to be the case. Again, we saw strong performance in Russell 2k adding +0.6% to Fridays new highs. taking us to over 6.5% higher YTD.
The move in the DOW has taken us back to mid March highs, but would be good to see February and then January's contract highs challenged soon. We saw a similar storey in the S+P having exceeded last months highs we now look to earlier in the year for targets. Core Indices came off of their intraday highs into the close, but a solid days performance is building a strong base.
Japan 0.05%, US 2's closed 2.57% (+3bp), 10's 3.06% (-1bp), 30's 3.20% (-1bp), Bunds 0.52% (-5bp), France 0.81% (-1bp), Italy 2.37% (+15bp), Greece 4.46% (+1bp), Turkey 14.48% (u/c), Portugal 1.97% (+13bp), Spain 1.49% (+7bp), and Gilts 1.47% (-3bp).