Blog/Market Talk
Posted May 20, 2019 by marty armstrong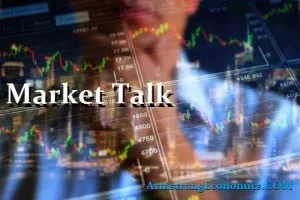 ASIA / AUSTRALIA:
Chinese telecommunications manufacturer Huawei has been banned from the recent updates from Google's Android system. Currently, Huawei is the second largest manufacturer of smartphones. They will, however, be allowed on the latest released version of Google's Android operating system which is open sourced. The CEO of Huawei previously stated that the company is working on a plan B solution to Google's Android. The U.S. ban on Huawei is said to not have effected plans to roll out 5G in Europe. European chipmakers will continue supplying Huawei after the ban imposed by President Trump.
Australian PM Scott Morrison (conservatives) won a surprise victory in the polls on the weekend where the Labour (left) party was expected to cruise to victory.
Elsewhere, recent Japanese economic statistics released were contrary to the expectation of a slowdown with the GDP gaining 2.1% YoY.
The major Asian stock markets had a mixed day today. Hang Seng decreased 158.85 points or -0.57% to 27,787.61; Shanghai decreased 11.69 points or -0.41% to 2,870.60; and KOSPI decreased 0.09 points or -0.01% to 2,055.71. ASX 200 increased 110.80 points or 1.74% to 6,476.10; NIKKEI 225 increased 51.64 points or 0.24% to 21,301.73; and SENSEX increased 1421.90 points or 3.75% to 39,352.67.
The major Asian currency markets had a mixed day today:
AUDUSD increased 0.0045 or 0.65% to 0.6913
NZDUSD increased 0.0017 or 0.26% to 0.6536
USDJPY decreased 0.0840 or 0.08% to 109.9860
USDCNY decreased 0.0073 or 0.11% to 6.9403
Gold increased 0.1USD/t oz. or 0.01% to 1,277.85 and silver increased 0.07 USD/t. oz or 0.49% to 14.4522.
Some economic news:
Japan:
GDP (QoQ) (Q1) increased from 0.4% to 0.5%
GDP (YoY) (Q1) increased from 1.6% to 2.1%
GDP Capital Expenditure (QoQ) (Q1) decreased from 2.5% to -0.3%
GDP External Demand (QoQ) (Q1)increased from -0.3% to 0.4%
GDP Price Index (YoY) increased from -0.3% to 0.2%
GDP Private Consumption (QoQ) (Q1) decreased from 0.2% to -0.1%
Capacity Utilization (MoM) (Mar) decreased from 1.0% to -0.4%
Industrial Production (MoM) (Mar) increased from -0.9% to -0.6%
Hong Kong:
Unemployment Rate (Apr) remain the same at 2.8%
EUROPE/ EMEA:
A recent report suggests that Iran quadrupled their production of enriched uranium. Earlier, President Trump suggested to "end" Iran if aggravation continues. Since then, a top Iranian official has called for the U.S. to address Iran with respect rather than a threat of war. Senator Lindsey Graham states that he believes Iran is behind recent attacks on pipelines and ships around the Middle East, and warned that Iran should expect "an overwhelming military response" if it harms "American personnel and interests" in the region.
The European Union and China signed an agreement on civil aviation safety and a horizontal aviation agreement to strengthen their aviation cooperation. The aim is to boost the competitiveness of the EU aeronautical sector and improve EU-China relations.
A week before the EU elections, thousands have entered the streets demonstrating "one Europe for all," in an attempt to push back the right-wing populists and Eurosceptics of the country.
The major Europe stock markets had a negative day today. CAC 40 decreased 79.64 points or -1.46% to 5,358.59; FTSE 100 decreased 37.74 points, or -0.51% to 7,310.88; and DAX decreased 197.65 points or -1.61% to 12,041.29.
The major Europe currency markets had a mixed day today:
EURUSD increased 0.0010 or 0.09% to 1.1166
GBPUSD increased 0.0003 or 0.02% to 1.2721
USDCHF decreased 0.0020 or 0.19% to 1.0086
Some economic news:
Germany:
German PPI (MoM) (Apr) increased from -0.1% to 0.5%
German PPI (YoY) (Apr) increased from 2.4% to 2.5%
Eurozone:
Current Account (Mar) decreased from 27.9B to 24.7B
Current Account n.s.a. (Mar) increased from 16.7B to 35.0B
U.S./AMERICAS:
On Monday, Chinese Foreign Ministry spokesman Lu Kang accused the U.S. of attempting "to achieve unreasonable interests through extreme pressure." Furthermore, Kang accused the U.S. of having "extravagant expectations." It does not appear that the two sides will be coming to a new trade agreement any time soon.
U.S. consumers could see a steep rise in shoe prices. The White House is considering raising tariffs on $300 billion worth of Chinese goods to 25%. This includes an increase on tariffs for Chinese-manufactured footwear, which accounts for around 70% of footwear sold in the U.S. The Footwear Distributors and Retailers of America (FDRA) voiced their concern in a letter to President Trump in which they predict the tariff increase could cost U.S. consumers $7 billion. "While U.S. tariffs on all consumer goods average just 1.9 percent, they average 11.3 percent for footwear and reach rates as high as 67.5 percent. Adding a 25 percent tax increase on top of these tariffs would mean some working American families could pay a nearly 100 percent duty on their shoes. This is unfathomable," the FDRA declared in their letter.
The U.S. semiconductor industry has seen a sell off after Huawei was blacklisted from conducting business in America. It is estimated that Huawei purchases around $20 billion in semiconductors annually. This Monday alone, the following companies saw notable losses: Qualcomm (-5.99%), Qorvo (-4.16%), Analog Devices (-3.3%), Nvidia (-3.05%), AMD (-2.98%), and Skyworks Solutions (-2.88%).
Wall Street began the week on a negative note: the Dow dropped 84.10 points or -0.33% to 25,679.90; the S&P 500 lost 19.30 points or -0.67% to 2,840.23; the NASDAQ had the steepest decline, losing 113.91 points or -1.46% to 7,702.38; and the Russell 2000 fell 10.80 points or -0.70% to 1,524.96.
The Canadian markets also started the week in negative territory. The TSX Composite lost 42.11 points or -0.26% to 16,401.75, while the TSX 60 dropped 2.76 points or -0.28% to 982.76.
After dropping beneath the 90,000 level on Friday, Brazil's Bovespa began to recover Monday by adding 1,953.46 points or +2.17% (91,946.19 close).
ENERGY:
Interestingly, the US is on track to become the world's largest exporter of oil, natural gas liquids and petroleum products by the end of the year.
The oil markets had a mixed day today. Crude Oil decreased 0.09 USD/BBL or -0.14% to 62.5443; Brent decreased 0.55 USD/BBL or -0.76% to 71.5237; Natural gas increased 0.049 USD/MMBtu or 1.86% to 2.6755; Gasoline decreased 0.0372 USD/GAL or -1.82% to 2.0099; and Heating oil decreased 0.0252 USD/GAL or -1.20% to 2.0734.
Top commodity gainers: Orange Juice (3.98%), Wheat (3.06%), Palladium (2.10%), and Natural Gas (1.82%). Top commodity losers: Lumber (-2.78%), Gasoline (-1.79%), Coal (-1.62%), and Lean Hogs (-0.87%).
The above data was collected around 14:15 EST on Monday.
BONDS:
Japan -0.06%(+0bp), US 2's 2.22% (+2bps), US 10's 2.42%(+2bps), US 30's 2.83%(+1bps), Bunds -0.10% (-1bp), France 0.31% (+3bp), Italy 2.70% (-5bp), Turkey 19.68% (+136bp), Greece 3.43% (-57bp), Portugal 1.08% (-4bp), Spain 0.89% (+1bp) and UK Gilts 1.06% (+3bp).
French 3-Month BTF Auction increased from -0.562% to -0.550%
French 6-Month BTF Auction remain the same at -0.562%
French 12-Month BTF Auction increased from -0.567% to -0.555%
US 3-Month Bill Auction decreased from 2.360% to 2.335%
US 6-Month Bill Auction decreased from 2.355% to 2.340%