Blog/Market Talk
Posted May 19, 2020 by Martin Armstrong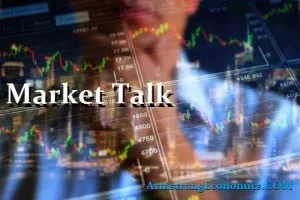 ASIA:
China's Foreign Ministry on Tuesday spoke highly of World Health Organization (WHO) member states' adherence to the one-China principle, saying that this proved "Taiwan independence" will lead nowhere. Foreign Ministry spokesperson Zhao Lijian made the remarks after the World Health Assembly (WHA) decided not to discuss a proposal made by Taiwan authorities and a few countries to invite Taiwan as an observer to the WHA.
Chinese authorities have sealed off the north-eastern city of Shulan, home to about 700,000 people, after an outbreak of coronavirus, imposing measures similar to those used in Wuhan. All villages and residential compounds in the city were closed off, and only one person from each household is allowed out for two hours every second day for essentials.
China Media Group (CMG) successfully carried out the first domestic 5G + 8K integrated production in real-time transmission and rapid editing on Tuesday to usher in the upcoming Two Sessions, which is China's biggest annual political event. The launching ceremony of the promotion week of "5G + 4K/8K + AI" media innovative application was held on Tuesday.
Indian buyers have resumed purchases of Malaysian palm oil after a four-month gap following a diplomatic row, with buying spurred by a fall in domestic inventories and discounted prices, trade sources said. The renewed purchases come amid improving trade relations between the two countries after the formation of a new government in Kuala Lumpur, with Malaysia signing a deal last week to buy a record 100,000 tonnes of Indian rice.
India's top refiner Indian Oil Corporation will invest around INR 6.5 billion in expanding its storage and bottling capacity over the next three years as it looks to prevent fuel crisis in the north-eastern states of India. Indian Oil-AOD, the company's North East division, will also start moving a convoy of 20 tankers by the end of this month to the North Eastern state for the first time via Bangladesh to avoid the dilapidated NH-44 in Assam.
Japan is considering lifting a state of emergency in Osaka, Kyoto, and Hyogo later this week as the numbers of new coronavirus infections in the three prefectures have remained low, government officials said Tuesday. Prime Minister Shinzo Abe will make the final decision on Thursday after hearing opinions from health experts, said the officials.
The major Asian stock markets had a green day today:
NIKKEI 225 increased 299.72 points or 1.49% to 20,433.45
Shanghai increased 23.16 points or 0.81% to 2,898.58
Hang Seng increased 453.36 points or 1.89% to 24,388.13
ASX 200 increased 99.00 points or 1.81% to 5,559.50
Kospi increased 43.50 points or 2.25% to 1,980.61
SENSEX increased 167.19 points or 0.56% to 30,196.17
The major Asian currency markets had a mixed day today:
AUDUSD increased 0.00403 or 0.62% to 0.65616
NZDUSD increased 0.00597 or 0.99% to 0.60992
USDJPY increased 0.5 or 0.47% to 107.88
USDCNY decreased 0.00269 or -0.04% to 7.11264
Precious Metals:
Gold increased 9.98 USD/t oz. or 0.58% to 1,742.05
Silver increased 0.25 USD/t. oz or 1.46% to 17.4260
Some economic news from last night:
New Zealand:
PPI Input (QoQ) (Q1) decreased from 0.1% to -0.3%
PPI Output (QoQ) (Q1) decreased from 0.4% to 0.1%
RBNZ Offshore Holdings (Apr) decreased from 46.40% to 44.60%
Some economic news from today:
Japan:
Capacity Utilization (MoM) (Mar) decreased from -1.8% to -3.6%
Industrial Production (MoM) (Mar) decreased from -0.3% to -3.7%
Indonesia:
Deposit Facility Rate (May) remain the same at 3.75%
Lending Facility Rate (May) remain the same at 5.25%
Interest Rate Decision remain the same at 4.50%
Hong Kong:
Unemployment Rate (Apr) increased from 4.2% to 5.2%
New Zealand:
GlobalDairyTrade Price Index increased from -0.8% to 1.0%
EUROPE/EMEA:
French President Macron's Party La Republique en Marche (LREM) lost 7 members of parliament and the majority as they broke away to form their own party, which focuses primarily on green issues and working towards closing social inequalities.
The number of people claiming unemployment in the UK has drastically increased last month, increasing by 856,000 to 2.097 million. Rishi Sunak, the UK Chancellor, said that we are currently facing a recession unlike anything the UK has seen.
The UK Government has published their Brexit approach. Recently, the UK expressed difficulty in dealing with the EU. Michael Gove said that the EU is treating the UK as an unworthy partner and trying to make the UK conform to EU rules.
The European Commission has made plans to plant up to 3 billion trees by 2030 in order to tackle the biodiversity crisis. The Spanish government plans to be at net zero carbon emissions by 2050, meaning any new project involving gas or coal will be banned if this becomes law.
The major Europe stock markets had a mixed day today:
CAC 40 decreased 40.18 points or -0.89% to 4,458.16
FTSE 100 decreased 46.36 points or -0.77% to 6,002.23
DAX 30 increased 16.42 points or 0.15%% to 11,075.29
The major Europe currency markets had a green day today:
EURUSD increased 0.00128 or 0.12% to 1.09276
GBPUSD increased 0.00578 or 0.47% to 1.22548
USDCHF increased 0.0003 or 0.03% to 0.9721
Some economic news from Europe today:
UK:
Average Earnings ex-Bonus (Mar) decreased from 2.9% to 2.7%
Average Earnings Index +Bonus (Mar) decreased from 2.8% to 2.4%
Car Registration (YoY) (Apr) decreased from -44.4% to -97.3%
Car Registration (MoM) (Apr) decreased from 220.0% to-98.3%
Claimant Count Change (Apr) increased from 12.1K to 856.5K
Employment Change 3M/3M (MoM) (Mar) increased from 172K to 211K
Labour Productivity decreased from 0.3% to -1.1%
Unemployment Rate (Mar) decreased from 4.0% to 3.9%
Italy:
Italian Car Registration (MoM) (Apr) decreased from -82.6% to -84.9%
Italian Car Registration (YoY) (Apr) decreased from -85.4% to -97.6%
Germany:
German Car Registration (MoM) (Apr) decreased from -10.3% to -43.8%
German Car Registration (YoY) (Apr) decreased from -37.7% to -61.1%
German ZEW Current Conditions (May) decreased from -91.5 to -93.5
German ZEW Economic Sentiment (May) increased from 28.2 to 51.0
France:
French Car Registration (YoY) (Apr) decreased from -72.2% to -88.8%
French Car Registration (MoM) (Apr) decreased from -62.6% to -66.5%
Spain:
Spanish Trade Balance increased from -2.12B to -2.04B
Euro Zone:
Construction Output (MoM) (Mar) decreased from -0.53% to -14.15%
ZEW Economic Sentiment (May) increased from 25.2 to 46.0
US/AMERICAS:
Federal Reserve Chair Jerome Powell announced this Tuesday that the Fed will implement a new loan program for mid-sized businesses on June 1. The Main Street Lending program will provide more than $600 billion in loans to companies with under 15,000 employees. The Treasury supplemented $75 billion to offset any losses from the loan program and has drawn the money from the $454 billion that Congress awarded to the Treasury. Treasury Secretary Mnuchin said the Treasury is prepared to accept any losses that occur as the department expects to recuperate those funds in time.
As small mom-and-pop restaurants and storefronts permanently close their doors, big chain restaurants and storefront are moving in. As reported by Reuters, large chains are considering taking advantage of newly available real estate while rates are at all-time lows. Chipotle, Wendy's, Shake Shack, Domino's Pizzeria, and Taco Bell are among the restaurants considering expanding. Outback Steakhouse CEO David Deno told Reuters that he will be looking for new locations with "better visibility, better parking." Dunkin' Brands CEO said that he would consider expanding but was mindful of the "balance being a good corporate citizen and sticking to your values, and not being a shark either."
The race is on to compete with Amazon's online retail success, and Walmart's newly released earnings show that they may be ready for the challenge. Walmart's e-commerce sales spiked by 74% during the first quarter, largely fueled by consumers shifting to online shopping amid the coronavirus lockdown. The company also announced plans to phase out Jet.com, which they purchased in 2016 for $3.3 billion to begin competing in the e-commerce world. Two-day shipping, curbside pickup, and grocery deliveries have aided Walmart's success in the current economic climate.
The US and Canada mutually agreed today to extend the non-essential travel ban between the two countries. Prime Minister Trudeau said the measure "will keep people in both of our countries safe." The border will remain closed for another 30 days until June 21.
US Market Closings:
Dow declined 390.51 points or -1.59% to 24,206.86
S&P 500 declined 30.97 points or -1.05% to 2,922.94
Nasdaq declined 49.72 points or -0.54% to 9,185.10
Russell 2000 declined 25.97 points or -1.95% to 1,307.72
Canada Market Closings:
TSX Composite advanced 246.58 points or 1.68% to 14,885.48
TSX 60 advanced 12.18 points or 1.37% to 899.03
Brazil Market Closing:
Bovespa declined 451.94 points or -0.56% to 80,742.35
ENERGY:
Mixed markets in the oils today as WTI continued to move up 1.70% after an impressive day yesterday. Brent dropped slightly 43bps, bringing the gap between the two to just over two dollars.
The oil markets had a mixed day today:
Crude Oil decreased 0.06 USD/BBL or -0.19% to 31.7600
Brent decreased 0.31 USD/BBL or -0.89% to 34.5000
Natural gas increased 0.042 USD/MMBtu or 2.36% to 1.8250
Gasoline decreased 0.0096 USD/GAL or -0.92% to 1.0358
Heating oil decreased 0.0531 USD/GAL or -5.18% to 0.9711
The above data was collected around 13.10 EST on Tuesday.
Top commodity gainers: Ethanol (4.68%), Natural Gas (2.36%), Platinum (2.37%), and Cotton (2.46%)
Top commodity losers: Heating Oil (-5.18%), Lean Hogs (-1.22%), Gasoline (-0.92%), and Soda Ash (-3.75%)
The above data was collected around 14.05 EST on Tuesday.
BONDS:
Japan 0.02%(+2bp), US 2's 0.17% (-1bps), US 10's 0.71%(-3bps); US 30's 1.43%(-2bps), Bunds -0.47% (+1bp), France -0.02% (-2bp), Italy 1.66% (-4bp), Turkey 12.72% (-15bp), Greece 1.87% (-13bp), Portugal 0.78% (-8bp); Spain 0.74% (+1bp) and UK Gilts 0.24% (-0bp).
US 52-Week Bill Auction decreased from 0.165% to 0.160%