Blog/Market Talk
Posted May 18, 2020 by Martin Armstrong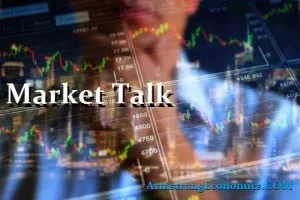 ASIA:
Chinese President Xi Jinping said when addressing the World Health Assembly that he supports calls for an investigation into the handling of the coronavirus pandemic, but insisted that any inquiry should wait until the virus is contained. More than 100 countries have called for an independent inquiry into the pandemic, which has so far claimed more than 300,000 lives globally.
Mark Zuckerberg has urged the West to counter China's "dangerous" approach to internet regulation. The Facebook CEO on Monday said he was worried about other countries that are looking to replicate the Chinese model, which he labeled "really dangerous."
India has extended its nation-wide lockdown further till May 31, 2020, with relaxations that are likely to completely open the economy with the operation of all markets, offices, industries, and businesses. Domestic and international flights and metro rails will remain out of bounds for the general public even as shopping malls, cinema halls, schools, colleges, hotels, restaurants, and religious and political gatherings will continue to remain prohibited. Furthermore, states and Union Territories (UTs) have been given powers to delineate the Red, Green, and Orange zones as per the COVID-19 situation and inter-state movement of passenger vehicles, and buses have been allowed with mutual consent of states.
India said on Sunday it would privatize state-run companies in non-strategic sectors and stop fresh insolvency cases for a year, as the country battles with the economic fallout from the coronavirus pandemic. A list of strategic sectors will also be announced in which only one to four public sector enterprises will remain. Indian officials said most of the privatizations would happen in the next fiscal year, starting April 2021.
Middle East state carriers Emirates and Etihad Airways believe it could take three years for air travel demand to return to levels seen just before the COVID-19 pandemic broke out, according to the US-UAE business council. Emirates President Tim Clark and Etihad Chief Executive Tony Douglas said on Wednesday that they believe 85% of the world's airlines are at risk of insolvency, and that without state support could go bankrupt before year-end. The airlines also warned it could take until 2023 for passenger demand to recover to pre-crisis levels. Dubai's government, which owns Emirates, has told its airline it would financially support it to see it through the crisis.
The major Asian stock markets had a mixed day today:
NIKKEI 225 increased 96.26 points or 0.48% to 20,133.73
Shanghai increased 6.96 points or 0.24% to 2,875.42
Hang Seng increased 137.30 points or 0.58% to 23,934.77
ASX 200 increased 55.70 points or 1.03% to 5,460.50
Kospi increased 9.83 points or 0.51% to 1,937.11
SENSEX decreased 1,068.75 points or -3.44% to 30,028.98
The major Asian currency markets had a mixed day today:
AUDUSD increased 0.00967 or 1.51% to 0.65111
NZDUSD increased 0.01025 or 1.73% to 0.60342
USDJPY increased 0.26 or 0.25% to 107.35
USDCNY decreased 0.00983 or -0.14% to 7.12247
Precious Metals:
Gold decreased 7.2 USD/t oz. or -0.41% to 1,734.15
Silver increased 0.466 USD/t. oz or 2.81% to 17.0680
Some economic news from last night:
China:
House Prices (YoY) (Apr) decreased from 5.3% to 5.1%
Japan:
GDP (YoY) (Q1)  increased from -7.3% to -3.4%
GDP (QoQ) (Q1) increased from -1.9% to -0.9%
GDP Capital Expenditure (QoQ) (Q1) increased from -4.8% to -0.5%
GDP External Demand (QoQ) (Q1) decreased from 0.5% to -0.2%
GDP Price Index (YoY)  decreased from 1.2% to 0.9%
GDP Private Consumption (QoQ) (Q1) increased from -2.9% to -0.7%
Singapore:
Non-Oil Exports (MoM) (Apr) decreased from 12.80% to -5.80%
Non-Oil Exports (YoY) (Apr) decreased from 17.60% to 9.70%
Trade Balance decreased from 3.180B to 2.630B
Some economic news from today:
Japan:
Tertiary Industry Activity Index (MoM) decreased from -0.7% to -4.2%
EUROPE/EMEA:
French President Macron and German Chancellor Angela Merkel proposed a 500 billion euro fund, which will help countries hit worse by the coronavirus. Under the French-German plan, countries need not repay the loan but it will be included in the EU budget and taken out of contributions paid in proportionally based on the sizes of individual economies. Angela Merkel was previously opposed to such an idea for a common wide bailout, but she spoke at the press conference insisting that the EU has never been tested this hard since the creation of the Eurozone.
The EU education minister reported that the reopening of schools in 22 European countries did little to re-ignite the coronavirus as there were no reported spikes anywhere. A few European countries have started to open their borders within the EU and begin to allow small restaurants to re-open.
UK's Michael Gove has told reporters that talks between the UK and the EU are going well, but more flexibility is required on the EU's side in order for a deal to be successful. He claimed there are big differences in ideology and that the EU is trying to force the UK to follow their rules even after the UK has left the union.
The major Europe stock markets had a green day today:
CAC 40 increased 220.71 points or 5.16% to 4,498.34
FTSE 100 increased 248.82 points or 4.29% to 6,048.59
DAX 30 increased 593.70 points or 5.67%% to 11,058.87
The major Europe currency markets had a mixed day today:
EURUSD increased 0.00878 or 0.81% to 1.09039
GBPUSD increased 0.00971 or 0.80% to 1.22012
USDCHF decreased 0.0019 or -0.20% to 0.96957
US/AMERICAS:
Federal Reserve Chairman Jerome Powell anticipates US GDP contracting by 20% to 30%, but does not anticipate a second Great Depression. During an interview with 60 Minutes this Sunday, the Federal Reserve chairman said he expects a shorter downturn compared to the events that occurred during the Great Depression due to central bank and government intervention. "I think there's a good chance that there'll be positive growth in the third quarter. And I think it's a reasonable expectation that there'll be growth in the second half of the year," Powell optimistically noted, saying that he expects the economy to eventually return to where it was in February.
Biotech company Morena released promising news this Monday, signaling that a vaccine may be closer than anticipated. The vaccine is currently undergoing early stage human testing. Chief Medical Officer Dr. Tal Zaks said the vaccine "elicits an immune response of the magnitude caused by natural infection" even at low dosages.
The US Senate quietly implemented a new law last week that will allow government agencies to access citizen's online browsing history without a warrant. The vote received bipartisan support from both Democrats and Republicans and will be pushed into an extension of the Patriot Act. The government now does not need to provide probable cause or seek a warrant to search private browsing data.
The Workers' Party (PT) of Brazil is seeking to impeach President Bolsonaro for allegedly mishandling the coronavirus outbreak. The far-left group claims the president "is incapable of responding to the crisis we are experiencing and has neither the conditions nor the administrative and human capacity to run the country." President Bolsonaro has long been an advocate of ending quarantine and social distancing measures to reopen the Brazilian economy. "The population wants to work to put food on the tables of their families' houses," the President tweeted (translated) over the weekend.
Messias Kokama, a prominent Indigenous leader in Manaus City, Brazil, died a week after receiving a positive coronavirus diagnosis. His death is widening the divide between the Indigenous peoples and the Bolsonaro administration. Indigenous tribes feel forgotten during the coronavirus outbreak and claim they are not receiving the help they need.
Iran's Foreign Minister Mohammad Javad Zarif warned the US that there will be consequences if the Navy disrupts oil shipments to Venezuela in Caribbean waters. The US currently has sanctions on both Venezuela and Iran to curb oil exports. Last week, the US Treasury, Coast Guard, and State Department issued a maritime alert that five Iranian tankers carrying $45.5 million worth of petrol were engaging in illegal activities.
US Market Closings:
Dow advanced 911.95 points or 3.85% to 24,597.37
S&P 500 advanced 90.21 points or 3.15% to 2,953.91
Nasdaq advanced 220.27 points or 2.44% to 9,234.83
Russell 2000 advanced 76.7 points or 6.1% to 1,333.69
Canada Market Closings:
TSX Composite advanced 129.24 points or 0.89% to 14,638.90
TSX 60 advanced 5.63 points or 0.64% to 886.85
Brazil Market Closing:
Bovespa advanced 3,637.67 points or 4.69% to 81,194.29
ENERGY:
Another impressive day with the oil markets as WTI rose above 30 USD a barrel moving +11%. Positive news regarding the coronavirus lockdown easing as well as the Fed Chairman Powell speaking that the Fed has a lot of ammunition left to support the markets, although recovery could take until 2021.
The oil markets had a green day today:
Crude Oil increased 3.48 USD/BBL or 11.82% to 32.9100
Brent increased 2.96 USD/BBL or 9.11% to 35.4600
Natural gas increased 0.194 USD/MMBtu or 11.86% to 1.8300
Gasoline increased 0.0733 USD/GAL or 7.56% to 1.0434
Heating oil increased 0.0943 USD/GAL or 10.20% to 1.0187
The above data was collected around 12.01 EST on Monday.
Top commodity gainers: Crude Oil (11.82%), Natural Gas (11.86%), Heating Oil (10.20%), and Brent (9.11%)
Top commodity losers: Rubber (-1.21%), Cotton (-0.96%), Lithium (-2.86%), and Soda Ash (-2.20%)
The above data was collected around 12.05 EST on Monday.
BONDS:
Japan -0.01%(-1bp), US 2's 0.18% (+3bps), US 10's 0.70%(+6bps); US 30's 1.42%(+10bps), Bunds -0.48% (+5bp), France -0.01% (+1bp), Italy 1.79% (-6bp), Turkey 12.72% (-15bp), Greece 2.00% (-6bp), Portugal 0.87% (-2bp); Spain 0.81% (-4bp) and UK Gilts 0.25% (+2bp).
French 3-Month BTF Auction decreased from -0.549% to -0.551%
French 6-Month BTF Auction decreased from -0.505% to -0.516%
French 12-Month BTF Auction decreased from -0.496% to -0.498%
US 3-Month Bill Auction increased from 0.125% to 0.130%
US 6-Month Bill Auction decreased from 0.155% to 0.150%