Blog/Market Talk
Posted May 17, 2021 by Martin Armstrong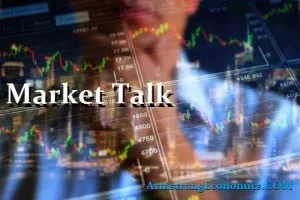 ASIA:
China's factories slowed their output growth in April and retail sales significantly missed expectations as officials warned of new problems affecting the recovery in the world's second-largest economy. Factory output grew 9.8% in April from a year ago, in line with forecasts but slower than the 14.1% surge in March, National Bureau of Statistics data showed on Monday. Retail sales, meanwhile, rose 17.7%, much weaker than a forecast 24.9% uptick and the 34.2% surge in March. In the factory sector, motor vehicle production growth fell sharply to 6.8% from 69.8%, due in part to the base effect as well as critical shortages of semiconductors used in car systems.
India's economic activity has also started to feel the pinch as the second wave of coronavirus has destabilized the country's medical infrastructure. Despite the central government refraining from announcing a national lockdown, economic risks have been mounting amidst state-level restrictions and partial lockdowns, due to which sectors like travel, tourism, hospitality and retail are expected to take a massive hit. The first signs were visible in the IHS/Markit Services Purchasing Managers' Index (PMI) which eased to a three-month low of 54 in April from 54.6 in March. As localized lockdowns across states came in phases, the full impact on the contact sensitive service sector will only be seen in May as most state governments have extended lockdowns further.
A Reuters poll suggests that Japan's economy is set to grow much slower than previously hoped this quarter, hobbled by extended emergency measures put in place to halt a rise in coronavirus infections. The poll shows It is likely to expand an annualized 1.7% this quarter, less than half the 4.7% projected last month. Nearly all of the economists polled believe the government will compile an extra budget to support the world's third-largest economy, with 60% expecting it to come before the end of the third quarter.
The major Asian stock markets had a mixed day today:
NIKKEI 225 decreased 259.64 points or -0.92% to 27,824.83
Shanghai increased 27.24 points or 0.78% to 3,517.62
Hang Seng increased 166.52 points or 0.59% to 28,194.09
ASX 200 increased 9.40 points or 0.13% to 7,023.60
Kospi decreased 18.80 points or -0.60% to 3,134.52
SENSEX increased 848.18 points or 1.74% to 49,580.73
Nifty50 increased 245.35 points or 1.67% to 14,923.15
The major Asian currency markets had a mixed day today:
AUDUSD decreased 0.00121 or -0.16% to 0.77683
NZDUSD decreased 0.00346 or -0.48% to 0.72137
USDJPY decreased 0.19 or -0.17% to 109.15
USDCNY increased 0.00388 or 0.06% to 6.44358
Precious Metals:
Gold increased 25.64 USD/t oz. or 1.39% to 1,867.83
Silver increased 0.76 USD/t. oz or 2.77% to 28.175
Some economic news from last night:
China:
House Prices (YoY) (Apr) increased from 4.6% to 4.8%
Fixed Asset Investment (YoY) (Apr) decreased from 25.6% to 19.9%
Industrial Production (YoY) (Apr) decreased from 14.1% to 9.8%
Chinese Industrial Production YTD (YoY) (Apr) decreased from 24.5% to 20.3%
Retail Sales (YoY) (Apr) decreased from 34.2% to 17.7%
Chinese Retail Sales YTD (YoY) (Apr) decreased from 33.90% to 29.61%
Japan:
PPI (MoM) (Apr) decreased from 1.0% to 0.7%
PPI (YoY) (Apr) increased from 1.2% to 3.6%
South Korea:
Exports (YoY) (Apr) increased from 41.1% to 41.2%
Imports (YoY) (Apr) remain the same at 33.9%
Trade Balance (Apr) increased from 0.39B to 0.43B
New Zealand:
Visitor Arrivals (MoM) decreased from -2.8% to -12.4%
External Migration & Visitors (Mar) increased from -98.60% to -97.40%
Permanent/Long-Term Migration (Mar) increased from 415 to 825
Singapore:
Non-Oil Exports (MoM) (Apr) decreased from 1.10% to -8.80%
Non-Oil Exports (YoY) (Apr) decreased from 11.90% to 6.00%
Trade Balance decreased from 7.916B to 5.436B
Some economic news from today:
India:
WPI Food (YoY) (Apr) increased from 3.24% to 4.92%
WPI Fuel (YoY) (Apr) increased from 10.25% to 20.94%
WPI Inflation (YoY) (Apr) increased from 7.39% to 10.49%
WPI Manufacturing Inflation (YoY) (Apr) increased from 7.34% to 9.01%
Japan:
Machine Tool Orders (YoY) increased from 65.1% to 120.8%
EUROPE/EMEA:
Britain wants to see progress soon in talks with the European Union on solving the post-Brexit Northern Irish border riddle, with its minister in charge of ties with the bloc urging member states to meet their obligations. Currently there are some checks on the movement of some goods moving from mainland Britain to Northern Ireland, which has a land border with EU member Ireland. British Prime Minister Boris Johnson, who had promised there would be unfettered trade between Northern Ireland and the rest of the United Kingdom, unilaterally extended a grace period on certain checks to minimise supply disruption, a move Brussels said breached the Brexit divorce deal.
Britain's pandemic-battered economy grew more strongly than expected in March as it gathered speed for a bounce-back from its coronavirus slump of 2020, official data showed. The 2.1% growth from February was led by the reopening of schools which, alongside COVID-19 testing and vaccinations, pushed up activity in the public sector and by retailers as consumers spent some of their lockdown savings. Analysts polled by Reuters had expected monthly growth of 1.3% for world's fifth-largest economy.
The major Europe stock markets had a negative day:
CAC 40 decreased 17.79 points or -0.28% to 6,367.35
FTSE 100 decreased 10.76 points or -0.15% to 7,032.85
DAX 30 decreased 20.02 points or -0.13% to 15,396.62
The major Europe currency markets had a green day today:
EURUSD increased 0.00115 or 0.09% to 1.21567
GBPUSD increased 0.00491 or 0.35% to 1.41403
USDCHF increased 0.00048 or 0.05% to 0.90181
Some economic news from Europe today:
Swiss:
PPI (YoY) (Apr) increased from -0.2% to 1.8%
PPI (MoM) (Apr) increased from 0.6% to 0.7%
Italy:
Italian CPI (YoY) (Apr) increased from 0.8% to 1.1%
Italian CPI (MoM) (Apr) increased from 0.3% to 0.4%
Italian CPI Ex Tobacco (MoM) (Apr) increased from 0.7% to 1.2%
Italian HICP (YoY) (Apr) increased from 0.6% to 1.0%
Italian HICP (MoM) (Apr) decreased from 1.8% to 0.9%
Spain:
Spanish Trade Balance increased from -1.08B to 411.90B
Euro Zone:
Reserve Assets Total (Apr) increased from 849.49B to 852.14B
US/AMERICAS:
AT&T announced a major merger between WarnerMedia and Discovery that could be valued up to $150 billion, according to the Financial Times. AT&T acquired Time Warner for $85 billion three years ago. Combining the platform with Discovery would give the service a competitive edge over Disney and Netflix. The media conglomerate said it would receive $43 billion, while shareholders will receive stock reflecting 71% of the new company. Discovery shareholders will receive 29%.
Former FDA Chief Dr. Scott Gottlieb believes that masks will be gone in the US by June. "By June, nobody is going to be wearing masks. By June, I think, the prevalence [of Covid] is going to be sufficiently low in this country [and] we're just not going to be concerned about it," Gottlieb told reporters on Monday. This comes as a string of establishments announce that vaccinated individuals do not need to wear a mask. Starbucks, Target, Trader Joe's, Costco, Publix, and Walmart are among the many businesses that are already permitting people to shop without a face mask.
It is tax day in the United States where individuals must file their 2020 federal return. Typically April 15, this is the second consecutive year that the deadline has been postponed due to the coronavirus. Today also marks the deadline to file an extension, which would give individuals until October 15 to file their tax returns. Refunds are typically distributed within 21 days, however, the IRS announced a backlog of 29 million returns being held for manual filing. Those who received stimulus payments will not be taxed on that money. As for unemployment benefits, the IRS is exempting the first $10,200 from taxes for households earning under $150,000.
The US announced plans to share over 60 million doses of the coronavirus vaccine before July 4. President Biden announced back in December that $2 billion would be allocated to the global COVID initiative. Biden said that America will host "the arsenal of vaccines for the rest of the world," and compared the effort to America's role in World War II. Furthermore, Biden stated America would "not use our vaccines to secure facors" from other countries, although it is likely to strengthen relations.
US Market Closings:
Dow declined 54.34 points or -0.16% to 34,327.79
S&P 500 declined 10.56 points or -0.25% to 4,163.29
Nasdaq declined 50.93 points or -0.38% to 13,379.05
Russell 2000 advanced 2.49 points or 0.11% to 2,227.12
Canada Market Closings:
TSX Composite advanced 107.96 points or 0.56% to 19,474.65
TSX 60 advanced 6.44 points or 0.56% to 1,166.5
Brazil Market Closing:
Bovespa advanced 1,057.05 points or 0.87% to 122,937.87
ENERGY:
The oil markets had a green day today:
Crude Oil increased 0.95 USD/BBL or 1.45% to 66.3100
Brent increased 0.82 USD/BBL or 1.19% to 69.5300
Natural gas increased 0.187 USD/MMBtu or 6.32% to 3.1480
Gasoline increased 0.0328 USD/GAL or 1.54% to 2.1594
Heating oil increased 0.0277 USD/GAL or 1.36% to 2.0639
Top commodity gainers: Silver (2.77%), Natural Gas (6.32%), Bitumen (9.78%) and Cocoa (1.94%)
Top commodity losers: Lumber (-14.94%), Coal (-1.23%), Wheat (-1.10%), and Palm Oil (-5.90%)
The above data was collected around 13:20 EST on Monday.
BONDS:
Japan 0.0820%(+0bp), US 2's 0.15%(+0.002%), US 10's 1.6352%(+0.02bps); US 30's 2.3466%(-0.01%), Bunds -0.115% (+0.8bp), France 0.29% (+2.4bp), Italy 1.1116% (+4bp), Turkey 17.46% (+0bp), Greece 1.098% (+3bp), Portugal 0.624% (+2.3bp); Spain 0.617% (+2.47bp) and UK Gilts 0.866% (+1bp).
French 3-Month BTF Auction increased from -0.636% to -0.626%
French 6-Month BTF Auction increased from -0.638% to -0.630%
French 12-Month BTF Auction increased from -0.628% to -0.626%