Blog/Market Talk
Posted May 17, 2019 by marty armstrong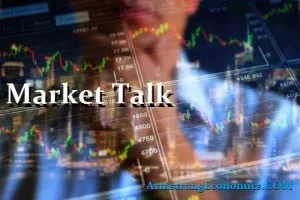 ASIA / AUSTRALIA:
Luckin Coffee, a Chinese coffee company (whom many consider growing competitor to Starbucks) successfully raised 651 million in an IPO in the US. The stock initially rallied up from $17$ to $25, and closing the day just over $20 (+19.88%).
The global markets slipped today over reports that the US and China trade deal has stalled, as if that wasn't apparent already, with the recent tariff hikes amongst both sides and ongoing issues with Huawei. Chinese media have used terms such as "bullying" and "little tricks" to describe US tactics towards the negotiations. With regards to the tariffs, the nations that have been benefiting are traders around South East Asia who act as middle men between the two nations to bypass the tariffs.
Japan has ended a trade restriction on American beef which has been banned since 2005. Beef over 30 months old can now be imported to Japan. On the same day, Trump delayed tariffs on auto imports from Japan and gave negotiators 6 months to come up with a better deal.
The major Asian stock markets had a mixed day today: Hang Seng decreased 328.61 points or -1.16% to 27;946.46; Shanghai decreased 73.41 points or -2.48% to 2,882.30; KOSPI decreased 11.89 points or -0.58% to 2,055.80; ASX 200 increased 37.50 points or 0.59% to 6,365.30; NIKKEI 225 increased 187.11 points or 0.89% to 21,250.09; and SENSEX increased 537.29 points or 1.44% to 37,930.77.
The major Asian currency markets had a mixed day today:
AUDUSD decreased 0.00269 or -0.39% to 0.68651
NZDUSD decreased 0.0014 or -0.21% to 0.65201
USDJPY increased 0.1830 or 0.17% to 110.0230
USDCNY increased 0.02196 or 0.32% to 6.94786
Gold decreased 8.3USD/t oz. or -0.65% to 1,276.38 and silver decreased 0.133 USD/t. oz or -0.91% to 14.4377.
Some economic news:
New Zealand:
Business NZ PMI (Apr) increased from 51.9 to 53.0
PPI Input (QoQ) (Q1) decreased from 1.6% to -0.9%
PPI Output (QoQ) (Q1) decreased from 0.7% to -0.5%
Singapore:
Non-Oil Exports (MoM) (Apr) increased from -14.30% to -0.60%
Non-Oil Exports (YoY) (Apr) increased from -11.80% to -10.00%
Trade Balance decreased from 3.620B to 2.780B
Japan:
Tertiary Industry Activity Index (MoM) increased from -0.6% to -0.4%
CFTC JPY speculative net positions increased from -91.7K to -61.6K
Hong Kong:
GDP (YoY) (Q1) decreased from 1.3% to 0.6%
GDP (QoQ) (Q1) increased from -0.3% to 1,3%
India:
FX Reserves, USD increased from 418.69B to 420.06B
Indonesia:
Car Sales (YoY) (Apr) decreased from -11.40% to -17.80%
Australia:
CFTC AUD speculative net positions decreased from -57.0K to -64.0K
New Zealand:
CFTC NZD speculative net positions increased from -12.7K to -11.4K
EUROPE / EMEA:
The Saudi State media has urged the US to "hit Iran hard" after the recent drone strikes on Aramco oil pipelines. The Saudi Arab News stated "Iran must not go unpunished… In [our] considered view, there has to be deterrent and punitive action in order for Iran to know that no sinister act will go unpunished; that action, in our opinion, should be a calculated surgical strike." Meanwhile, an Iranian military official said that Iranian missiles can easily hit US ships in the gulf and any conflict would threaten global energy supplies.
The council of Europe voted today to allow Russia to maintain membership. The issues began after the annexation of Crimea, but a meeting today in Helsinki resulted in favor of a declaration stating that all member states should be able to participate on an "equal basis." Ukraine acted angrily, stating that this is not diplomacy but surrender.
Scottish PM Nicola Sturgeon told her countrymen that Scotland could stay in the EU. This is on the back of the initial vote where Scottish public voted heavily in favor to remain in the EU.
Nigel Farage's Brexit party is leading the way for the UK and is forecasted to gain the most votes in the EU elections. "Three out of four of the 2018 Conservative voters now vote for the Brexit Party (EFDD) in European elections," according to reports.
The major Europe stock markets had a negative day today: CAC 40 decreased 9.87 points or -0.18% to 5,438.23; the FTSE 100 decreased 4.89 points, or -0.07% to 7,348.62; and the DAX decreased 71.43 points or -0.58% to 12,238.94.
The major Europe currency markets had a mixed day today:
EURUSD decreased 0.0012 or 0.10% to 1.1161
GBPUSD decreased 0.0069 or 0.54% to 1.2726
USDCHF increased 0.0008 or 0.08% to 1.0106
Some economic news:
Swiss:
CFTC CHF speculative net positions decreased from -39.6K to -40.0K
UK:
CFTC GBP speculative net positions increased from -6.9K to -3.3K
Eurozone:
CFTC EUR speculative net positions remain the same at 0.9%
Core CPI (MoM) (Apr) remain the same at 0.9%
Core CPI (YoY) (Apr) increased from 1.2% to 1.3%
CPI (MoM) (Apr) decreased from 1.0% to 0.7%
CPI (YoY) (Apr) remain the same at 1.7%
CPI ex Tobacco (MoM) (Apr) decreased from 1.0% to 0.7%
CPI ex Tobacco (YoY) (Apr) increased from 1.3% to 1.7%
U.S. / AMERICAS:
As mentioned above, global markets reacted negatively reports that trade talks between the U.S. and China are at a standstill. Again, this should not have been a surprise. In any event, Wall Street finished the day in the red across major indices (with exception of the Vix, as volatility crept further above the 15-mark). The Dow dropped 98.68 points (-0.38%) to 25,764; the S&P 500 lost 16.79 points (-0.58%), finishing at 2,859.53; the Nasdaq declined 81.76 points (-1.04%), closing at 7,816.29; and the Russell 2000 had the worst day on a percentage basis, slipping 21.48 points (-1.38%) to 1,535.76.
Caterpillar (-3.04%), 3M (-1.58%) and Intel (-1.41%) were the laggards in the Dow today, with few bright spots other than UnitedHealth (+1.94%) and Verizon (+1.24%). Nearly every major sector closed in the red today as well, with the exception of Utilities (+0.48%).
A month ago, both the U.S. and China seemed optimistic that the year-long trade discussions were nearing a diplomatic conclusion, before China supposedly backed out of some key terms the U.S. team believed were already resolved. Now, we are in the midst of heightened tariffs and rhetoric that seems to be boiling over into an actual trade war. Only time will tell.
Meanwhile, the U.S. has officially lifted tariffs on Mexican and Canadian aluminum and steel in an effort to bring the three nations closer to finalizing the United States Mexico Canada Agreement (USMCA), which would replace the current North American Free Trade Agreement (NAFTA). Steel imports from Mexico and Canada had been under a 25% tariff, while the aluminum tariff stood at 10%. Canada retaliated by placing tariffs ranging from 10% to 25% on $13 billion worth of U.S. goods. In 2018, the U.S. imported around $3.5 billion in steel and aluminum from Mexico, and around $14 billion from Canada. Many see today's decision as an attempt to align with allies amid the volatile Chinese trade discussions.
All of the political noise has made for unpredictable IPO market thus far. Some of this is of course due to "unicorns" and the like staying private longer, raising massive amounts of capital at valuations that don't translate to public markets as easily. Pinterest for example had been trading fairly well since its IPO, but declined -13.48% today following its first earnings report after the bell yesterday. The company had lost $41.4 million on $201.9 million of net revenue. Still, Pinterest seems to be holding up better than some other recently public companies.
In Canada, major indices declined as well. The TSX Composite lost 42.11 points (-0.26%), closing at 16,401.75. The TSX 60 slipped 2.76 points (-0.28%) to 982.76.
In Brazil, the Bovespa slipped below the 90,000 mark for the first time since January, bottoming at 89,408.93 during midday trading, and closed at 89,992.73 (-0.04%).
ENERGY:
Canada's Senate Standing Committee on Transportation has voted to defeat the controversial Oil Tanker Moratorium Act. This act allows only 12,500 metric tons to be loaded onto tankers along the BC coast. By scrapping this act will allow Canada to provide more exports to the international markets.
The oil markets had a negative day today:
Crude Oil decreased 0.15 USD/BBL or -0.24% to 62.6631
Brent decreased 0.55 USD/BBL or -0.76% to 71.9243
Natural gas decreased 0.013USD/MMBtu or -0.49% to 2.6214
Gasoline decreased 0.0207 USD/GAL or -1.00% to 2.0439
Heating oil decreased 0.0318 USD/GAL or -1.50% to 2.0872
Top commodity gainers: Rice (1.39%), Ethanol (1.12%), Corn (0.99%), and Live Cattle (0.82%). Top commodity losers: Orange Juice (-5.61%), Coffee (-2.94%), Soybeans (-2.43%), and Lumber (-2.16%).
The above data were collected around 16:05 EST on Friday.
BONDS:
Japan -0.05%(+0bp), US 2's 2.21% (+4bps), US 10's 2.37%(-2bps), US 30's 2.84%(+2bps), Bunds -0.09% (+0bp), France 0.27% (-2bp), Italy 2.63% (-6bp), Turkey 18.46% (-59bp), Greece 3.41% (-7bp), Portugal 1.04% (-8bp), Spain 0.87% (-11bp) and UK Gilts 1.02% (-3bp).