Blog/Market Talk
Posted May 16, 2019 by marty armstrong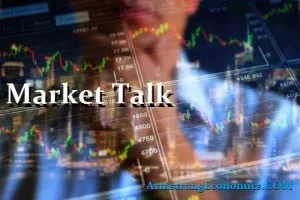 ASIA / AUSTRALIA:
After President Trump's national emergency call over IT technology, China has threatened to retaliate against the US with sanctions. China sees America's action as an attempt to restrict international trade by prohibiting the Chinese technology giant Huawei. There also seems to be a trend in China where people are calling for a boycott of Apple products after tensions between China and the US reached new heights. In addition, two Canadian citizens were detained in China on espionage allegations and have been formally arrested – so tensions continue to mount.
Japanese Prime Minister Shinzo Abe stated that Japan would like to maintain and develop its traditionally friendly ties with Iran amongst ongoing tension with the US. Japan wants to be seen as negotiator in order to reduce tensions.
An army soldiers in India has been arrested for allegedly supplying information to Pakistan, reported by the Times of India, suggesting it could have been a "honey trap" where blackmail is involved.
The major Asian stock markets had a mixed day today. ASX 200 increased 43.60 points or 0.69% to 6,327.80; Hang Seng increased 6.36 points or 0.02% to 28,275.07; and Shanghai increased 17.03 points or 0.58% to 2,955.71. SENSEX increased 278.60 points or 0.75% to 37,393.4. NIKKEI 225 and KOSPI took the opposite route and decreased 125.58 points or -0.59% to 21,062.98 and 25.09 points or -1.20% to 2,067.69 respectfully.
The major Asian currency markets had a mixed day today:
AUDUSD decreased 0.0029 or 0.41% to 0.6898
NZDUSD decreased 0.0019 or 0.29% to 0.6542
USDJPY increased 0.2660 or 0.24% to 109.8460
USDCNY increased 0.0225 or 0.33% to 6.9260
Gold decreased 10.66USD/t oz. or -0.82% to 1,283.30 and silver decreased 0.251 USD/t. oz or -1.70% to 14.5607.
Some economic news:
Australia
MI Inflation Expectations decreased from 3.9% to 3.3%
Employment Change (Apr) increased from 25.7K to 28.4K
Full Employment Change (Apr) decreased from 48.3K to -6.3K
Participation Rate (Apr) increased from 65.7% to 65.8%
Unemployment Rate (Apr) increased from 5.1% to 5.2%
China
House Prices (YoY) (Apr) increased from 10.6% to 10.7%
New Zealand:
RBNZ Offshore Holdings (Apr) decreased from 52.80% to 51.20%
FDI (Apr) decreased from 6.50% to 6.40%
Japan
Foreign Bonds Buying increased from -257.0B to 20.8B
Foreign Investments in Japanese Stocks decreased from 640.1B to 282.5B
PPI (YoY) (Apr) decreased from 1.3% to 1.2%
PPI (MoM) (Apr) remain the same at 0.3%
Indonesia
Deposit Facility Rate (May) remain the same at 5.25%
Lending Facility Rate (May) remain the same at 6.75%
Interest Rate Decision remain the same at 6.00%
EUROPE / EMEA:
In the UK, Theresa May has promised to set a timetable for the election of her successor after the next Brexit vote. There is pressure on Theresa May with the upcoming Brexit withdrawal bill that is due to be voted on in June.
Elsewhere, according to the Guardian, Iran's military leader allegedly has met with Iraqi militias in Baghdad telling them to prepare for a "proxy war." President Trump meanwhile is reportedly insisting to the Pentagon Chief that he does not want a war with Iran, despite the belief that his national security advisers feel the opposite. Trump is due to meet with the president of the Swiss government in order to establish a channel to open dialog with Iran.
The major Europe stock markets had a green day today: CAC 40 increased 73.85 points or 1.37% to 5,448.11; FTSE 100 increased 56.56 points or 0.78% to 7,353.51; and DAX increased 210.80 points or 1.74% to 12,310.37.
The major Europe currency markets had a mixed day today:
EURUSD decreased 0.0021 or 0.19% to 1.1179
GBPUSD decreased 0.00566 or -0.44% to 1.27914
USDCHF increased 0.0010 or 0.09% to 1.0097
Some economic news:
France
French Unemployment Rate (Q1) decreased from 8.8% to 8.7%
Italy
Italian CPI (YoY) (Apr) remain the same at 1.1%
Italian CPI (MoM) (Apr) remain the same at 0.2%
Italian HICP (YoY) (Apr) decreased from 1.2% to 1.1%
Italian HICP (MoM) (Apr) decreased from 0.6% to 0.5%
Italian Trade Balance (Mar) increased from 3.238B to 4.625B
Italian Trade Balance EU (Mar) increased from 1.08B to 1.22B
Eurozone
Sentix Investor Confidence (May) increased from -0.3 to 22.5
Trade Balance (Mar) increased from 17.9B to 22.5B
U.S. / AMERICAS:
Wall Street posted its third consecutive day of gains this Thursday. The Dow advanced 214.66 points (+0.84%) to 25,862.68 at the close; the S&P 500 added 25.36 points (+0.89%) to close at 2,876.32; the Nasdaq increased by 75.90 points (+0.97%), closing at 7,898.05; and the Russell 2000 added 8.97 points (+0.58%) to finish the day at 1,557.24.
Walmart (+1.4%) had a fairly strong day after reporting well-received earnings (EPS of $1.13 on revenue of $123.93 billion), as it continues to grow its e-commerce business (+37% growth in the quarter). But the real winner today was Cisco (+6.66%), after reporting better-than-expected earnings (EPS of $0.78 on revenue of $12.96 billon). Boeing (+2.36%), Microsoft (2.31%), and Merck (2.04%) were among the other leaders in the Dow, while 3M was the anchor on the day (-1.33%).
All major sectors finished the day in the green, led by Materials (+1.34%), Financials (1.10%) and Consumer Discretionary (1.00%).
President Trump announced a new immigration policy this Thursday. The plan will "attract the best and brightest from all around the world," according to the president. If his plan is approved, a point-based system will be used to determine who is eligible for a green card. Previously, access was granted primarily based on ties to family members already residing in the U.S. The new plan's point-based system will focus on factors such as education, age, and profession. Spouses and children will be sent "to the front of the line," but extended family members will not be included in this deal. The number of green cards granted annually will remain restricted to 1.1 million.
Canadian PM Justin Trudeau visited Paris yesterday to offer support in rebuilding the Notre Dame Cathedral that was destroyed by a fire on April 15. Numerous lumber and steel producers in Canada have come forward to offer their support in rebuilding the historic building as well.
The Canadian markets showed signs of improvement today, with the TSX composite gaining 125.72 points (+0.77%) to close the day at 16,443.86; the TSX 60 rose 8.24 points (+0.84%) to finish at 985.52.
Roberto Campos Neto, Brazil's central bank president, announced today that he will not implement policies to curb inflation. "There is no country in the world with low inflation, low interest rates, anchored inflation expectations and a messy fiscal situation. It just doesn't exist," Neto commented at a congressional budget hearing this Thursday. Brazil's current annual inflation is around 5%, with the central bank targeting a level around 4.25%
The Bovespa fell 1,598.97 points (-1.75%) to finish the day at 90,024.47.
ENERGY:
A tanker carrying Iranian fuel oil has reached its destination at a Chinese port and has unloaded its cargo in storage tanks, this shipment clearly violates the US sanctions against Iran.
The oil markets had a green day today:
Crude Oil increased 0.86 USD/BBL or 1.39% to 62.7664
Brent increased 1.05 USD/BBL or 1.46% to 72.9407
Natural gas increased 0.033USD/MMBtu or 1.27% to 2.6288
Gasoline increased 0.0519 USD/GAL or 2.58% to 2.0688
Heating oil increased 0.036 USD/GAL or 1.73% to 2.1244
Top commodity gainers: Palm Oil (5.31%), Wheat (3.84%), Oat (2.61%), and Gasoline (2.54%). Top commodity losers: Orange Juice (-3.55%), Coal (-2.35%), Silver (-1.68%), and Platinum (-1.41%)
The above data were collected around 13:45 EST on Thursday.
BONDS:
Japan -0.05% (+0bp), US 2's 2.21% (+4bps), US 10's 2.41% (+3bps), US 30's 2.84% (+2bps), Bunds -0.09% (+0bp), France 0.29% (-3bp), Italy 2.69% (-6bp), Turkey 18.46% (-59bp), Greece 3.48% (-7bp), Portugal 1.09% (-4bp), Spain 0.91% (-6bp) and UK Gilts 1.07% (+1bp).
US 4-week Bill Auction decreased from 2.385% to 2.365%
US 8-week Bill Auction decreased from 2.380% to 2.355%
French 3-Year BTAN Auction decreased from -0.43% to -0.52%
French 5-Year BTAN Auction decreased from -0.17% to -0.19%