Blog/Market Talk
Posted May 15, 2017 by Martin Armstrong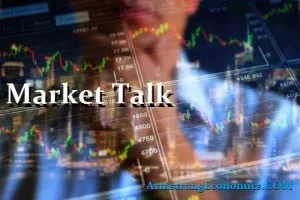 It was only Japan that halted the chances of a positive clean sweep in Asia today for core markets, after the Nikkei closed -0.07%. The index, however, did manage to recover from opening losses after it feared markets may suffer following the weekends global cyber-attack and the additional missile test. A similar picture was seen for the JPY with it opening around the 113 level but sees it trading this evening close to the 114 handle. Worth keeping an eye on JGB's this week as we see issuance for 5's; 30's and 20yrs – any wobble in demand may have an impact further afield than just Japan. The currency held well in China also having flirted earlier with the 6.91 level, it was rumoured there may have been some helping hand as it appeared to be a one-way play in afternoon trading to close 6.89. Shanghai closed solid +0.25% but not as solid as the Hang Seng closing +0.86% as core financials (Bank of China +2.3%) made headway. Chinese Ind Prod reflected a slower than expected economy with data released at 6.5%. The forecasted number was expected to be around 7%, so maybe it is time when we see official realization that growth maybe modest at best. Will be interesting to see what happens after congress. In India the SENSEX climbed +0.4% whilst the INR strengthened 0.25%.
Oil (+3%) and positive comments from the Belt and Road forum which was attended by 29 countries over the weekend. The US and core European countries are rather preoccupied with internal issues but we did see representative from Italy, Greece, Hungary and Spain in attendance. New highs were seen in the FTSE today but failed to close above the psychological 7,500 level. Core Europe also saw gains of around +0.25% across the board, IBEX the outperformer closing +0.6%. Russia and Saudi agreed an output deal which could run until March 2018. Macron visited Merkel in Germany today but its doubtful we will have much to trade on that meeting this early in his election. Late news on UBS shares dropping 1.5% this afternoon (in Europe) after Singapore fund GIC offers 2.4% stake in UBS (worth around $1.6bn). Peripherals bond markets are worth keeping an eye on this week – Greece again negotiating terms.
New record highs seen in the US today for both the S+P and NASDAQ as earnings continue to produce with gains led by energy and tech. It appears the market has forgotten all about the negativity surrounding President Trump's lack of fresh tax and infrastructure news but certainly worth mentioning there is still plenty of cash on the sidelines. The fear tomorrow could well be the demand for the JGB auction as that will probably set an early tone in Asia that could drift into European trade but the demand remains well and truly USD centric.
2's closed 1.30% (-3bp), 10's at 2.34% (-5bp), 30's 3.01% (-2bp), Bund 0.42% (-1bp) which closes the US/Germany spread at +192bp (-4bp). France 0.87% (u/c), Italy 2.26% (-2bp), Greece 5.56% (+3bp), Turkey 10.33% (-7bp), Portugal 3.34% (-1bp) and UK Gilt 10yr at 1.14% (-2bp).