Blog/Market Talk
Posted May 14, 2020 by Martin Armstrong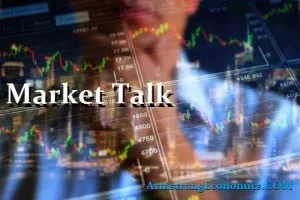 ASIA:
Market disruptions triggered by the coronavirus crisis have sent more capital into Chinese stocks and some strategists see this as part of a longer-term trend. Todd Willits, head of flow tracking firm EPFR, said in an interview that allocations to China are something people are looking to increase. As US stocks plunged to three-year lows in March, allocation to Chinese stocks among more than 800 funds reached nearly a quarter of their nearly $2 trillion in assets under management, according to fund flow data from EPFR.
Donald Trump has warned that he could "cut off the whole relationship" with China, in the latest escalation of US tensions with Beijing as he increasingly blames China for the global spread of the coronavirus. Trump said, "There are many things we could do," when he was addressing the group of reporters at White House.
Chinese companies are developing and producing more higher valued goods, even as companies are moving production out of the country due its trade war with the US and the coronavirus pandemic, an expert said on Thursday.
India's Finance Minister Nirmala Sitharaman on Thursday unveiled the second tranche of measures of the government's plan to revive the economy shuttered by the coronavirus lockdown. This includes free food and grain to migrants for the next two months, PDS distribution cards to be made portable, and up to 30 billion USD of concessional credit boosts to farmers.
The number of reported coronavirus cases in India rose nearly 10 percent over the past two days to 78,003, data from the morning update from the Ministry of Health and Family Welfare showed. At this rate, India's case count is likely to be close to China's overall caseload in the next 48 hours.
India's top-selling carmaker Maruti Suzuki has begun to resume production, its chairman said, after the company reported lower fourth-quarter profit, dragged down by weak demand, even before the nation went into lockdown. The outbreak has aggravated problems for Indian automakers that were forced to suspend manufacturing when the government in late March ordered people to stay indoors.
The major Asian stock markets had a negative day today:
NIKKEI 225 decreased 352.27 points or -1.74% to 19,914.78
Shanghai decreased 27.71 points or -0.96% to 2,870.34
Hang Seng decreased 350.56 points or -1.45% to 23,829.74
ASX 200 decreased 93.20 points or -1.72% to 5,328.70
Kospi decreased 15.46 points or -0.80% to 1,924.96
SENSEX decreased 885.72 points or -2.77% to 31,122.89
The major Asian currency markets had a mixed day today:
AUDUSD decreased 0.00256 or -0.40% to 0.64310
NZDUSD decreased 0.00232 or -0.39% to 0.59773
USDJPY decreased 0.12 or -0.12% to 106.88
USDCNY increased 0.01139 or 0.16% to 7.12308
Precious Metals:
Gold increased 17.61 USD/t oz. or 1.03% to 1,732.90
Silver increased 0.09 USD/t. oz or 0.58% to 15.7300
Some economic news from last night:
Japan:
Foreign Bonds Buying increased from -1,107.6B to 239.1B
Foreign Investments in Japanese Stocks increased from -271.9B to -86.6B
M2 Money Stock (YoY) increased from 3.3% to 3.7%
M3 Money Supply (Apr) increased from 1,844.4T to 1,847.5T
Australia:
MI Inflation Expectations decreased from 4.6% to 3.4%
Employment Change (Apr) decreased from 5.9K to -594.3K
Full Employment Change (Apr) decreased from -0.4K to -220.5K
Participation Rate (Apr) decreased from 66.0% to 63.5%
Unemployment Rate (Apr) increased from 5.2% to 6.2%
New Zealand:
Net Debt Forecast (Jan) increased from 19.60% to 30.20%
Economic Forecast (Jan) decreased from -0.943% to -28.293B
Budget Balance (Jan) decreased from -5.200B to -32.031B
Some economic news from today:
China:
FDI (Apr) increased from -10.80% to -6.10%
Japan:
Machine Tool Orders (YoY) decreased from -40.7% to -48.3%
India:
WPI Food (YoY) (Apr) decreased from 4.91% to 2.55%
WPI Fuel (YoY) (Apr) decreased from -1.76% to -10.12%
WPI Inflation (YoY) (Apr) decreased from 1.00% to 0.00%
WPI Manufacturing Inflation (YoY) (Apr) decreased from 0.34% to 0.00%
EUROPE/EMEA:
A down day in the European markets, with all the majors closing down greater than 1%.
There has been a lot of back and forth between the UK and the EU, with accusations of failing to comply with the EU freedom of movement. The EU accused the UK of illegally banning EU citizens indefinitely and disregarding EU citizens' rights to claim unemployment insurance without an excuse. The UK hit back, saying that the EU is not respecting Brits' rights in Europe. Michael Gove spoke about the EU being at serious risk of not fulfilling the terms of the withdrawal agreement.
The UK has been sued successfully by the EU for four decades of tax-free (VAT) trading offered to commodity traders and failing to notify the EU. The UK has been ordered to pay for the EU's legal fees.
A French drug company, Sanofi, has been criticized by the French Government for prioritizing the US market for any release of a vaccine that could help against the coronavirus. A government spokesman said it was unacceptable. However, the CEO said that the US government has the "right" for the first pick as they invested in the risk of development. President Macron has subsequently summoned the CEO.
The EU government has told Hungary that their detention of immigrants on their border is illegal and they must be released.
The major Europe stock markets had a negative day today:
CAC 40 decreased 71.82 points or -1.65% to 4,273.13
FTSE 100 decreased 162.51 points or -2.75% to 5,741.54
DAX 30 decreased 205.64 points or -1.95%% to 10,337.02
The major Europe currency markets had a negative day today:
EURUSD decreased 0.00065 or -0.06% to 1.08131
GBPUSD decreased 0.00254 or -0.21% to 1.22133
USDCHF decreased 0.00047 or -0.05% to 0.97160
Some economic news from Europe today:
France:
French Unemployment Rate (Q1) decreased from 8.1% to 7.8%
France Thomson Reuters IPSOS PCSI (May) increased from 38.20 to 38.77
Germany:
Germany Thomson Reuters IPSOS PCSI (May) increased from 44.33 to 45.89
German CPI (MoM) (Apr) increased from 0.1% to 0.4%
German CPI (YoY) (Apr) decreased from 1.4% to 0.9%
German HICP (YoY) (Apr) decreased from 1.3% to 0.8%
German HICP (MoM) (Apr) increased from 0.1% to 0.4%
German WPI (YoY) (Apr) decreased from -1.5% to -3.5%
German WPI (MoM) (Apr) decreased from -0.4% to -1.4%
Swiss:
PPI (YoY) (Apr) decreased from -2.7% to -4.0%
PPI (MoM) (Apr) decreased from -0.3% to -1.3%
Spain:
Spanish CPI (MoM) (Apr) increased from -0.4% to 0.3%
Spanish CPI (YoY) (Apr) decreased from 0.0% to -0.7%
Spanish HICP (MoM) (Apr) decreased from 0.6% to 0.4%
Spanish HICP (YoY) (Apr) decreased from 0.1% to -0.7%
Italy:
Italian Trade Balance (Mar) decreased from 6.086B to 5.685B
Italian Trade Balance EU (Mar) decreased from 1.02B to 0.60B
Italy Thomson Reuters IPSOS PCSI (May) increased from 31.82 to 32.08
UK:
Thomson Reuters IPSOS PCSI (May) increased from 41.6 to 42.3
RICS House Price Balance (Apr) decreased from 9% to -21%
US/AMERICAS:
Despite certain US states gradually reopening their economies, weekly jobless claims spiked again last week to 2.981 million. Connecticut experienced the highest number of initial jobless claims at around 299,000, followed by Georgia (241,000 lost jobs), Florida (221,000 lost jobs), California (214,000 lost jobs), and New York (200,00 lost jobs). Over 36 million Americans have become unemployed over the past two months due to the coronavirus crisis.
President Donald Trump announced early Thursday morning that a vaccine seems "very promising" by the end of the year.
Uber will now require drivers and passengers to wear face masks, and intends to employ AI software to ensure they follow protocol. Uber CEO Dara Khosrowshahi encouraged potential customers not to use their services today. "Today, we continue to ask riders to stay home if they can, while shipping safety supplies to drivers who are providing essential trips," she stated. The policy is in effect until the end of June.
Rideshare company Lyft is also implementing a similar protocol by requiring passengers to submit a "Personal Health Certification," which confirms they agree to follow CDC guidelines. Riders must confirm that they are not experiencing any COVID-19 related symptoms and agree to wear a face mask for the duration of their ride.
Senator Richard Burr stepped down from his role as the chairman of the Senate Intelligence Committee amid an ongoing investigation into potential insider trading. Burr, who received access to classified information in January, sold off stocks worth between $628,033 and $1.72 million on February 13, weeks before the coronavirus crisis sell off began. His brother-in-law also sold off stock on the same day. Yesterday, the FBI seized Burr's personal cell phone and intends to access his iCloud data. The STOCK Act, which Burr voted against, was implemented in 2012 and prevents government officials from using classified information for personal gain.
US Market Closings:
Dow advanced 377.37 points or 1.62% to 23,625.34
S&P 500 advanced 32.5 points or 1.15% to 2,852.50
Nasdaq advanced 80.55 points or 0.91% to 8,943.72
Russell 2000 advanced 4.3 points or 0.35% to 1,237.56
Canada Market Closings:
TSX Composite advanced 6.45 points or 0.04% to 14,509.66
TSX 60 declined -0.82 of a point or -0.09% to 881.22
Brazil Market Closing:
Bovespa advanced 1,238.61 points or 1.59% to 79,010.81
ENERGY:
WTI and Brent shot up today with WTI moving up close to 10% and Brent 7%. Saudi Arabia, Kuwait, and UAE announced they will cut supply to Asia this June by 1 million bpd.
The oil markets had a green day today:
Crude Oil increased 1.15 USD/BBL or 4.55% to 26.4400
Brent increased 1.26 USD/BBL or 4.32% to 30.4500
Natural gas increased 0.064 USD/MMBtu or 3.92% to 1.6950
Gasoline increased 0.0502 USD/GAL or 5.92% to 0.8978
Heating oil increased 0.0468 USD/GAL or 5.59% to 0.8833
The above data was collected around 12.44 EST on Thursday.
Top commodity gainers: Gasoline (5.92%), Heating Oil (5.59%), Crude Oil (4.55%), and Brent (4.32%)
Top commodity losers: Cocoa (-2.51%), Feeder Cattle (-0.84%), Corn (-0.63%), and Palladium (-0.87%)
The above data was collected around 12.45 EST on Thursday.
BONDS:
Japan 0.00%(+0bp), US 2's 0.15% (-1bps), US 10's 0.61%(-4bps); US 30's 1.28%(-6bps), Bunds -0.54% (-2bp), France -0.04% (+1bp), Italy 1.83% (+3bp), Turkey 12.86% (+6bp), Greece 2.06% (-4bp), Portugal 0.89% (+3bp); Spain 0.85% (+3bp) and UK Gilts 0.21% (-0bp).
UK 5-Year Treasury Gilt Auction decreased from 0.168% to 0.037%
US 4-Week Bill Auction decreased from 0.095% to 0.090%
US 8-Week Bill Auction remain the same at 0.110%
Japan 30-Year JGB Auction increased from 0.430% to 0.450%