Blog/Market Talk
Posted May 13, 2020 by Martin Armstrong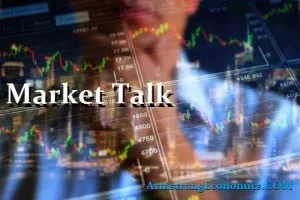 ASIA:
China has warned the US that stopping US government's main pension fund from investing in Chinese equities will only hurt US investors. Trump administration officials linked the action to the coronavirus pandemic, which the US and Chinese governments have blamed on each other in increasingly bitter exchanges.
The US Department of Homeland Security and the FBI issued a "public service announcement" on Wednesday warning that China is likely launching cyberattacks to steal coronavirus data related to vaccines and treatments from US research institutions and pharmaceutical companies. The notification elevates the accusation by the US government that China is taking advantage of the pandemic to carry out significant cyber espionage on critical institutions fighting the virus.
China is sealing off cities in a northeastern province that borders North Korea as a growing cluster of cases threatens to undermine its hard-won containment of the coronavirus epidemic.
The Indian government will only allow Indian companies to participate in tenders up to INR 2 billion, Union Finance Minister Nirmala Sitharaman announced on Wednesday. He also announced a slew of measures to help micro, small, and medium enterprises (MSMEs) battered by the coronavirus crisis. As part of India's economic package worth USD 266 billion to bail out the economy, an emergency credit line of collateral-free loans worth USD 40 billion will be given to small and medium businesses by October to resume business activity and safeguard jobs.
India's manufacturing output contracted 20.6% in March from a year earlier, government data showed on Tuesday, indicating the impact of national lockdown imposed to combat the coronavirus outbreak. The industrial output for the fiscal year 2019/20 ending March contracted 0.7% over the corresponding period of the previous year, the data showed.
A decision by the US Centers for Disease Control and Prevention (CDC) to donate $3.6 million to Indian laboratories and research agencies to assist in countering the COVID-19 pandemic could run into delays, given that the agency has been placed on a "watchlist" since December 2019, officials said in New Delhi.
Japan is planning for the partial lifting of restriction after almost a month long nation-wide state of emergency. The Japanese government says it is working on a plan to keep people safe from the coronavirus even after restrictions are eased.
The major Asian stock markets had a mixed day today:
NIKKEI 225 decreased 99.43 points or -0.49% to 20,267.05
Shanghai increased 6.49 points or 0.22% to 2,898.05
Hang Seng decreased 65.38 points or -0.27% to 24,180.30
ASX 200 increased 18.90 points or 0.35% to 5,421.90
Kospi increased 18.25 points or 0.95% to 1,940.42
SENSEX increased 637.49 points or 2.03% to 32,008.61
The major Asian currency markets had a mixed day today:
AUDUSD increased 0.00134 or 0.21% to 0.64781
NZDUSD decreased 0.00564 or -0.93% to 0.60205
USDJPY decreased 0.13 or -0.12% to 107.05
USDCNY decreased 0.0038 or -0.05% to 7.10335
The above data was collected around 10.02 am EST on Wednesday.
Precious Metals:
Gold increased 7.15 USD/t oz. or 0.42% to 1,708.80
Silver increased 0.10 USD/t. oz or 0.67% to 15.5395
Some economic news from last night:
Japan:
Bank Lending (YoY) (Apr) increased from 2.0% to 3.0%
Current Account n.s.a. (Mar) decreased from 3.169T to 1.971T
South Korea:
Unemployment Rate (Apr) remain the same at 3.8%
M2 Money supply (Mar) decreased from 8.00% to 7.50%
Australia:
Westpac Consumer Sentiment (May) increased from -17.7% to 16.4%
Wage Price Index (QoQ) (Q1) remain the same at 0.5%
Wage Price Index (YoY) (Q1) decreased from 2.2% to 2.1%
New Zealand:
RBNZ Interest Rate Decision remain the same at 0.25%
Some economic news from today:
Japan:
Economy Watchers Current Index (Apr) decreased from 14.2 to 7.9
EUROPE/EMEA:
EU diplomats laughed at UK Brexit negotiator Michael Gove's suggestion that a deal could be completed by the end of the year. Mr. Gove said that the UK was willing to give up on tariffs in order to avoid the EU's strict laws on workers' rights and environmental protections. Mr. Gove said that the UK could end up with a deal like Canada where there will be tariffs on certain goods, and he believes it would be a missed opportunity but overall would be satisfied with such a deal. The EU said the task is impossible and that configuring a specific deal could take two years, let alone six months.
The European Commission has told the public they can expect some sort of European summer vacation this year. There was a lot of pressure from countries such as Greece and Italy, as their income is heavily reliant on tourism. They did stress that it would be significantly different from previous summers, and face masks will most likely still be required in certain situations, as well as social distancing in hotels and more as defined by the EU guidelines.
Germany plans to end its border restrictions with Austria, France, and Switzerland from Friday for business and family meetings only. It plans to open its borders from mid-June with all member states fully. Other citizens of countries such as the US and Russia will allowed in after June 15th.
The major Europe stock markets had a negative day today:
CAC 40 decreased 127.55 points or -2.85% to 4,344.95
FTSE 100 decreased 90.72 points or -1.51% to 5,904.05
DAX 30 decreased 276.84 points or -2.56%% to 10,542.66
The major Europe currency markets had a mixed day today:
EURUSD increased 0.00102 or 0.09% to 1.08589
GBPUSD decreased 0.00113 or -0.09% to 1.22451
USDCHF decreased 0.00085 or -0.09% to 0.96891
Some economic news from Europe today:
Euro Zone:
Industrial Production (YoY) (Mar) decreased from -2.2% to -12.9%
Industrial Production (MoM) (Mar) decreased from -0.1% to -11.3%
UK:
NIESR GDP Estimate decreased from -2.0% to -11.8%
BRC Retail Sales Monitor (YoY) (Apr) increased from -3.5% to 5.7%
Business Investment (QoQ) (Q1) increased from -0.5% to 0.0%
Business Investment (YoY) (Q1) decreased from 1.8% to 0.7%
U.K. Construction Output (YoY) (Mar) decreased from -2.8% to -7.1%
Construction Output (MoM) (Mar) decreased from -2.1% to -5.9%
GDP (QoQ) (Q1) decreased from 0.0% to -2.0%
GDP (YoY) (Q1) decreased from 1.1% to -1.6%
GDP (MoM) decreased from -0.1% to -5.8%
Index of Services decreased from 0.2% to -1.9%
Industrial Production (YoY) (Mar) decreased from -3.4% to -8.2%
Industrial Production (MoM) (Mar) decreased from -0.1% to -4.2%
Manufacturing Production (YoY) (Mar) decreased from -4.3% to -9.7%
Manufacturing Production (MoM) (Mar) decreased from 0.3% to -4.6%
Monthly GDP 3M/3M Change decreased from 0.0% to -2.0%
Trade Balance (Mar) decreased from -9.83B to -12.51B
Trade Balance Non-EU (Mar) decreased from -3.87B to -4.88B
US/AMERICAS:
Federal Reserve Chairman Jerome Powell issued a grim forecast this Wednesday. "The scope and speed of this downturn are without modern precedent, significantly worse than any recession since World War II," the chairman stated. "We are seeing a severe decline in economic activity and in employment, and already the job gains of the past decade have been erased." Powell reiterated the central bank's policy not to implement negative interest rates, despite strong encouragement to do so by the Trump administration. Furthermore, Powell called on elected officials to issue additional financial support. "Additional fiscal support could be costly, but worth it if it helps avoid long-term economic damage and leaves us with a stronger recovery," Powell declared while also hinting that these lawmakers have the power to raise taxes and reallocate government spending.
US President Donald Trump is growing increasingly suspicious of China's involvement in the coronavirus crisis. "As I have said for a long time, dealing with China is a very expensive thing to do," the president tweeted this Wednesday, "We just made a great Trade Deal, the ink was barely dry, and the World was hit by the Plague from China. 100 Trade Deals wouldn't make up the difference – and all those innocent lives lost!"
Grocery prices spiked to new highs in April, according to new data released by the Labor Department. Although prices fell -0.8% in April overall, the food industry saw a sharp uptick of 2.6%. Meats, fish, and eggs increased by 4.3%, baked goods rose 2.9%, while dairy and vegetables both climbed 1.5%.
House Democrats are considering a second round of $1,200 stimulus checks to offset the effects of the coronavirus crisis. The "Heroes Act" would offer a similar personal incentive to the Cares Act in that each citizen is eligible to receive up to $1,200 based on their income. However, the new legislation would raise the dependent pay from $500 to $1,200. The Internal Revenue Service has already issued over $200 billion in stimulus relief checks. The Heros Act is surprisingly more frugal than other proposed bills that would grant Americans $2,000 per month for the duration of the pandemic.
US Market Closings:
Dow declined 516.81 points or -2.17% to 23,247.97
S&P 500 declined 50.12 points or -1.75% to 2,820
Nasdaq declined 139.38 points or -1.55% to 8,863.17
Russell 2000 declined 42.29 points or -3.32% to 1,233.25
Canada Market Closings:
TSX Composite declined 377.95 points or -2.54% to 14,503.21
TSX 60 declined 22.06 points or -2.44% to 882.04
Brazil Market Closing:
Bovespa declined 99.75 points or -0.13% to 77,772.2
ENERGY:
The OPEC group reduced their demand outlook for 2020 by 9 million barrels per day, causing the price of Crude and WTI to drop throughout the day. There was a surprise draw from the EIA report, showing the first draw since January, but it was not enough for the day to be out of the red.
The oil markets had a mixed day today:
Crude Oil decreased 0.46 USD/BBL or -1.78% to 25.3100
Brent decreased 0.67 USD/BBL or -2.23% to 29.3100
Natural gas decreased 0.089 USD/MMBtu or -5.24% to 1.6110
Gasoline decreased 0.0358 USD/GAL or -4.02% to 0.8545
Heating oil increased 0.0196 USD/GAL or 2.40% to 0.8347
The above data was collected around 14.01 EST on Wednesday.
Top commodity gainers: Ethanol (3.55%), Heating Oil (2.40%), Milk (1.96%), and Bitumen (2.30%)
Top commodity losers: Natural Gas (-5.24%), Gasoline (-4.02%), Live Cattle (-2.60%), and Palladium (-2.85%)
The above data was collected around 14.03 EST on Wednesday.
BONDS:
Japan 0.01%(+1bp), US 2's 0.16% (-1bps), US 10's 0.64%(-4bps); US 30's 1.33%(-5bps), Bunds -0.53% (-2bp), France -0.04% (-2bp), Italy 1.83% (-7bp), Turkey 12.80% (+3bp), Greece 2.09% (-6bp), Portugal 0.87% (-6bp); Spain 0.83% (+3bp) and UK Gilts 0.21% (-4bp).
German 30-Year Bund Auction decreased from -0.090% to -0.130%
Italian 3-Year BTP Auction increased from 0.86% to 0.87%
Italian 7-Year BTP Auction increased from 1.37% to 1.53%
US 30-Year Bond Auction increased from 1.325% to 1.342%